'
101st Grey Cup Festival
CHALLENGES
With a population of just over 210,000, metro Regina is the Canadian Football League's smallest market, so hosting a national event often means contending with shortages of hotel rooms, rental cars and taxis. With a 32,000-seat capacity, 78-year-old Mosaic Stadium was also considered too small. And because the Saskatchewan Roughriders is classified as a provincial team, festival organizers wanted to engage
the whole province.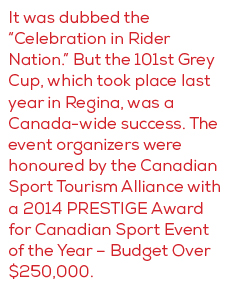 HOW THEY DID IT
Because of the challenges, "the preplanning involved was just so much more important," says Neil Donnelly, who was seconded from the Regina Exhibition Association in October 2011 to serve as executive director of the organizing committee.
Donnelly assembled a team of 300 seasoned and novice volunteers to staff 31 planning committees and subcommittees. In turn, they recruited about 2,400 volunteers for Grey Cup week itself. Saskatchewan Roughriders Football Club vice-presidents were put in charge of committees handling each VP's area of expertise, including finance and business development. To maximize provincial engagement, Regina organizers launched a Show Your Rider Pride contest, which drew pitch videos from 30 communities from across the province and about two million votes nationally.
Unlike the 2003 Regina Grey Cup, organizers did not offer a formal billeting program, letting visitors rely instead on social media to find places to stay. The RCMP Training Centre in Regina, however, provided accommodations for news media and cheerleading squads from each CFL team. The city offered free public transit between festival venues and the stadium. The Roughriders spent $14 million on temporary seating and a newly designed north and south bowl to expand capacity at Mosaic Stadium to about 44,000.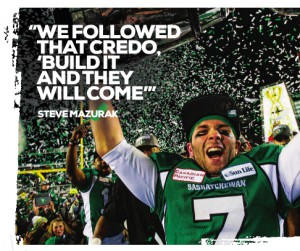 LEGACY AND FINANCIAL IMPACT
Show Your Rider Pride prize money totalling $100,000 went to health and wellness projects in the three top-placing communities. Stadium seating and other components will also be donated to community sports facilities when the new Mosaic Stadium opens in 2017.
By pairing experienced volunteers with more junior ones, the city now has a "strong base of leadership for future events," says Neil Donnelly. Through the use of the Volunteer Squared software program, it also has a legacy database of 2,500 volunteers.
"We followed that credo, 'Build it and they will come,'" says Steve Mazurak, vice-president, sales & partnerships, with the community-owned Roughriders Football Club. "And Neil and his legions of volunteers built a wonderful festival."