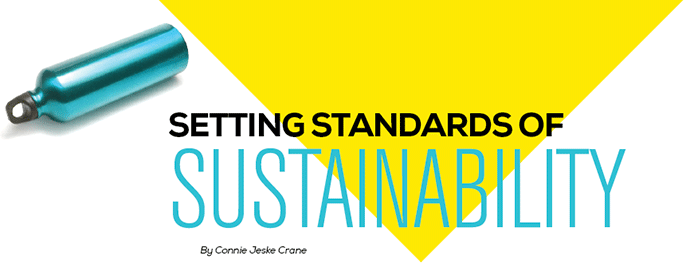 Crowds. Traffic. Trash. Debt. As growth within Canada's sport tourism sector continues at a healthy clip, there's more awareness of the potential risks for host communities, combined with an effort to mitigate them.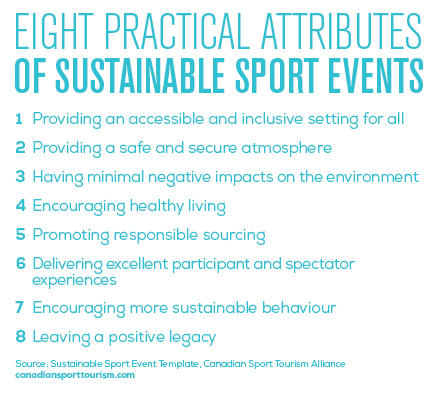 "We're now at a time in history where there's the expectation that we're really going to focus hard on things that matter to the local organizations that are helping to host the event, and the people or organizations that are impacted by that [event]," says Vancouver-based consultant Ann Duffy, who served as corporate sustainability officer for the Vancouver 2010 Olympic and Paralympic Winter Games.
The Vancouver Games were a big game changer, in Canada and globally. In 2011, the International Olympic Committee reported that Vancouver "increased awareness and set new standards for sustainability," boasted the most ambitious carbon management program of any Games, and was the first to set up a not-for-profit organization during bidding to develop community legacies.
Since then, there's been an effort to capture learning. Two years ago, the Canadian Sport Tourism Alliance launched the Sustainable Sport Event Template (SSET), authored by Duffy. There's also an effort in Canada and internationally to develop a standardized approach to sustainable event planning and management, Duffy says.
Commonly centred on three spheres—economic, environmental and social—Duffy notes the development of ISO and CSA Z2010 standards. In Canada, SSET reflects key requirements of the other two standards.
Sustainable development, Duffy explains, is "thinking about the future and having legacies in mind."
Sustainable Games
So how helpful are such tools? As coordinator of sustainable development for the 2013 Canada Summer Games in Sherbrooke, Que., Ariane Hillman Beauchesne was part of a comprehensive sustainability program. That event has since garnered numerous accolades including the first-ever CSTA Sustainable Sport Event of the Year Award. Hillman Beauchesne ties success to healthy collaboration, buy-in from the top and guiding standards—in Sherbrooke's case from the Bureau de normalisation du Québec (BNQ). "You need a policy, a strategy and an action plan. These are tools that we can use; they are concrete," she says.
Emily Harrison, University of Northern British Columbia (UNBC) sustainability manager for the 2015 Canada Winter Games in Prince George, B.C., says she's seeing trends towards waste diversion, carbon neutrality as a best practice, social inclusion, and engaging youthful volunteers who focus on spreading the word about environmentally responsible initiatives.
For example, Prince George was the first Canada Games to have an official host First Nation (the Lheidli T'enneh). Social legacy plans included investing in the community's human resources by providing "the training to continue to create a kind of tourist culture up here," Harrison says. In short, standards help measure achievement.

Weighing the benefits
If incorporating sustainability seems like extra work, experts say there are multiple reasons to do it—everything from risk management to brand enhancement. "It's expected," says Duffy, explaining that organizations are under increasing pressure to demonstrate social responsibility.
She says that excellence in sustainability could also help destinations to win bids, and manage reputational risks. Take procurement: "There's a lot of money to be made at events, especially with sponsors and licensed merchandise. But people want to know that apparel and other items are being sourced responsibly."
An exciting sustainability push, Duffy says, "is a great motivator to recruit and keep good workers or volunteers." It could also enhance your profile in the eyes of the public, potential sponsors, and everyone else involved. Says Duffy: "athletes really care about cleaner, environmentally smart events."
For larger events and particularly when public dollars are spent, Duffy says organizers today must demonstrate "cleverness and thoughtfulness in legacy planning" from the bidding process on. "Where you're spending millions on events, you've got to demonstrate responsibility in the world of sustainable events."
Download the CSTA Sustainable Sport Event Template PDF here.