This versatile venue is designed to host everything from sport competitions and teambuilding programs to gala events
By Wendy Helfenbaum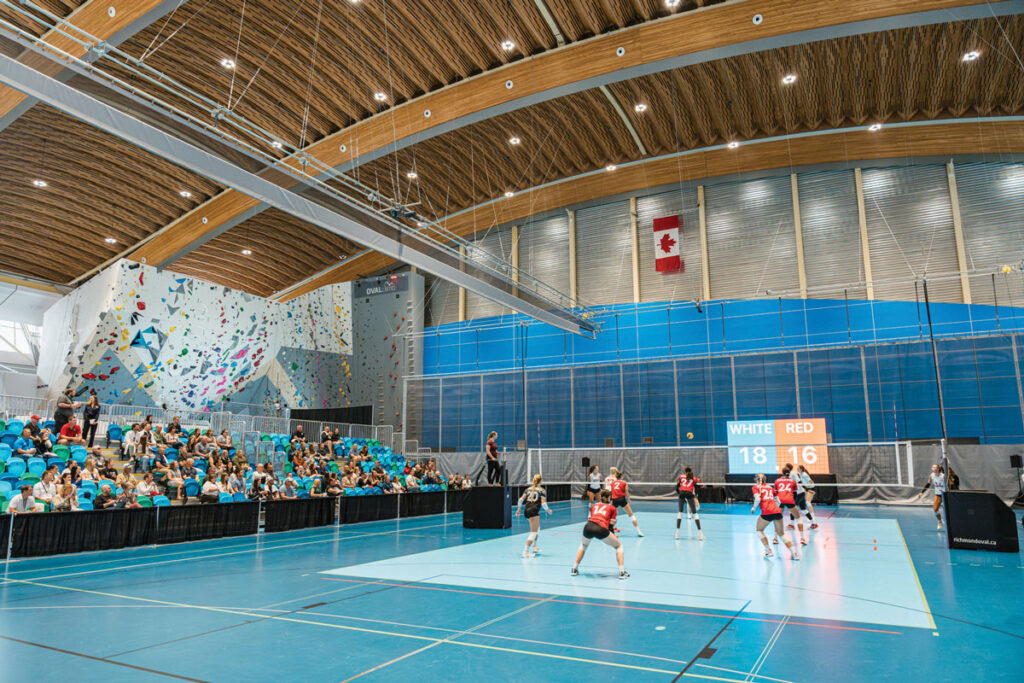 Built to host the 2010 Vancouver Winter Olympic Games' long track speed-skating competitions, the Richmond Olympic Oval now provides a versatile backdrop for sport events, corporate galas, trade shows and teambuilding programs.
"The building's second level has three distinct areas: the Ice Zone, with two Olympic-size international rinks; the Court Zone, with hardwood sport courts; and the Track Zone, where we host most competitions, events and trade shows," says Warren Purchase, the Oval's manager of events and facility activations.
"We're able to create event space however planners want it. We have curtains and we can customize our 875-seat feature bleachers into any shape. For a karate competition with six feature mats, we can lay out seating horizontally along the mats. For a volleyball or a basketball event, we can surround a court."
Other options, that work well for groups and VIP events, incorporate some of the building's unique features, adds Heidi Lyons, senior administrative specialist of corporate engagements and partnerships.
"We can literally create rooms within the space," she explains. "We do dinners or cocktails in our Legacy Lounge—which overlooks the two Olympic ice rinks—and use our fitness rooms and outside plaza. Sometimes we'll build out a space in front of our climbing wall so attendees can watch people climb. Whether their purpose is fun or their sport, we can always enhance that by giving planners a bigger footprint to have more guests."
One popular activity for groups is the immersive Olympic Experience, which features a museum with 400 Olympic artefacts, exhibits and interactive challenges, a 44-seat theatre equipped with motion effects that accompany a short film showcasing how athletes train for the Games and the chance to feel like an elite athlete via the venue's sport simulators.
"Groups like to add that on because it's not only informative, but they can also have a little competition between colleagues," says Lyons. "It's a wow factor when people walk through the door. We update it after every Olympics and we're always looking at ways to share sports with everybody."
With three separate entrances, there are many ways to set up events, notes Purchase. "We can include an outdoor plaza into your space and create a food area or beer garden, for example," he says.
"We built the basketball courts so that stages could be towed in and then the band plays to the actual artificial turf area. You can host a soccer tournament and use either the whole field or half and put some festival activities on the other half. We recently did an open house where we simultaneously had a 3-on-3 basketball tournament, a soccer tournament and a family zone with a barbecue."
The venue has an on-site café and catering services, and is in constant demand, adds Purchase, so planners should book at least a year out. Lyons encourages site visits to truly appreciate the Oval's potential.
"We can create amazing spaces and you just don't know the magic until you walk through," she says.
BY THE NUMBERS
33,600 square metres
1,114 square-metre fitness centre
2 Olympic-size ice rinks
17 metre climbing wall
6 hardwood multi-sport courts
4,200 square-metre outdoor turf field
371 square-metre Legacy Lounge, plus multiple meeting rooms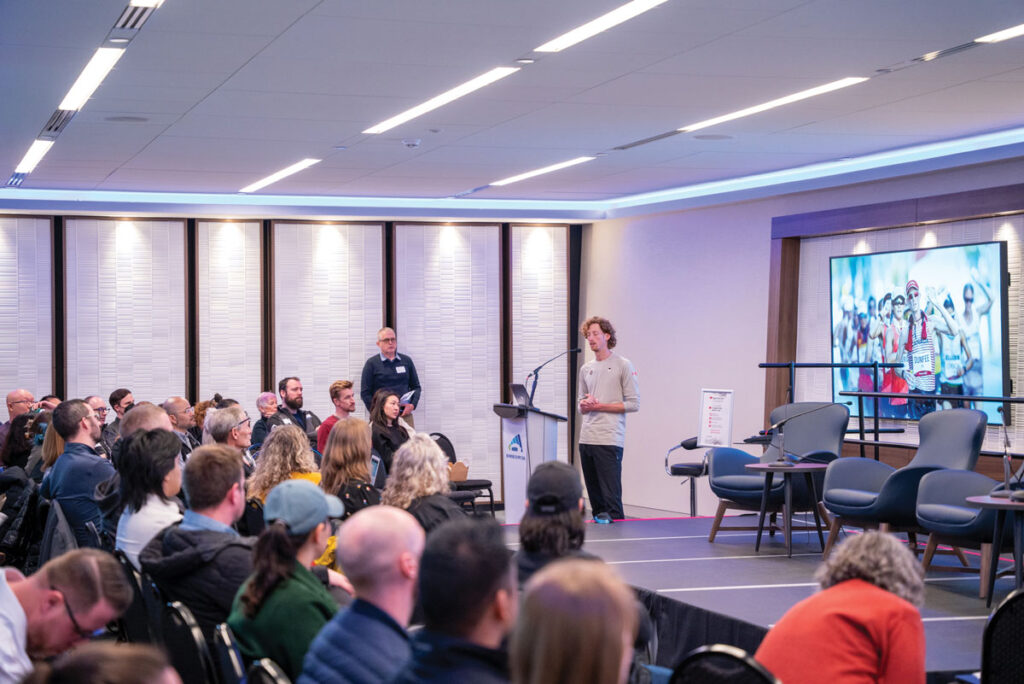 PHOTOS: RICHMOND OLYMPIC OVAL
Published October, 2023