Hockey Hall of Fame and museum
Toronto
Claim to Fame: Here's where hockey lovers can touch, hug or kiss the
venerable Stanley Cup, and lay eyes on the world's largest collection of hockey memorabilia. Visitors can also hit the rink zone area and experiment with virtual shootouts and shutouts against life-size, animated players.
Special Events: Built in 1885 as the Bank of Montreal's head office, this heritage building boasts plenty of character. The two boardrooms on the mezzanine level overlook the Esso Great Hall under a stunning 45-foot-high stained glass dome. The concourse-level Tim Hortons Theatre highlights Sidney Crosby's early days in the Timbits Hockey Program.
After-hours rental of the entire facility accommodates 1,000 people.
Notable: Looking for a neat event keepsake? Facility staff can have corporate logos printed onto genuine hockey pucks, or opt to have a professional photographer take pictures of event guests beside the Stanley Cup, and print them on-site as a take-home memento.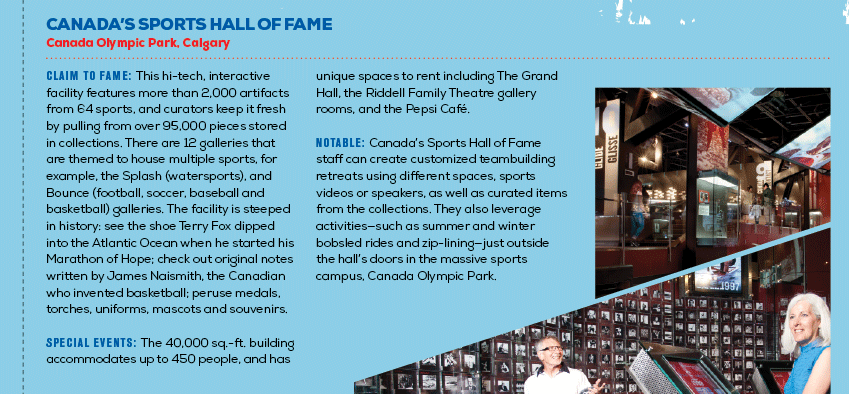 Canadian Football Hall of Fame
Hamilton, Ont.
Claim to Fame: Of course this hall of fame houses the Grey Cup, but that's not all. There are more than 30,000 artifacts from the game including trophies, helmets, jerseys, photographs and films. Check out trophies, busts and biographies of the 264 Hall of Famers, learn more about Canada's distinct playing style, and pick up a historic fact or two watching 1909 Grey Cup and 1944 Tea Bowl footage.
Special Events: The 90-seat theatre features action photos
from past Grey Cup games, and can host presentations, seminars and assemblies.
Notable: The non-profit facility offers curated tours, and volunteer staff can help book hall-of-famers to speak at events.
Nova Scotia Sport Hall of Fame
World Trade & Convention Centre, Halifax
Claim to Fame: Given that Nova Scotia is the birthplace of hockey, it's no surprise the museum contains special related artifacts, including the Crosby family dryer (which Sidney used for target practice as a child). The facility also contains a wonderful historic skate collection (1863-1939) from Starr Manufacturing Co., an Elisabeth "Ellie" Black gymnastics leotard from the 2012 Olympics, and a typewriter used by sports columnist W.J. "Ace" Foley who started with the Halifax Herald in 1920.
Special Events: The 4,500 sq.-ft. facility features reception space, a theatre and a boardroom. With the newly renovated Scotiabank Centre right next door, the location is perfect for pre- and post-game gatherings.
Notable: Event visitors have full access to the museum as well as the multi-sport simulator where they can shoot virtual goals or land a basket on-screen. Speakers and private tours can be arranged, and museum displays can be curated for events.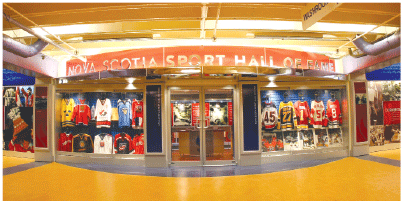 Photos: Ontario Tourism Marketing Partnership; Canadian Tourism Commission; Travel Alberta; Nova Scotia Sport Hall of Fame