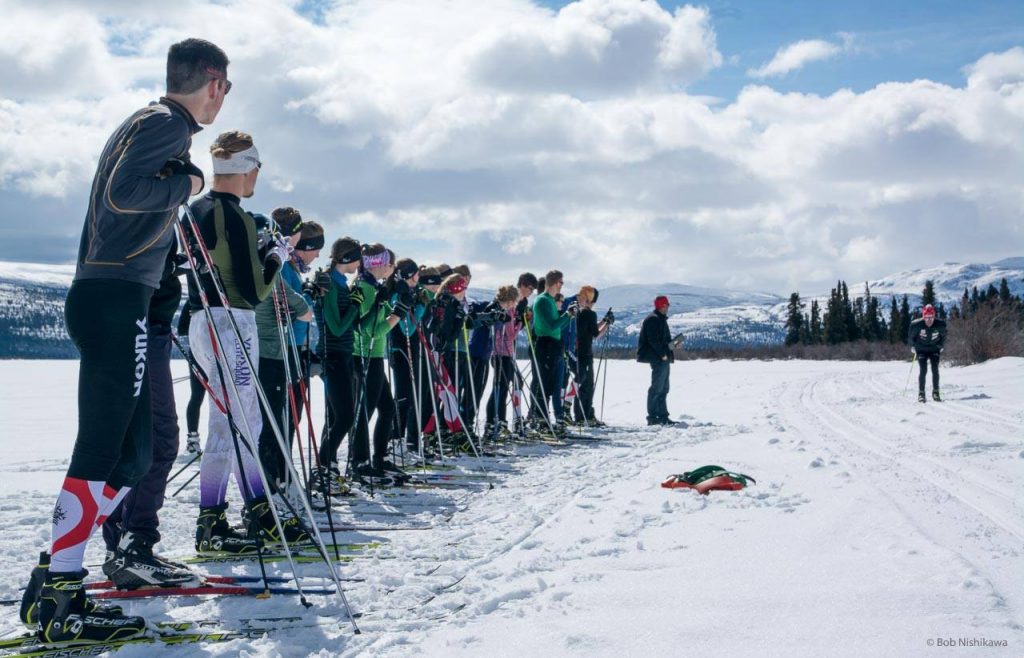 The OLY Canada Legacy Grants program encourages Canadian Olympians to draw upon Olympic values to build stronger communities. A program of the Canadian Olympic Committee, $10,000 OLY grants were recently provided to 10 projects in three categories: Service to BIPOC Communities; Society Through Sport, which supports Olympians retired from competition; and the Career Transition category supporting active Olympians planning their transition out of competition.
We spoke with Olympians Zach Bell, Emily Nishikawa and Oluseyi Smith about how their projects are making a difference.
By Angela Kryhul
Northern LYTES
Olympians: Zach Bell, track cycling Beijing 2008, London 2012; Emily Nishikawa, cross country skiing Sochi 2014, PyeongChang 2018
Company: Northern LYTES
OLY grant category: Service to BIPOC Communities
Northern LYTES (Linking Youth to Elite Sport) offers Yukon athletes and Territorial Sport Organizations inspiration, encouragement and high-level expertise provided by Olympians, professional athletes and high-level coaches who are invited to participate in sport camps and clinics in and around Whitehorse.
Zach Bell launched Northern LYTES a decade ago while he was competing for Canada. As a member of the Olympic family, he wanted to use that momentum to benefit communities in the Yukon, where he grew up. "My own Olympic story started when a wrestler came up and visited our school when I was 10 or 11 years old and I realized that [becoming an Olympian] was possible," Bell says.
Emily Nishikawa joined Northern LYTES to add a winter sport perspective. "Zach had the program up and running and I was very keen to do my part. I like the values of bringing Olympic athletes and that expertise to the Yukon and especially to rural communities. That really resonates with me," Nishikawa says.
Northern LYTES has hosted a variety of camps over the years, including cross-country skiing, cycling, basketball, sport climbing and physical literacy. The organization intentionally lets the community frame how camps or clinics are run, whether it's a women's judo camp that attracts five athletes or the three-day volleyball camp that took place last December and attracted more than 25 participants, two Olympians and an Olympic coach. "It's really important that each sport body in the Yukon feels that they can gain value from the program," Bell says.
Air North is a long-standing patron and Sport Yukon supports the Northern LYTES Youth Sport Development Fund, which covers some of the costs associated with local athletes attending the camps.
With communities across the country returning to competitions, Northern LYTES has received several applications for sport camps this year. "We can feel the momentum starting to come back and the inspiration that kids in sports really need right now," Nishikawa says.
RACING TO ZERO
Olympian: Oluseyi Smith, athletics London 2012; bobsleigh PyeongChang 2018
Company: Racing To Zero
OLY grant category: Service to Society Through Sport
Growing up, Oluseyi Smith was so inspired by Star Trek: The Next Generation, that he decided to earn an engineering degree. In Racing To Zero, Smith has found a way to combine some of the idealism portrayed in the futuristic TV show with his educational training, interest in environmentalism and love of sport.
Racing To Zero is an environmental sustainability consulting firm for sport organizations, offering carbon emission measurement and analysis, hosting process improvement, and sustainability education marketing and communications support.
Smith has identified a need for education around sustainability, especially at the grassroots level. "Through webinars and workshops, we can help improve the carbon literacy of our prospective clients," Smith explains.
During 2021, Racing To Zero created baseline emissions and sustainability scores for Calgary Track and Field (CALTAF) and Calgary Corporate Challenge, among others. Racing To Zero also participated in Canada's very first Green Sports Day, an annual event focused on educating the sports community about best practices for sustainable sport. The Racing To Zero team includes three fellow Olympians—Oliver Scholfield (field hockey), Martha McCabe (swimming) and Donna Vakalis (modern pentathlon).
"We have two new clients we'll be working with this year," Smith says. "2022 will be us getting better at what we do, showing organizations how to balance sustainability with their many other priorities and finding more people to take us on based on the value that we offer."
Watch the video to learn more.