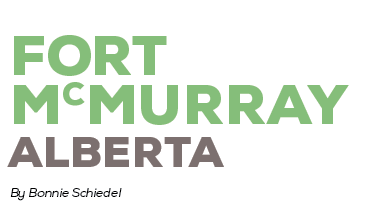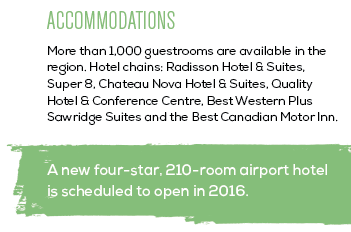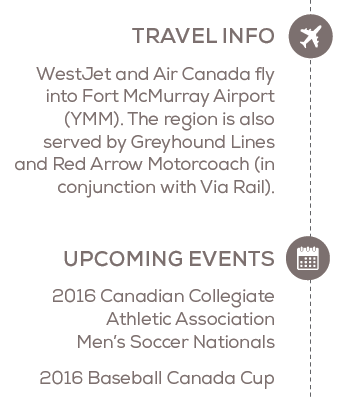 Fort McMurray is well known for its role in the oil and gas industry, but it also has the potential to become a powerhouse for sports with its remarkably large and diverse collection of newly built and recently renovated venues. A frontier community with a population that's soared to just over 125,000 in only a few decades, it's surrounded by the natural beauty of boreal forests and river valleys. Nearby Wood Buffalo National Park is a UNESCO World Heritage site.
KEY SPORTS FACILITIES
MacDonald Island Park is Canada's largest community recreation centre. It includes the Suncor Community Leisure Centre (one NHL-size arena, one 185-foot arena, 210-m indoor track, nine badminton courts, squash courts, a rock-climbing wall, conference facilities and two indoor fields), and the Syncrude Aquatic Centre (a 10-lane Olympic-size pool, a 25-m training pool, diving boards, and a water park).
Anzac Recreation Centre has an NHL-size arena, fitness centre, an indoor running track and meeting spaces.
Syncrude Athletic Park boasts four slow-pitch diamonds, three soccer pitches, one championship soccer pitch, one championship baseball diamond, a skate park, cricket pitch and an outdoor hockey rink/lacrosse box.
Syncrude Sport & Wellness Centre is based at Keyano College, and features an indoor, four-lane 180-m running track, two indoor fields and three full-size courts.
Search "Recreation Facilities" at rmwb.ca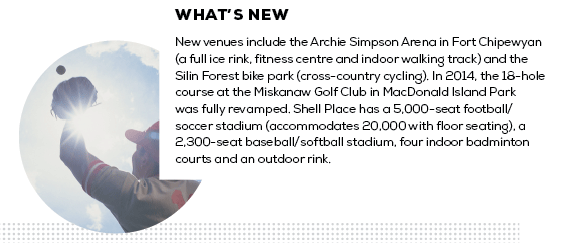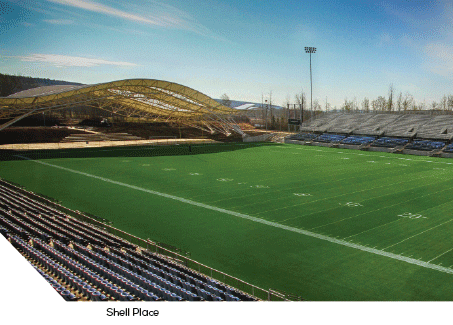 Photo: Layla Underwood