The Canadian Paralympic Committee is a non-profit private organization devoted to the global Paralympic movement. The guiding mission of the organization is to support Canadian high performance athletes with disabilities to reach the podium at the Paralympic Games. Sandra Eagle spoke to CEO Karen O'Neill about what the future holds.
What are the organization's key goals going forward and what's the strategy to achieve them?
We spent the better part of 2014 reviewing our strategy, and coming out of that we affirmed that we want to be the world's leading Paralympic nation by 2022. In order to achieve this, it will take a systematic approach to building leadership, building infrastructure, and a consistent outreach to athletes. We need to support their access to quality daily training environments, recruit high performance coaches for them and continue to target the next generation of athletes.
How is the leadership addressing some of the biggest challenges facing the organization and Paralympic athletes?
One of the key challenges is the need to provide quality daily training environments for our athletes and coaches. Our new partnership with the Canadian Olympic Committee and the Canadian Sport Institute Network brings $3 million in direct funding to deliver multi-sport daily training environments, purchase cutting-edge equipment, hire new staff and develop physical training and performance enhancement in seven institutes across the country.
Another of the larger challenges is the identification of Paralympic athletes. At the high-performance level, we focus on identification and recruitment. At the active start level we have an educational outreach program focused on the development of fundamental movement skills for all children in the early grades. In addition, we
are launching a new website resource to help people find a sport they are interested in and a club to try the sport.
Describe some of the key opportunities and how the CPC is making the most of them.
I think one of the key opportunities is in the creative ways we can access media and broadcast to really share the stories of our great athletes. In 2014, we bought the key broadcast rights for Sochi and created a partnership with our media and broadcast partners. It was a tremendous opportunity to work together to tell our athletes' stories, highlight the Paralympic movement and increase the distribution of these stories well beyond previous levels. One in four Canadians saw these stories during the Sochi Paralympics. It is so important for these stories to be told so others can see what opportunities are possible in sport. In fact, one of the most decorated Canadian athletes, Benoît Huot, credits his involvement in the Paralympics to watching a TV clip of a Paralympic swimming competition.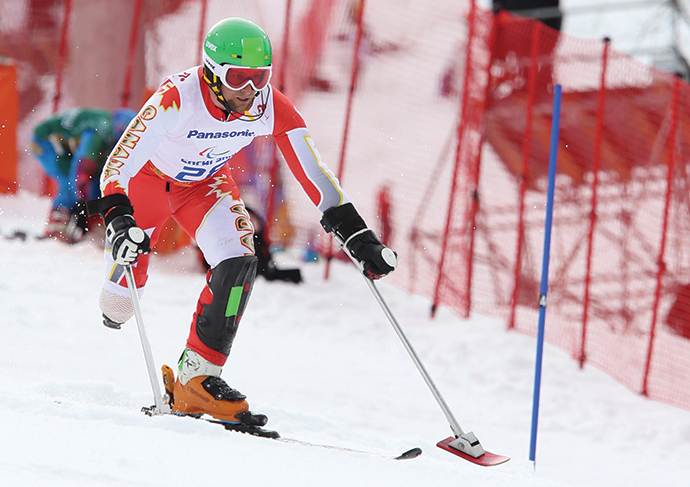 Matt Hallat competes in the Men's Standing Slalom at Sochi, 2014
KAREN O'NEILL
With a cursory glance at Karen O'Neill's CV, it looks as if her entire career trajectory prepared her for her current gig as CEO of the Canadian Paralympic Committee. Agreeing that she is in "a sweet spot now," O'Neill says she's optimistic for what's to come and what's possible for the CPC.
Based in Ottawa, O'Neill's connection to sport runs deep.
A self-avowed pool rat through and through, O'Neill was
a competitive swimmer who did a stint with synchronized
swimming, but, due to her self-confessed lack of finesse,
took up water polo. It turned out to be her sport.
With degrees from Concordia University, and a Masters from McGill University in Education, Physical Adapted Sport, O'Neill began her career with the Canadian Wheelchair Sports Association, moving on with stints as the CEO of Commonwealth Games Canada and the COO of the Rick Hansen Foundation.
"These are real exciting times in the Paralympic community, and I'm enjoying this immensely," O'Neill says. "Throughout my career I've been using sports as a platform for achieving goals and Paralympics brings that to life."
PARALYMPIC HISTORY
The Paralympic movement came about at a hospital in England, when Dr. Ludwig Guttmann began using sports therapy to improve the quality of life for disabled soldiers returning home from the Second World War. The first Paralympic event was held in 1948, when Dr. Guttmann organized a competition for wheelchair athletes that was staged to coincide with the London Summer Games.
Parasport is open to anyone with a disability, such as a visual impairment, a spinal cord injury, amputations, cerebral palsy, an intellectual disability, spina bifida, multiple sclerosis, or other disabilities.
Canada has participated in every Summer and Winter Paralympic Games since Tel Aviv, Israel in 1968.
The CPC annual budget is $10 million; half comes from the federal government and the rest is raised through corporate partners, fundraising and private donations.
The CPC works with 25 member sports
organizations to develop a sustainable Paralympic sport system in Canada.
There are 28 sports in the Paralympic Games program: six sports in winter and 22 sports in summer.
The Toronto 2015 Parapan American Games will set a record for hosting the most sports (15) in the history of the Games.