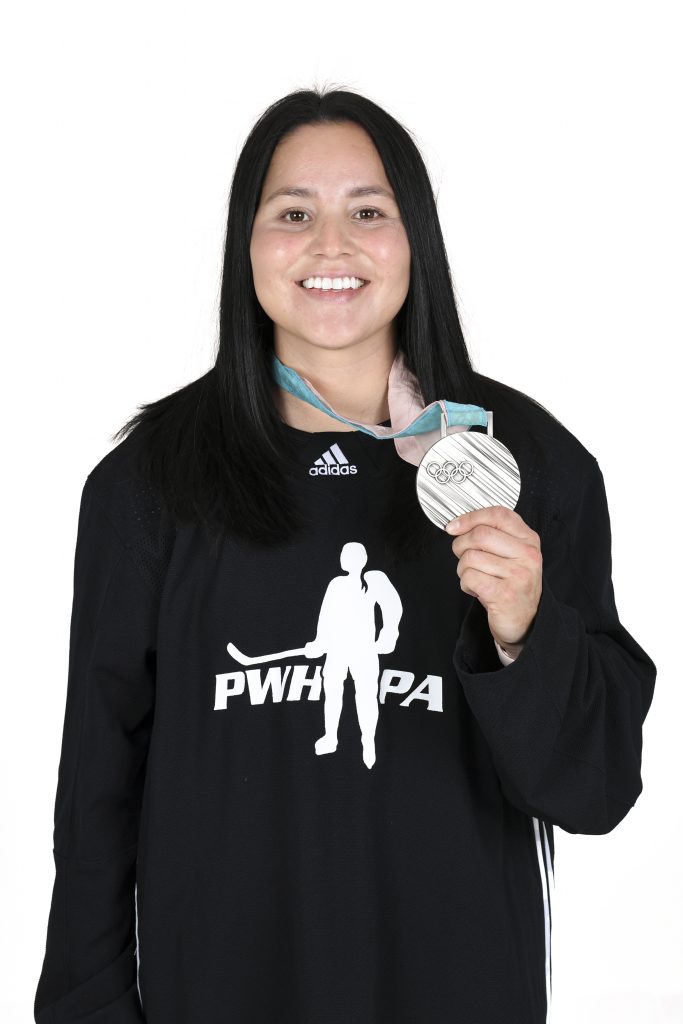 By Connie Jeske Crane
She's an athlete who's achieved many firsts. The first First Nations hockey player named to Canada's National Women's Team, Brigette Lacquette helped Canada win a silver medal at the 2018 Pyeong Chang Olympics. In 2021, Lacquette became the first Indigenous woman to scout for an NHL team, the Chicago Blackhawks. Now, at age 30, working as an NHL scout, public speaker and player with the Professional Women's Hockey Players Association, Lacquette shares both her strengths and vulnerabilities.
What kinds of conversations are you having with young First Nations athletes?
Honestly, a lot of them face the same barriers that I did growing up. Kids really pick things from my story and they're like, "Hey, that's like me." And they talk about it. And I feel like that makes them feel like they could get through what they're facing as well, because I did, and it gives them that bit of inspiration. So yeah, it's the bullying, the racism and the barriers of living in an isolated community and then having to leave to pursue your career or passion.
What motivates you to share your personal struggles with alcohol use and anxiety?
Once I made the Olympic team, that gave me the platform to use my voice and share my story, life lessons and barriers I've overcome. The way my parents raised us, I was never around alcohol or drugs. But once I went to college, I was able to make my own choices and they weren't great ones. I learned, after a few years of therapy, that I had struggled with anxiety my entire life. And then I was learning how to properly cope. I have a niece and a nephew and I realized I want to be someone they could be proud of, and someone that, ultimately, I could be proud of. I focused on a healthy lifestyle and things started to fall into place for me.
Turning to hockey, what steps are necessary to open more doors for BIPOC athletes?
I'm part of the NHL player inclusion committee. But I think, you know, hockey is traditionally a rich, white sport and as for trying to make hockey a more inclusive space, it's in the allies. It's in the guys that do have that privilege recognizing that they have the privilege, but also caring enough to use their voices to help promote inclusion.
What are your dreams for women's pro hockey in North America?
We've definitely come a long way. The game of women's hockey has gotten significantly faster and more skilled, so the quality of play is definitely at a high level. It's exciting. I'm obviously at the end of my hockey career, but I have a nine-year-old niece who's playing hockey in Winnipeg and I'm excited for her and to see where this leads.

Published April, 2023