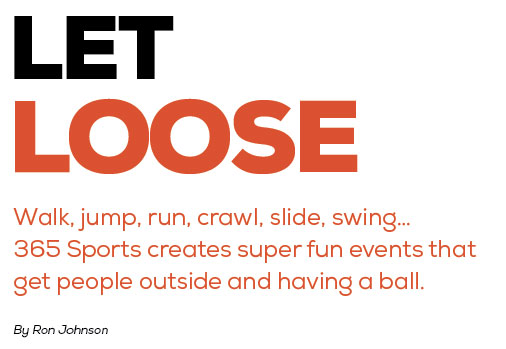 When 365 Sports founder Jesse Fulton was just a young skater kid, he had his first taste of experiential marketing. He attended a skateboard maker's product demonstration day and watched pros shred before leaving with an autographed skateboard. To this day he remains loyal to that brand.
Fulton, a former professional snowboarder and coach at the 2010 Vancouver Winter Olympics, sells experiences: snowboarding events for kids, obstacle courses for adults, foamy mud runs with 60 per cent female attendance, even giant slip-and-slides.
Experiential Marketing
Customer experience is the key to everything that Jesse and his team do. Over six years, 365 Group has become a one-stop shop for everything from event management and logistics to brand activation. Want a custom event? They have dozens of ideas ready to go. Want to align your brand with a unique customer experience? Get in line.
"It seemed like there was a hole [in the market] for a quality youth experiential marketing concept and delivery, and with that I started 365 Sports," Fulton explains.
Soon, the company took over Canada's national snowboard championships, which would eventually become 365's flagship SnowCrown Ski and Snowboard Festival. Then came the fun runs, and the obstacle courses (the fast-growing segment of the market) and slip-and-slides as far as the eye could see with major companies such as Sony and Oakley aligning their brands with the events.
Creative Energy
Where does the inspiration come from? Fulton travels the world in search of innovative ideas and events. For example, sponsors are allowed to sell products at 365 Sports-owned events, as opposed to other events that simply demo products.
The company's CEO, Tony Smith, is a former Sony vice-president who worked with Fulton when Sony sponsored SnowCrown. Lured by 365's sports focus and Collingwood, Ont., location, Smith decided to give up big city corporate life to take charge of 365's strategic direction, complementing Fulton's creative energy.
"We are looking at growing within this industry based around a customer-service experience we are trying to do better than anywhere else," says Smith. That includes brand activation. One of the company's more unique branding concepts included setting up a massive pair of operable Sony headphones at an event. The event attendees stand beneath the giant headphones and listen to music.
Smith offers two keys to creating positive customer experiences: Listen closely to customers and implement most of their suggestions; and ensure that your customer-facing staff is very well trained, whether it's the parking attendant or greeters at the registration table.
Marquee Concepts
365's events run the gamut from freestyle skiing and snowboarding to foam fests, slip-and-slides and skateboarding. Here are just some of their marquee events:
5K Foam Fest
Wet, foamy, muddy obstacle course fun lands in 14 Canadian cities this year.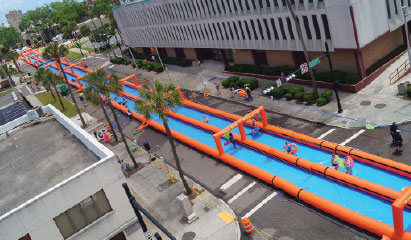 Urban Slide Canada
A 1,000-ft. slip-and-slide is the star of this urban street festival. More than half-a-dozen stops are planned for 2016.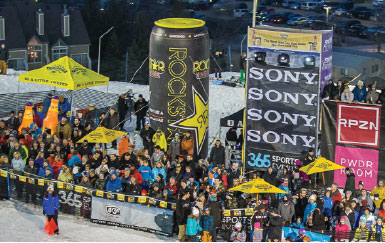 SnowCrown Ski and Snowboard Festival
The five-year-old Canadian freestyle ski and snowboarding championship takes place in Blue Mountain, Ont. (on hiatus for 2016).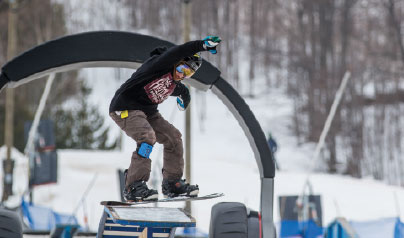 Gromination Freestyle Championships
High-energy, no-pressure, youth-focused ski and snowboarding event catering to kids 14 and under.
Upcoming: Obstacle Course Racing World Championships
365 Sports will host the event this October in partnership with Adventurey, LLC, at Blue Mountain Resort.
Photos courtesy of 365 Sports and Roth Photo