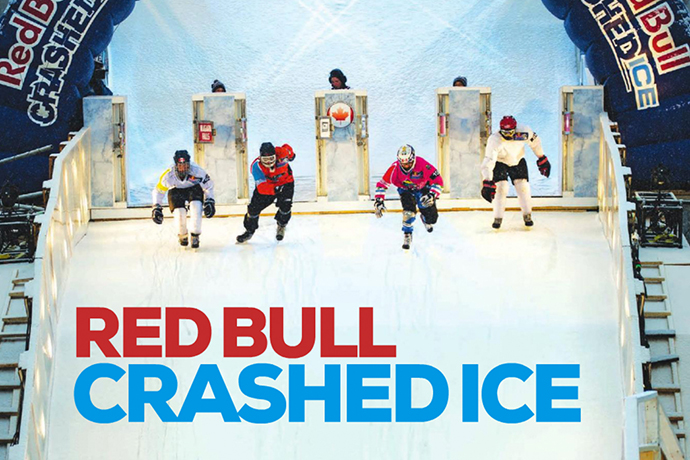 Edmonton is renowned for embracing cold-weather sports and winter 2015 promises to be no exception as the city prepares to host its first Red Bull Crashed Ice competition. The challenging and highly technical track will showcase the city in a way that few other sports can. And the weekend-long celebrations will no doubt capture the excitement of the event, bringing together the local community, regional neighbours and international tourists alike.
THE MECCA OF CRASHED ICE
Quebec City hosted the event for nine consecutive years between 2006 and 2014, and Niagara Falls hosted once in 2012. According to Patrice Drouin, president, Gestev Event Management, and event director for all 10 races in Canada, the event quickly became a hit when it debuted in Quebec City, bringing in $11 million in economic spin-offs by its second year. "Red Bull brings a level of creativity to the experience," says Drouin. "What's more, they made both safety and entertainment a top priority when developing the rules."
Because the 2015 event is a test year for Edmonton, which is known for its spirit and passion for hockey, Drouin has a few words of advice as the city prepares to host: "Success comes down
to good communication. The community will embrace the event and overlook any disruptions
if they're involved."

LEGACY OF INCLUSIVENESS
All efforts are being made to ensure that Edmonton's test year is as inclusive as possible. "We want this to be an event that the entire region can get behind," says James Jackson, events specialist at Edmonton Tourism. While the sport has a very youthful appeal (64 per cent of the spectators in Quebec City in 2014 were under 35), all age groups will be encouraged to check out the track and participate in the peripheral activities. Jackson says Edmonton expects 60,000 fans on race day. Projected gross economic impact for the city is $6-8 million.
Because the event will be broadcast all over the world, it's expected to help promote tourism to Alberta and Edmonton. And while future hosting opportunities remain to be seen, the ultimate goal, according to both Drouin and Jackson, is to alternate years between Quebec City and Edmonton.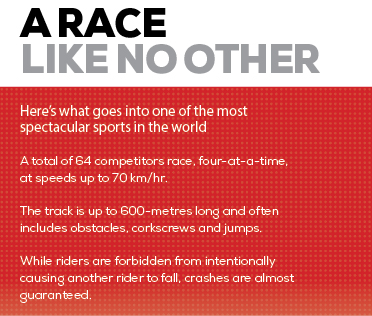 THE BID
Edmonton secured the event through the collaborative efforts of the City of Edmonton, Government of Alberta, Edmonton Tourism and Edmonton Destination Marketing Hotels. The bid complemented Edmonton's Winter City strategy, which promotes outdoor fitness, Edmonton's climate and its unique northern story. 
Getting stakeholder support for such a logistically complex event was key. "Our goal was to paint a picture of how Red Bull Crashed Ice would align with their priorities and truly benefit Edmonton and the entire province," says Edmonton Tourism's James Jackson.
NIAGRA FALLS DECEMBER 2012
Hundreds of workers spent four weeks constructing the 460-metre course through the streets of downtown Niagara Falls, alongside the city's many tourist attractions and
within sight of the Falls. The course had an average width of 4.5 metres and featured a 30-degree drop.
EDMONTON 2015: A $1 MILLION INVESTMENT
The City of Edmonton says it secured the Red Bull event thanks to the collaborative effort of a number of partners, including:
City of Edmonton: $400,000
Government of Alberta: $300,000
Edmonton Destination Hotels: $200,000
Travel Alberta: $100,000
QUEBEC CITY MARCH 2014
Quebec City was the fourth and final stop of the Red Bull Crashed Ice 2014 season. Spectators enjoyed free admission to the event.
Track Facts:
Length: 480 metres
Vertical Drop: 40 metres
Number of turns: 5
Ice: Artificial