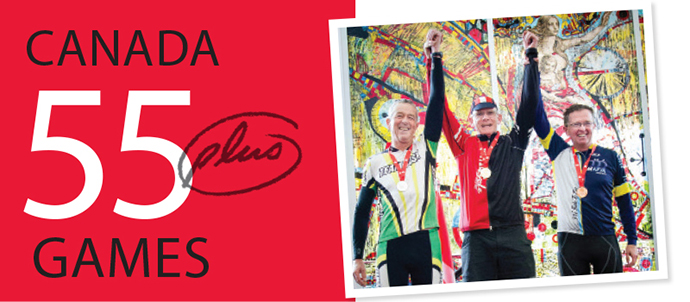 Competitive events for the 55+ crowd are booming. Seniors are more fitness and health-conscious, and have higher disposable incomes, than previous generations. They love to travel, are highly social and are eager to explore host destinations.
They may not have the blistering times and hard bodies of your typical professional athlete,
but what older amateur athletes may lack in style, they make up for in enthusiasm and zeal. The Canadian 55+ Games, hosted at the provincial and national level, emphasize the importance of physical, mental and social interaction.
"The profile of the 55+ athlete is an interesting one. This group has the greatest accumulated wealth in history; it's a segment that has a high propensity to travel, and this group is retiring much earlier than historically has been the case. They are very fitness conscious and in many cases are still highly competitive. And sports and competition is a real good vehicle for social interaction," says Rick Traer, CEO of Ottawa-based Canadian Sports Tourism Alliance.
"If you package all these things together you can understand why the 55+ movement has become so important to tourism in particular," Traer adds.

The 55+ sport tourism model is relatively
new, as the first provincial 55+ Games were held
in Camrose, Alta, in 1980. For those games,
over 15,000 seniors tried out at the grassroots level to win one of 750 berths in competition. Other provinces soon followed suit.
The first national 55+ Games were held in 1998 in Regina, Sask. The Canada 55+ Games promote physical and mental activities for competitors many of whom are in the 65- to 70-year-old age bracket (although this year's Canada 55+ Games, hosted by Strathcona County, Alta., included 101-year-old Florence Storch, who took silver in the javelin competition).
While active sports like tennis, cycling, hockey, pickleball (a paddle sport that combines elements of badminton, tennis, and table tennis), curling and slo-pitch are played, attendees also compete in more sedentary activities such as euchre, cribbage, bridge, bocce ball and darts. And while winning is important, more emphasis is put on the opportunity for social interaction.
Cathy Priestner Allinger, CEO of ViaSport British Columbia, says the 55+ demographic is a huge opportunity as the numbers of Canadian seniors continues to grow.
"We're looking at growing this age group overall in the sports system in B.C.; this group traditionally hasn't been front and centre. We're healthier than we've ever been, but how do we continue to keep our seniors healthy and competitive? We need to look at what we are doing with our lifelong sports categories, and we're just scratching the surface," Priestner Allinger says. "I don't know too many people in their 40s who don't want to keep active. I think the numbers are enormous and the social aspect of these games contributes as much to the well-being of seniors as the games do."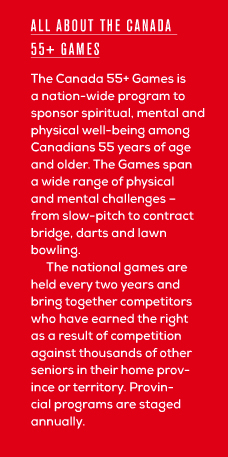 The national Canada 55+ Games are held every two years over a four-day period in August. This year, Strathcona expected close to 2,000 participants and spectators, the largest turnout ever. Peter Nordland, president of the Canada 55+ Games, based in Cornwallis, N.S., says that as the games become bigger, larger communities are required to host.
"You need a community that can house at least 2,500 people. Once your numbers get this big, you need a community that has least 150,000 people in it and situated in an area that has the proper facilities such as ice rinks, community centres
and swimming pools. If it's an area that doesn't have hotels and transportation infrastructure to support the games it becomes a bit of a problem."
Entertainment and opportunities to socialize are also part of the mix. In addition to infrastructure, the games require a huge number of volunteers to make sure operations run smoothly. And then there is always the bottom line to consider.
"It will usually cost about $400,000 to $450,000 to bid on the national games, most of which [the host] will get back through sponsorship," says Nordland. In some provinces, government also steps up to the plate. In Ontario, for instance, the Ministry of Tourism, Culture and Sport contributes $150,000 in partnership funding for the Ontario 55+ Summer Games, and up to $200,000 in funding for the Ontario 55+ Winter Games.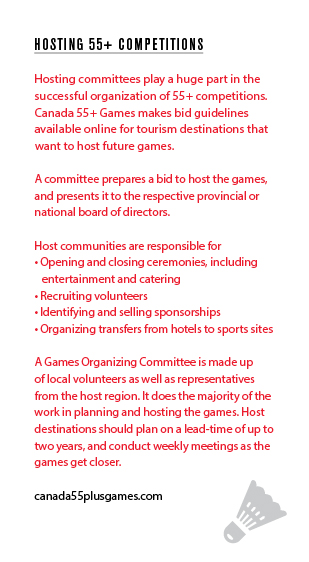 One of the spillover effects of hosting the games is the potential for pre- or post-extended stays in the area, as participants take time to explore the host destination. In 2012 for example, Cape Breton hosted the national Canada 55+ Games and many participants stayed much longer to have an extended holiday. "The longer it takes to get to a destination, the longer [the participants] tend to stay. That's an important part of the 55+ Games," notes CSTA's Rick Traer. "This demographic has the luxury of time."
That point is echoed by Gordon Orr, CEO, Tourism Windsor, Essex Pelee Island, who says participants stayed in the region following the 2014 Ontario 55+ Summer Games (held August 19-21). 
"We know that just under 100 people booked an extra night prior to the Games and 300 people
decided to stay an extra night after the Games, so we are very happy that those extra room nights are being captured, which, in the middle of the week timeframe, is just wonderful," Orr says. "We have communicated through newsletters and through the Ontario 55+ website the vast array of tourism offerings in Windsor and Amherstburg and hope our visitors will help tell our story when they return to their own communities."