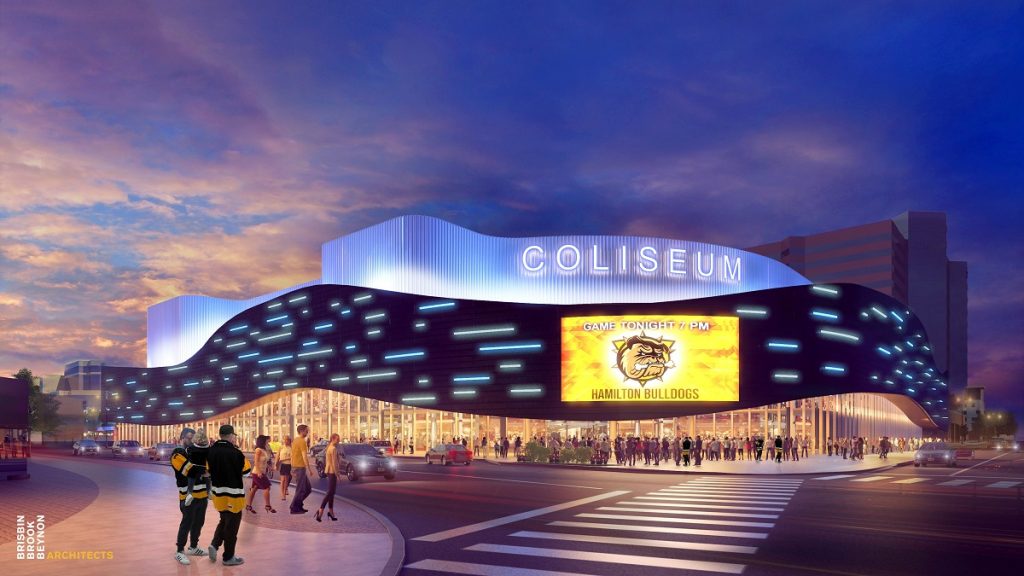 By Angela Kryhul, Editor, ADRENALIN
The world's largest sports and entertainment venue developer has its eye on Canada. Los Angeles-based Oak View Group (OVG) entered the Canadian market last fall when it was asked to renovate FirstOntario Centre arena in Hamilton, Ont. The project—estimated at $100 million—is scheduled to begin construction in late spring 2023.
STEPHEN COLLINS, OVG's president, global venue development and special projects, chats about the FirstOntario Centre renovation as well OVG's overall strategy for the Canadian market.
What's unique about the FirstOntario Centre renovation?
The Hamilton building has a lot going for it. With some buildings you're better off starting over, but [FirstOntario Centre] has good structure, good bones and it's well maintained. We've got the framework to create something really special.
When they built the arena, there was a lot of space [about 80,000 sq. ft.] that was never utilized. One of the challenges in a renovation is that you usually have limited opportunity to go outside the footprint of the building. Hamilton's advantage is there's so much space mothballed that we can open it up in a way that's going to provide a greater experience and that will drive more revenue for the building and for the community.
How will the renovation enhance the sports fan and concert-goer experience?
We're very much of the mindset that we need to provide something for everyone so that there's not the haves and the have-nots—there are just different opportunities for different areas of the building. The traditional suite product will still be there, but if you're a small company and you don't need 16 seats for every event, we've got a theatre box concept where there's four dedicated seats for every event and you still have a club space where people can mingle.
Climate Pledge Arena was the first building where we departed from what we call belly-ups—typically six cash registers where everybody lines up. [At both Climate Pledge Arena and UBS Arena] we've introduced Amazon's Just Walk Out technology as well as a self-checkout marketplace concept where you just pick up the items you want and there's no interaction with a cashier. Getting people in and out makes the customer experience more enjoyable.
Describe OVG's strategy for the Canadian market.
[OVG has] focused almost exclusively on arenas to this point. We try to stay within the 10,000 to 20,000-seat ballpark because that's what we do best. We will look at something a little bit bigger or a little bit smaller… but I would say our sweet spot is in the low 20s. The relationships we have for [sports and entertainment] content scales to that size.
For us it doesn't really matter whether it's a renovation or a new build. We assess whether we can succeed in a market, whether the market is either underserviced or it's being serviced by a building that has greater potential and we can, through a renovation, maximize its potential.
We drive the process from a 360-degree perspective. It starts early, making sure we have the right partners and it's very important how the community perceives what we're doing. We're a company that operates buildings under long-term agreements—the food and beverage piece, the booking piece, the facility management piece. We're there to make the building successful for the long-term.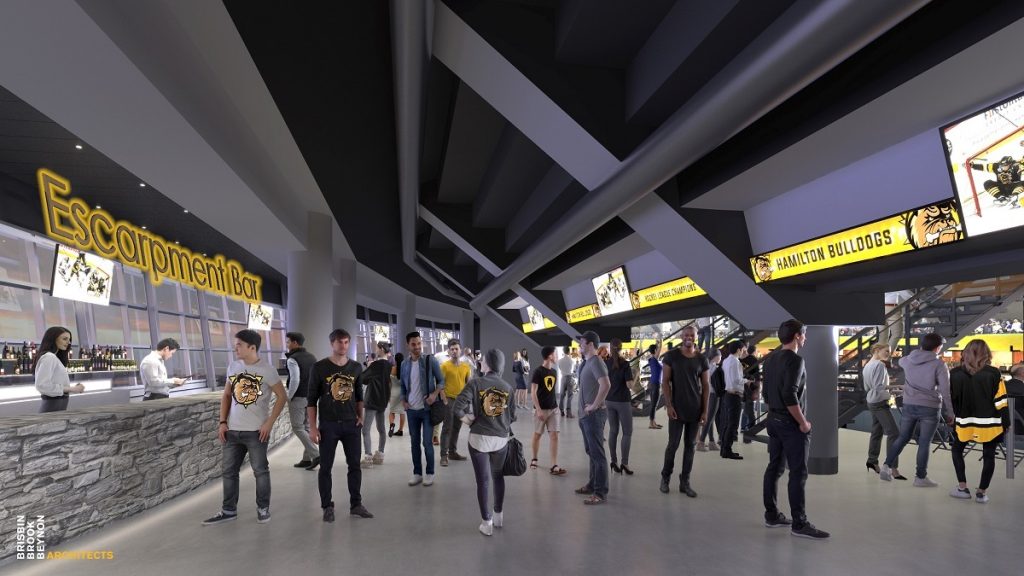 Fast Facts: FirstOntario Centre
Opened: 1985 as Copps Coliseum
Current capacity: 19,000 for concerts, 17,400 for hockey
Renovation budget: $100 million, privately funded; part of Hamilton's sports, entertainment and cultural district revitalization project led by the Hamilton Urban Precinct Entertainment Group
Renovation start: Spring 2023
Resident teams: Hamilton Bulldogs (Ontario Hockey League), Hamilton Honey Badgers (Canadian Elite Basketball League) and the Toronto Rock (National Lacrosse League)
Renovation details: New exterior façade and video board; better street-level integration with a year-round sports lounge, e-sports zone and restaurants; expanded concourses; lower bowl transformation; flexible curtaining system to block off the upper bowl balcony; locker rooms modernized with training facilities and social spaces; reinforced roof structure to handle jumbotron and concert rigging
Fast Facts: Oak View Group
Founded in 2015 by entertainment industry veteran Irving Azoff and Tim Leiweke, former president and CEO of Maple Leaf Sports and Entertainment
Projects:
US$3-billion Las Vegas entertainment district (arena, casino, hotel; in development)
Co-op Live Arena, Manchester, U.K. (2023)
Baltimore Arena, Baltimore, MD. (2023)
Moody Center at University of Texas, Austin (2022)
Acrisure Arena, Palm Springs, Calif. (2022)
UBS Arena, Belmont N.Y. (2021)
Climate Pledge Arena, Seattle, Wash. (2021)