THE EVENT Mudd, Sweat & Tears is a 10K obstacle course mud run that combines a location's natural challenges with constructed obstacles. MST entered the muddy obstacle course category – dominated by such organizations as Reebok Spartan Race and Tough Mudder – in 2013 with three events. This year, MST is running seven events across the country (Kelowna, Vancouver Island, Victoria and Kaleden, BC, Cochrane, Alta., Ontario's Niagara region, and Saint John, NB).
DEMOGRAPHICS  MST events attract everyone from experienced racers and athletes, to first-timers. The age range tends to be 19 to 48, and "anywhere from 53 per cent to 73 per cent of our racer population are female," says John Reed, founder and president, MST Canada Inc.
Friends, family and the curious come to cheer on participants. "A lot of people, who are not early adopters, will come to a race and make a personal assessment as to whether it's something they want to train for," Reed explains.
IT GETS MESSY Participants run, crawl, climb, drag, slip and slide their way through muck-soaked obstacle courses. Many competitors strive to finish first, but most simply aim to complete the course.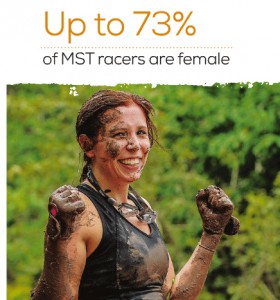 WHAT'S THE ATTRACTION?  "It's hard to explain other than to say people like getting muddy. Our racers tell us they want more things to climb and more mud to crawl through," says Reed. "I think it's a way of really shedding the workweek. It's super organic, it's tons of fun, and it's very social. The mantra of most of these types of events, including ours, is to support each other – we help each other over obstacles, we cheer each other on."
Racers love the physical challenge, too. "It's also a really nice balance for upper body core and lower body, so it fits in with the training regimes that a lot of people are on, especially CrossFit," Reed adds.
CHALLENGES  "We really need to focus on increasing value and improving year over year. We listen to social media feedback from our racers, and need to work very hard at making improvements, and be super customer service focused," Reed says.
That includes carefully researching potential event locations, and ensuring event dates don't conflict with similar obstacle events. The group is also working to improve obstacle course design
in order to reduce bottlenecks. "We're making sure there's a unique flow and unique element to the courses, so that racers aren't waiting in line," he says.
LOCATION  The ideal location for a MST event, Reed says, is within an hour of a major urban centre so that the event attracts urbanites seeking adventure and challenge. Reed also looks for
synergies with sponsors. Wine tastings and other social events "really fit nicely with our demographic," Reed explains. Next year, MST events are planned for Canada, as well as Melbourne, Brisbane, Perth and Adelaide, Australia.