What will an increase in wildfire risks mean for Canadian sport organizers?
By Sarah B. Hood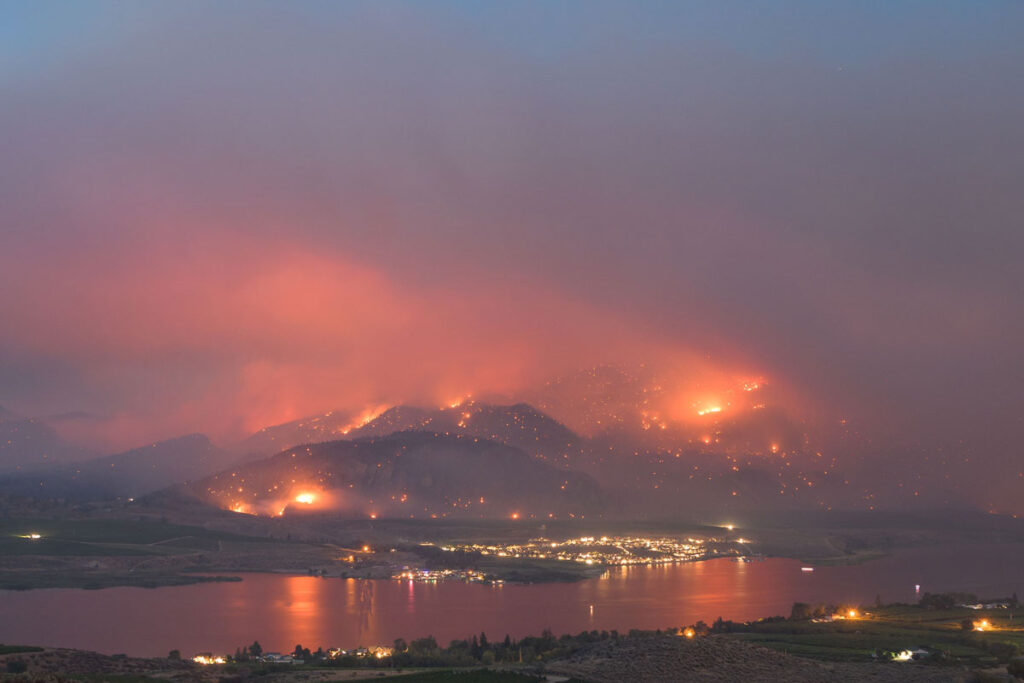 How do you planfor the unthinkable? That was a question faced by some 200,000 Canadians who were placed under evacuation orders in the summer of 2023 due to an exceptional wildfire season. In addition, sport organizers were forced to disappoint thousands of athletes and spectators as event after event closed down, not necessarily because of the threat of the fire itself, but because of the health dangers of inhaling the smoke.
Although it has not yet been deeply studied, smoke from wildfires is thought to pose more health risks than urban air pollution because it includes finer grains of particulate matter that can cause respiratory distress and other health problems. Thus, in June, the IRONMAN 70.3 race in Mont-Tremblant, Que., and the Groupe Copley World Triathlon in Montreal were cancelled due to air-quality issues.
Smoke from Canadian wildfires also blanketed the northeastern U.S., where high-profile sports events were cancelled or postponed in New York, New Jersey and Pennsylvania, including games in the National Women's Soccer League, the Women's National Basketball Association and Major League Baseball, as well as Triple-A baseball games in two states and even horse racing events at New York's Belmont Park and Saratoga Race Course.
August's persistent wildfires in Western Canada ended other events; for instance, Penticton's 2023 IRONMAN Canada was cancelled, and in Alberta the Enbridge Ride to Conquer Cancer was called off less than two hours into the proceedings.
STRONG RISK MANAGEMENT
By Labour Day, the CBC reported, 6,118 wildfires in British Columbia, the Northwest Territories, Alberta, Ontario, Quebec and Nova Scotia had consumed 15 million hectares, almost double 1989's record of 7.6 million and far beyond the 10-year average of 2.5 million hectares. With experts suggesting that wildfires will more likely increase than decrease in the future, how can organizers lessen the impact of these sorts of situations?
"Our experience in Kamloops has taught us valuable lessons about dealing with wildfire threats and their impact on sporting events," says Holly Therrien, destination experience manager for Tourism Kamloops in British Columbia. "The best advice I could give is to build comprehensive plans ahead of time. Strong risk management and communication plans go a long way to make event disruptions or changes as manageable as possible."
Therrien also recommends "building relationships with stakeholders like local authorities and community members," who will play a big role if wildfires occur in the region. To that end, Tourism Kamloops has created a "Know Before You Go" resource page to help organizers and visitors. It includes "resources and information from government partners, first responders and other organizations to help people plan and prepare for their trips," she says.
INSURANCE COVERAGE
Insurance is part of the equation, too. Normal fire coverage extends to wildfire damage, but "we always encourage event organizers to assess their policies carefully and understand what their coverage entails," says Therrien. "Provisions for event cancellations or rescheduling are always valuable things to have in your policy." She further recommends arranging for medical support and "putting precautions in place to protect participants and spectators."
MAKE A PLAN B
B.C. Centre for Disease Control's document Guidance for B.C. Public Health Decision Makers During Wildfire Smoke Events points out that wildfire smoke may force the cancellation of outdoor events "through a number of means including by event organizers or through health authorities, and may be voluntary or mandatory."
It offers a range of options that could be set up ahead of time. These include moving to an indoor venue or a less-affected region; reducing the scale of the event, for example, by "switching from a marathon to a half-marathon;" providing participants with information about health risks and allowing them to decide whether or not to participate; and providing clean-air spaces for those who do take part.
The document suggests that, "if the event is not cancelled, then it is prudent to advise participants to monitor their health and seek cleaner air if symptoms arise."
ANTICIPATE ISSUES
A useful decision-making aid for event planners is the Air Quality Health Index (AQHI), which was developed by Health Canada and Environment and Climate Change Canada. It offers a measurement of air quality for locations across the country on a scale of 1 to 10+, indicating health risk from Low to Moderate, High or Very High. At levels of 7 and above, strenuous outdoor activities can present a risk to some people, and above 10, even athletes would be encouraged to rethink their plans.
Wildfires being notoriously unpredictable, the best planning cannot take every variable into consideration, but "by considering things like insurance policies, back-up plans and potential disruptions ahead of time, we're seeing events are better prepared to overcome these challenges if and when they come up," says Therrien.
"COVID allowed us to understand where and how to encourage flexibility; the sporting community is one that always comes together to solve issues that are outside anyone's control."
KNOW BEFORE YOU GO
Tourism Kamloops has an entire page of its website devoted to safe travel information and resources. Where there are threats of wildfire or flooding, links take you directly to British Columbia public safety and emergency services websites that provide information on warnings or advisories, current fire and flooding situations, landslides, road closures, transportation delays, evacuation orders and more.
Learn more at Tourism Kamloops' Know Before You Go webpage
Published October, 2023