Crowd Control
What do smaller cities do when they want to punch above their usual weight and host larger events? Three communities tell how, with a little creativity, they are able to boost their total guest accommodations. By Sandra Eagle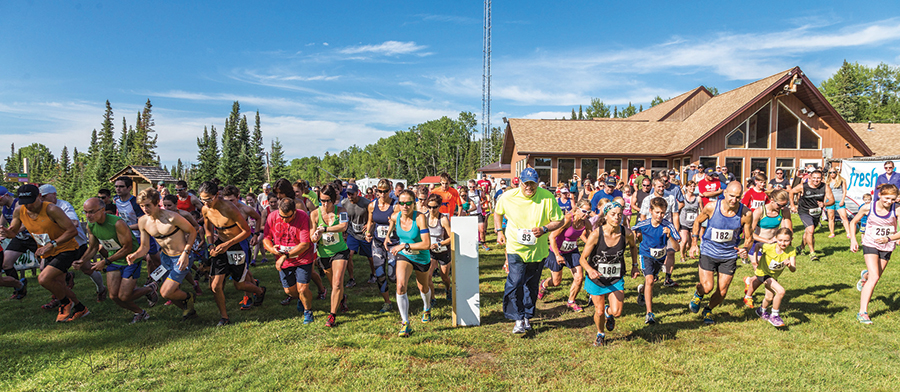 Thunder Bay: 2016 Can-Am Police-Fire Games
With 2,000 out-of-town visitors attending the 2016 Can-Am Police-Fire Games July 2-10, at the height of the summer season, and with 2,500 hotel rooms available in the city, Thunder Bay, Ont., looked at a number of options to house spectators and participants.
"We utilized dorms at Lakehead University and Confederation College, campsites at Chippewa Park and Fort William Historical Park and some residential rooms at the local Dennis Franklin Cromarty High School," says John Cameron, tourism development officer for Thunder Bay.
"We are more adept at using camping accommodations in the summer, rather than the winter. And since the summer is our busiest season, and the hotels are busy, we're always looking at alternative options for accommodations," Cameron adds.
Thunder Bay organizers are also big fans of billeting, where local residents host sport event participants in their homes. For example, the annual Staal Foundation Open presented by Tbaytel (see event profile, page 20) attracts between 150 and 160 competitors, mostly young people, who are looking to break into professional golf. "Billeting is utilized when necessary; it's almost like a student-exchange," Cameron says. "But it's not so difficult [to find people willing to host] when the host family thinks they may be billeting
the next Jordan Spieth."
Fredericton: 2017 Jeux de l'Acadie Games
A similar story plays out in Fredericton, N.B., which will host the Jeux de l'Acadie Games, June 28 – July 2, 2017. This five-day event celebrates Acadian kinship and the whole community will be pitching in to accommodate the 1,300 school-aged, regional athletes as well as their family members. Because the Games will take place at the height of the summer travelling season, the host city must come up with rooms for almost 2,500 people.
Bobby Despres, sport tourism coordinator for the City of Fredericton, says team members will stay at the local Fredericton High School, which is being transformed into an athletes' village. "The classrooms are converted into dorms, the cafeteria utilized for meals, and the outside playing fields are utilized for specific events. We will also utilize CFB Gagetown, the University of New Brunswick and City of Fredericton playing fields and tracks to host events."
Despres says Centre communautaire Sainte-Anne is the organizing committee for the event, and it is looking after all the logistics. "It helps that this same committee hosted the Jeux de l'Acadie here in Fredericton in 2000 and that some of those same members are on the organizing committee for 2017," Despres says.

Victoriaville, Que.: Bring on the crowds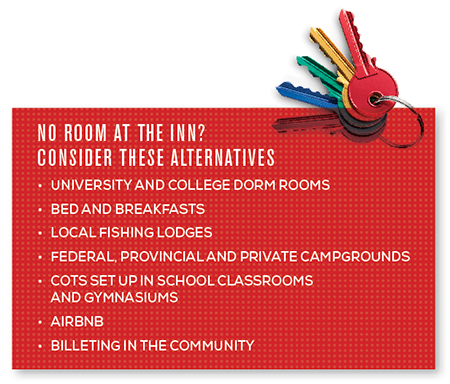 With more than 25 playing fields within three kilometers, Victoriaville, Que., is a terrific spot to host school-level sports tournaments. But when the town's 340 available hotel rooms are booked, organizers must think creatively to accommodate scores of athletes, coaches, family members and spectators, says Steeve Gagné, sales and marketing, Tourisme Victoriaville.
"During our biggest tournaments—le Classique de Basketball Lait au Chocolat de Victoriaville in January, and two soccer events in spring and summer—hundreds, sometimes thousands of people happily take over our town. We're proof that smaller cities can handle overflow pretty easily," says Gagné, noting that Victoriaville enjoys a great relationship with its school board.
Outside school hours, the city manages all school board-owned properties, giving it access to the entire facilities.
"Usually, we use the high school, Le Boisé, to house athletes and their coaches. We can accommodate up to 100 teams," explains Gagné. Organizers transform classrooms into sleeping dorms, and participants bring air mattresses and sleeping bags.
For teams sharing hotel rooms, Gagné says cots can be wheeled in to accommodate six athletes per room instead of four. During smaller tournaments, players are billeted in private homes.
Le Classique de Basketball is the largest female basketball tournament in Canada, attracting up to 140 teams from Quebec, Ottawa and New Brunswick. Eighty-five teams sleep in high school classrooms, notes tournament president Jacques Provencher.
For the Big League Championship in July, teams slept at Le Boisé and at College Clarétain, a private school with on-site dorms. An additional 30 rooms are available at Cégep de Victoriaville, and there's talk of transforming Complexe Sacré-Coeur, an abandoned seminary, into lodging for the sports tourism market.
Offering cash-strapped teams affordable accommodations—such as nearby campgrounds—is a must these days, says Luc Létourneau, president of Tournois Soccer de Victoriaville. Its recent indoor spring tournament brought 40 teams to town, while an event in June featured 300 teams.
"This summer, 50 teams stayed at the high school, paying $150 per team for the weekend," reports Létourneau. "We create a friendly atmosphere, where young people spend time together."
— Wendy Helfenbaum
Click here for more photos from the 2016 Can-Am Police-Fire Games.
Photo: City of Thunder Bay/Can-Am Police-Fire Games