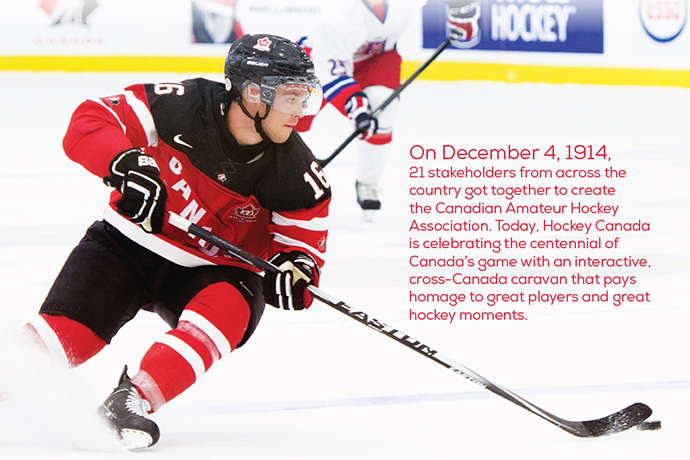 Angela Kryhul spoke with Dean McIntosh, director, events and properties, Hockey Canada
How is Hockey Canada engaging Canadians during its year-long celebration?
Through the summer and into the early fall we're focusing the Century Tour on mainstream Canadian festivals such as Oktoberfest in Kitchener, as well as Hockey Canada events like the 4 Nations Cup and the IIHF World Junior Championship. We will also connect with communities that may not be hosting large-scale festivals. Our goal is to have a million people attend the exhibit and determine how we communicate with them more effectively moving forward.
How will players at every level show their support for the 100th anniversary?
We've designed a new 100th anniversary jersey that all teams representing Canada in international games will wear throughout the 2014-15 season. At the national level, we have a jersey patch to be worn by all of our teams that compete in championships such as the TELUS Cup and the Esso Cup.
We've also produced about 920,000 helmet stickers, which will be distributed to all minor hockey association coaches, players and officials. It's a reminder to young kids that while they may not play for the national team, they're playing to the same program and the same organization as Sidney Crosby or Hayley Wickenheiser.
How will the 100th anniversary activities help create a lasting legacy?
I think a big part of our legacy is looking at modified games, modified registration experiences, and how we deliver the program. We need to do a better job of telling why hockey is such a great choice from a heritage, health and well-being standpoint, as well as from the elements of respect, fair play and safety that the game teaches young kids.
One legacy goal is to increase registration around new programs. For example, the Big Assist is a pilot program we're rolling out to 30 minor hockey associations. It's built around a shorter season, so there is less of a time commitment. Kids can rent their equipment during the program. If they continue to play hockey, then they keep the equipment. If they decide that the eight-to-10-week program is enough, they can return the equipment and it can be provided to another individual in the program.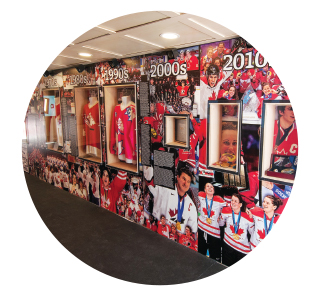 A 20,000-sq.-ft. interactive hockey experience caravan visiting 100 communities across Canada from July 2014 to May 2015.
A one-third scale NHL synthetic ice surface outfitted with 50 pairs of child-sized Bauer ice skates, helmets, sticks and other equipment.
Telus Family Fun Zone:An inflatable hockey rink where children can decorate and play with ministicks and other games and activities.
A video wall showing the key moments in Hockey Canada history.
Have Your Say corner lets visitors give their opinion on the game.
Canadian Tire Heroes of Play: A celebration of behind-the-scenes individuals who contribute to the success of sport in Canada.
Tablet Stations where visitors can design their own avatars, hockey jerseys and hockey cards to share in social media. The tablets also provide community hockey registration information.
Samsung Coaching Clinics to help coaches create training programs and game plans using the latest technology.