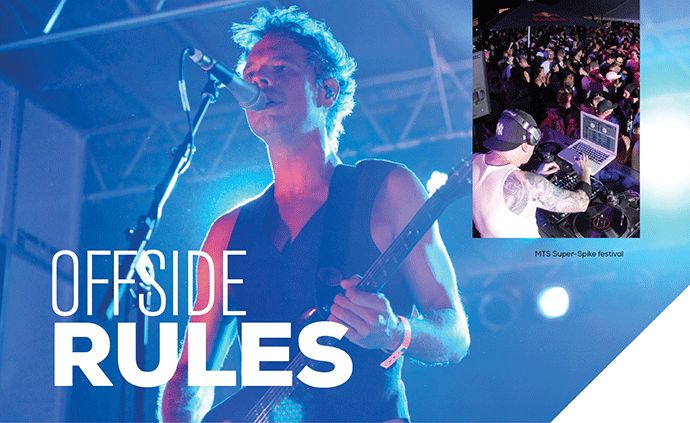 How sports organizers are using unique off-field experiences to grow their events, raise funds and engage attendees
In 2002, Winnipeg's MTS Super-Spike festival was a modest beach volleyball event that signed up 32 teams. Its core purpose was to raise money for the Team Canada Women's Volleyball Centre, but, according to general manager Greg Paseshnik,
"We only made $2,000." Fast-forward to today and Super-Spike is a sweaty, happy Winnipeg institution. The two-day summer event attracts more than 440 teams, big name sponsors like MTS, Bud Light and SKYY Vodka, and raises $125,000 to $150,000 for the women's national team. "Super-Spike funds the team more than the government does now," Paseshnik says proudly.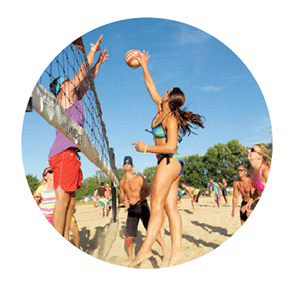 How did organizers achieve such growth? The key, it seems, was developing off-court activities targeted at the event's core 18 to 32-year-old demographic. For Super-Spike, that meant serving up a full-blown music festival alongside the volleyball action. For 2015, a two-day concert lineup will be capped off with Hamilton, Ont.-based alternative rockers, the Arkells, and then it's back to the sand for the Red Bull Beach Party under the stars.
Paseshnik says the event founders decided upfront to tap a younger demographic rather than the same old corporate donors. The challenge was how to engage this group beyond volleyball. "We thought, 'You know, Manitobans love drinking beer especially in the summertime. So why don't we make it a bit more a party atmosphere and throw in some live music?' "
The event showed potential in the early years, but organizers noted they were losing numbers between games at Super-Spike's original downtown location. "There were too many avenues for people to leave our event and go to other restaurants and pubs," Paseshnik explains.
After the third year, the event relocated to Maple Grove Rugby Park where, Paseshnik says, "There's nowhere you can walk to." Each year more sponsors and vendors joined in. "Last year, we added food trucks and people absolutely loved that…. It keeps people at our event, they're eating the food there, they're drinking our beer."
In Vancouver, Ann Phelps, executive director of the Rio Tinto Alcan Dragon Boat Festival, one of the largest such events in North America, agrees that it's crucial to entice attendees to stay on-site. Between races, Phelps says, there's "lots of downtime and they need to be amused or they just would go off the site."
Today, the three-day Vancouver festival includes a world beat stage, global tea lounge, Granville Island Brewing beer garden and family events such as table tennis and drumming workshops. "The more things you do, the more people will come, and the more time they will spend staying on the site, so the partners get more exposure to a much larger and diverse audience."
With sponsors, Phelps says the festival strives for meaningful engagement. "We try to find out what kind of strategic marketing directions they would like to go in, who their market is… what kind of programs they're interested in," she says, plus helping them with their challenges and looking at festival programs to see which might mesh with sponsor objectives. Having sponsors engaged and partnering in activities, says Phelps, builds more name recognition with audiences than "if they just see a logo."
In looking at add-ons and what draws audiences year after year, successful events inevitably display uniqueness and passion. Super-Spike, says Paseshnik, sprung from a desire to support a cause, plus avoid "the same old rubber chicken dinners and golf tournaments." And, Phelps emphasizes: "We began in 1986 and it's always been seen as a multicultural event that fosters learning and exploration of Canada's population. So it's not just dragon boat racing."