It was an acronym that kept popping up: STEAM.
Short for Sport Tourism Economic Assessment Model, this tool was something John Rae, manager of strategic alliances for the Resort Municipality of Whistler, BC, heard about repeatedly from the national sports organizations he dealt with. "We wanted information about events that was metrically sound so we could make good decisions about levels of investment in certain events," Rae explains. That was four years ago and since then, the municipality has conducted 14 STEAMs for a variety of events. 
STEAM is a research methodology tool that measures the potential economic impact of a sports event. It's available only to Canadian Sport Tourism Alliance (CSTA) members. 
"When it started in 2002, the idea was to do a predictive economic impact assessment and then the tool was built on that," says Tony Fisher, director of research for CSTA. And now STEAM consists of two parts: the economic impact model (the multipliers which turn spending into GDP, jobs, taxes, etc.); and visitor profiles.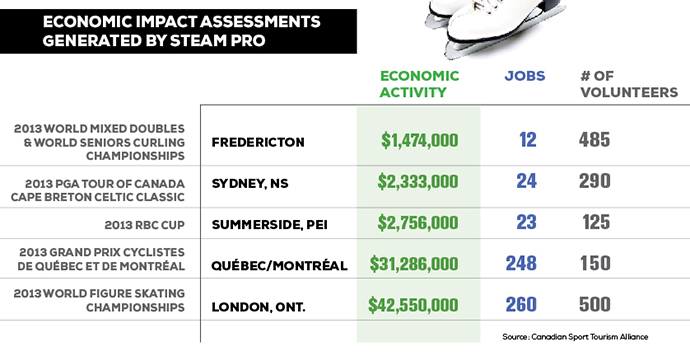 CSTA has also developed a companion tool, STEAM PRO, an assessment tool used to measure the economic success of a sports gathering.
Event organizers like using the tool because it puts hard numbers to a sports gathering, pre- and post-event.
"People like to be able to say more than just 'It's good for the economy.' It's good to be able to put a number on it," notes Fisher. Those numbers can also give sports organizations leverage when it comes to lining up event funding.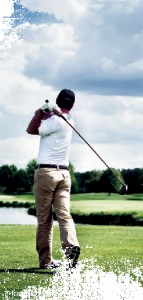 "Whether it's the federal government or hoteliers, those funding agents are making an investment and those formal third-party documents, via STEAM, demonstrate [that] what they're investing in generates a significant return," says Greg Stremlaw, CEO of the Canadian Curling Association.
A versatile tool, STEAM can be used to measure events of all types and sizes across the country, from the 2008 Arctic Winter Games in Yellowknife, to the 2013 Cape Breton Celtic Classic.
"We've conducted STEAMs on events from film festivals to skiing. And we understand how they stack up against each other," says Whistler's John Rae.
It's a tool Rae says he will continue to use for future events: "The more people who use it, the more standard a measuring stick [it becomes] for the economic impact of events."