For many people, the term sport tourism suggests large crowds and iconic mainstream sports like hockey or soccer. But the rather magical success of the 2014 Quidditch Global Games, held July 19 in Burnaby, BC, proves that nascent, or fringe, sports have the power to draw participants from across the globe, as well as a nice share of spectators and media buzz.
"I don't think anyone anticipated the kinds of crowds that came out," says Jennifer Scott, manager of sport tourism for Tourism Burnaby. The one-day tournament was held at the Burnaby Lake Sports Complex West, however Scott and her crew underestimated attendance, and didn't set up enough seating: "People were standing right up against the fencing looking onto the pitch."

THE EVENT
All told, 125 players from Australia, Belgium, Canada, France, Mexico, United Kingdom and the U.S. entertained close to 1,000 spectators, according to Sarah Woolsey, events and development director at the U.S.-based International Quidditch Association.
The success of Quidditch events, like the Global Games, seems to stem from its mystery. "People would see 'quidditch' and say 'Oh what's that? Maybe I'll go check it out,'"  says Rebecca Alley, assistant coach for Team Canada.
For the uninitiated, Quidditch is a co-ed contact sport inspired by J.K. Rowling's Harry Potter series. Awash with talk of "bludgers," "quaffles" and "snitches," there's also an awkward handicap – athletes must play with a broom clenched between their legs.
PROMOTION AND FUNDRAISING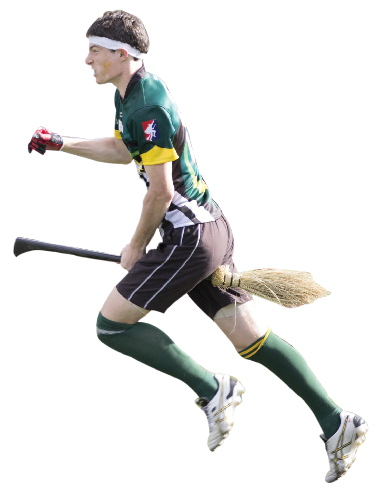 "Sponsorships aren't typically a big part of our events," says Woolsey, adding that many teams financed their trips to Burnaby via crowdfunding sites like Indiegogo. The Canadian team's Indiegogo campaign raised $5,619, and offered donors perks such as T-shirts, player trading cards and baked goodies, says Alley.
To promote the Global Games, Alley and Canadian head coach Hugh Podmore did multiple interviews for print, radio and television media. Scott says her Burnaby team also focused on "amplifying" the social media chatter of the existing, and very enthusiastic, Quidditch community.
ECONOMIC IMPACT
Events like the 2014 Quidditch Global Games may have only a modest economic impact since participants are often students travelling on tight budgets. "We're all broke students," Alley says. "I had seven people staying in my house in Burnaby."
Yet Tourism Burnaby's Scott says the tournament draws a desirable group of visitors, and Burnaby had landed the 2014 tournament after submitting a bid in a prior year. There are spinoff benefits and local tourism opportunities: "Some teams came three or four days in advance and some of them stayed three or four days after, so I definitely see the opportunity," she says.
Visitors patronized local businesses, like the Thirsty Penguin Grillhouse, site of the official after-party. "We'd love to have them back," says Scott, promising that, next time, "we'll definitely have more stands."