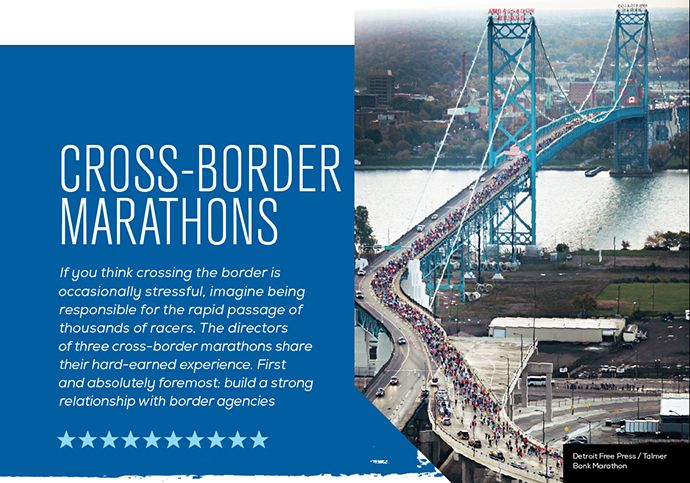 DETROIT FREE PRESS/TALMER BANK MARATHON

Detroit, Mich. and Windsor, Ont.
October 17-18, 2015
THE DRAW
Founded back in 1978 by a Detroit Free Press runner, the for-profit event now welcomes 27,000 runners every year for the entire event (15,000 for the international half-marathon). Dozens of charities tied to the event raise $2 million. "We're not just another big city race. I know of no other race that does two border crossings," says Matthew Scodellaro, marathon specialist.
THE COURSE 
Windy; runs through historic neighbourhoods in downtown Detroit, around pretty Belle Isle, along the RiverWalk, crossing the border at the Ambassador Bridge and Detroit-Windsor Tunnel, and back again to end in Detroit.
BIGGEST CHALLENGE
Getting so many runners vetted by both border control agencies before the race. "The relationship is more difficult to manage as we grow every year," adds Scodellaro. "They recently asked us to send the list of registrants biweekly. We do anything we can to help them."
GROWING PAINS
While the bridge is not completely shut down the day of the race, the tunnel is closed for a few hours because it is so narrow. The reality is the marathon can't grow much bigger than it is now without closing down the tunnel for a longer period of time, so organizers have come up with other expansions such as a children's race that doesn't cross the border.
SURPRISING CHALLENGES
Developing a 100-page emergency crisis booklet in case there is a sudden border closure. "We meet with security task forces from both sides of the border five or six times a year," Scodellaro says.
VITAL ADVICE
Make sure you lock in long-term sponsorship. One of the title sponsors, Talmer Bank and Trust, is in a five-year contract.
NIAGARA FALLS INTERNATIONAL MARATHON INC.

Buffalo, N.Y. and Niagara Falls, Ont.
October 25, 2015
THE DRAW
The venerable marathon, now in its 18th year, attracts between 5,000 and 6,000 racers and enjoys the fact that quite a few charities saddle on. It's also one of the biggest cross-border marathons that not only ends in Canada, but at one of the country's big tourism draws—Horseshoe Falls. "We try to promote our run as a destination where the family can make a weekend out of it," says Joyce Harris, race director.
THE COURSE
Flat and fast; starts at the Albright-Knox Art Gallery in Buffalo, traverses the scenic route along Niagara Parkway, and finishes at the brink of Niagara Falls.
BIGGEST HURDLE
"Getting people over to Buffalo for the start is a major logistical undertaking," says Harris. Racers who don't book hotels on the Buffalo side are shuttled across in school buses.
SPONSORSHIP WOES
The race enjoyed casino sponsorship for years. Now, finding big sponsors is a challenge. "There are so many races constantly popping up," says Harris. "They may not be cross-border, but they use the beauty of the Falls as a lure." To help spread the word about Niagara International's merits, the organizers hired a marketing consulting company this year.
SURPRISING CHALLENGES
Attracting volunteers. "Young people, the race's future organizers, are very busy and hard to find," says Harris. The event needs more than 1,000 volunteers to run effectively.
VITAL ADVICE
Be prepared for the worst. "9/11 happened one month before our race, and we couldn't cross the border. We had to quickly revise the course, and get it measured and certified in time. It was expensive and time-consuming," Harris says.