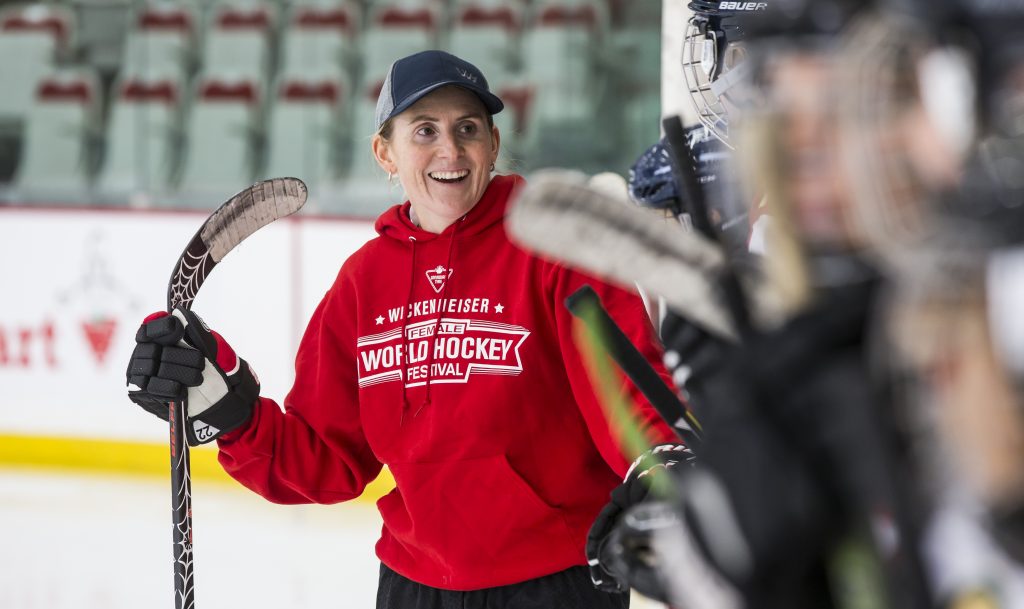 Since Hayley Wickenheiser founded her annual WickFest hockey tournament in 2010 there have been numerous highlights. But one of the most touching moments for Wickenheiser came this past February during the Surrey, B.C., tournament when a young girl gave her a Wonder Woman cape signed by the player's entire team.
By Seema Dhawan
"I put it up in my office and thought it was very fitting—a little girl growing up, dreaming to be Wonder Woman," Wickenheiser says.
Commonly known as WickFest, the Canadian Tire Wickenheiser World Female Hockey Festival is all about sports excellence as well as nurturing and empowering female leaders. "Any time we can highlight women in sport, it's good for all women, whether in sport or not. I look forward to a day when people don't say 'that girl is good at sports,' rather 'that's a great athlete!'" says the six-time Olympian.
---
WickFACTS

CALGARY
November 15–18 and November 22–25, 2018
2,500 Athletes
108 Teams
6,500 Attendees
150 Volunteers
Countries: Canada, United States, India, China
SURREY
January 31–February 3, 2019
900 Athletes
50 Teams
2,250 Attendees
150 Volunteers
Countries: Canada, United States
---
In 2018, Calgary hosted WickFest over two four-day weekends in November and an additional festival ran in Surrey in early 2019. "It was an awesome turnaround and the city of Surrey was so supportive they made it very easy for us," Wickenheiser adds.
The festival's primary feature is a tournament but organizers also offer training sessions on skill, nutrition and lifestyle for players, their parents and siblings, as well as coaches.
A typical WickFest attracts participation by more than 2,000 players from all over the world, aged eight to 18, as well as 5,000 supporters. The festival donates all proceeds to organizations that promote access to sport, including $50,000 in scholarships through the Lace 'Em Up Foundation.
WickFest has also proven to be a prestigious addition to Calgary's sports and cultural scene and a lucrative sports tourism draw, generating an estimated $5.27 million in economic activity for the city in 2018, according to Tourism Calgary.
"Events [like WickFest] enrich the community by adding to the vibrancy of the city, creating experiences for Calgarians and infusing spending into the economy," says Jeff Daniels, Tourism Calgary's executive director of sport, culture and major events.
WickFest has gained so much momentum with players and fans that it's becoming easier to attract sponsors, Wickenheiser says. In fact, the NHL jumped on board as a sponsor in 2018. "WickFest now has its own following so people know about us and that helps a lot," she says.
Organizers want to expand the festival to additional cities and are looking for a fit with destinations that support female hockey and opportunities for women.
The biggest win for the event, however, is creating young leaders and building confidence. "WickFest has really become what I hoped it would be," says Wickenheiser. "I continue to have even bigger dreams and ambitions for how WickFest can impact young women and their families."