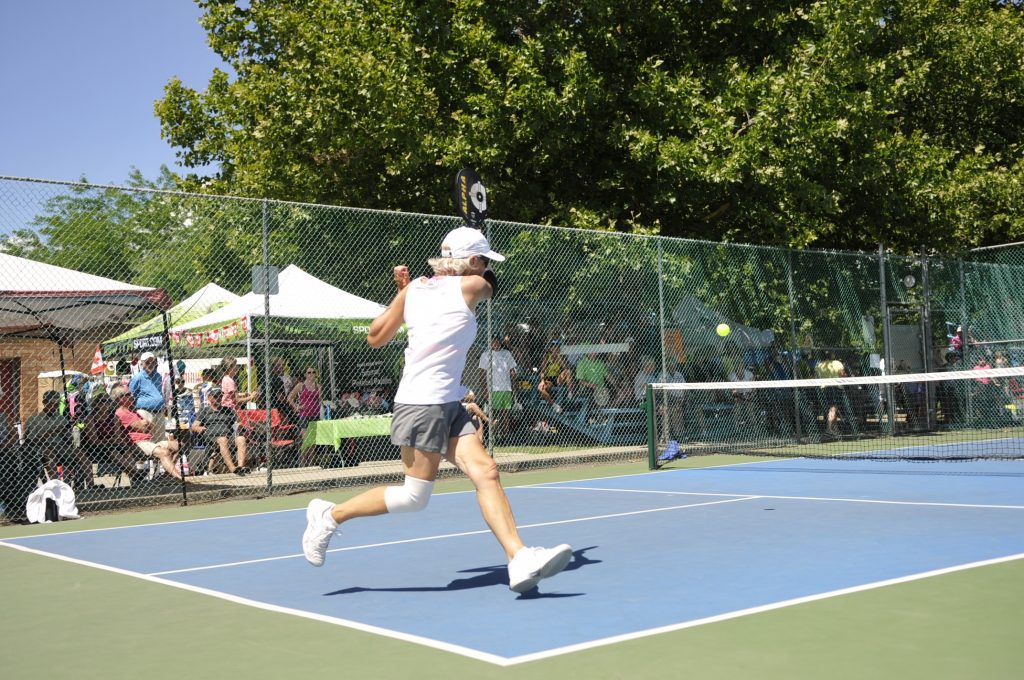 CANADIAN NATIONAL
Pickleball Championship
By Cindy McGlynn
Pickleball is as much fun to play as it is to say, which is the chief reason this easy-to-learn sport—that resembles tennis, but is played on a badminton-sized court with large paddles and a wiffle-type ball—is growing so rapidly. 
"It is fun. It is social. It is easy to learn, but as you progress, the level of play can become very challenging," says Richard Chambers, vice-president, operations, Pickleball Canada, a national organization that is hustling to help clubs grow, create provincial associations and develop national coaching standards. 
In Canada, one of the biggest events of the year is the Canadian National Pickleball Championship, held recently in Kelowna, B.C. 
THE PLAYERS
The largest demographic at the 450-player tournament were between the ages of 55 and 64. Pickleball's reputation as a retirees' sport endures, but tournament communications director Wayne Pierce says that's changing quickly. The youngest player at this year's tournament was 15, the oldest 74. "Four years ago, when we hosted our first Canadian National, I don't believe we had many, if any, players under 50," Pierce says. This year there were more than 100. The event also drew international players: two from the U.K. and one from Mexico.
ECONOMIC IMPACT
"We bring 700 visitors to Kelowna for an average of a week-long stay," says tournament co-director Glenda Jackson. The tournament annually generates over $1 million, according to visitor intercept data from the city of Kelowna, as visitors linger to enjoy Kelowna's golf courses, wineries and hiking.
SPONSOR INTEREST
"The business community really stepped up. Financial advisors, retirement community resorts and, of course, pickleball suppliers, played a major role in our financial success."
—
Wayne Pierce, Canadian National Pickleball Championship
CHALLENGES
Fundraising and securing sponsorship requires local enthusiasts to work their networks extensively, Jackson says, and as the sport begins to nurture professionals, cash prizes need funding too—all of which can be challenging for a volunteer-run event. 
INNOVATION 
Four years ago, Kelowna organizers changed the national tournament format from round-robin to a double-elimination tournament, Jackson says. The following year, they introduced a cash prize. "This year was the first year we paid all three medal categories, gold, silver and bronze, in the open play categories," says Pierce, adding that the cash incentive is increasingly important to draw top players. 
LEGACY
Kelowna already had 12 permanent pickleball courts before hosting the national tournaments, but the events likely cemented the city's reputation as the "pickleball capital of Canada."
SaveSave