High-energy 3-on-3 basketball meets urban festival—it's a match made in sports tourism heaven.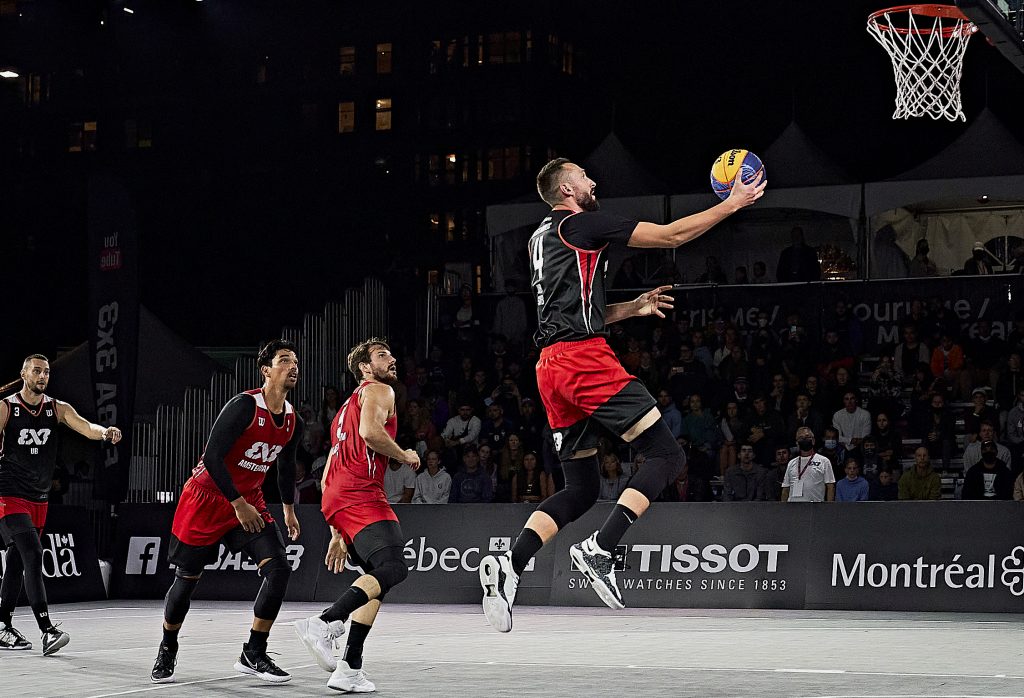 By Wendy Helfenbaun
Inspired by various forms of streetball, the International Basketball Federation (FIBA) first introduced 3×3 into international competition at the 2010 Youth Olympic Games in Singapore. It became an official discipline at the 2020 Tokyo Olympics, and since then, 3×3 has attracted millions of players thanks to FIBA's growing network of competitions.
Coined the world's largest urban team sport by the International Olympic Committee, 3×3 has piqued the interest of host cities drawn to the event's simplicity: One net, six players and 10 minutes on the clock to score 21 points for the win—all set against a background of music, dance and other programming that attracts scores of spectators and tourists.

Joie de vivre
Launched in 2012, the annual FIBA 3X3 World Tour unites teams of elite male and female professionals. The Montreal stop took place in September 2022, at a pop-up, open-air stadium in downtown's Quartier des spectacles. The 3×3 tournament headlined dynamic cultural programming within the new Festival Distrix.
In addition to fast-paced basketball, attendees enjoyed live music performances, DJ duels, beat battles, dance competitions, rap contests and graffiti street arts. Many of the events were free, attracting a diverse, younger crowd, reports Aurélie de Blois, spokesperson for Tourisme Montreal.
Urban sports have surged in popularity in recent years, with millions of athletes participating across North America in competitive skateboarding and urban climbing; both sports make their debut at the 2024 Paris Summer Olympic Games. Montreal has been a leading force in this space for a decade, says de Blois.
"We're home to Allez Up, the largest climbing gym in Canada, and the Vans Skatepark, the first permanent skateboard facility at an existing Olympic site," she explains. "Some of our coolest, must-see competitions are urban sport events—including Jackalope for climbing and skateboarding and the Dime Street Challenge for skiing and snowboarding."

Canadian Cities Interested
The 3×3 phenomenon has caught the attention of other Canadian cities eager to host this type of urban sport event, says Ron Yeung, head of domestic and 3×3 development for Canada Basketball.
"The ease of setting up 3-on-3 means you can have a game anywhere. The sport has grown tremendously over the past three to four years because it's fast-paced and high energy, making it exciting not just to basketball people but fans in general," says Yeung.
"3×3 is still relatively new in Canada but when people see it, they instantly fall in love with it; we've seen this everywhere we set up these events. I constantly get phone calls from tourism boards across the country about what it takes to host an event."
Tying in 3×3 with festival-like events creates buzz while drawing tourists, and welcoming international teams drives interest from local communities wanting to cheer on their home country, says Yeung.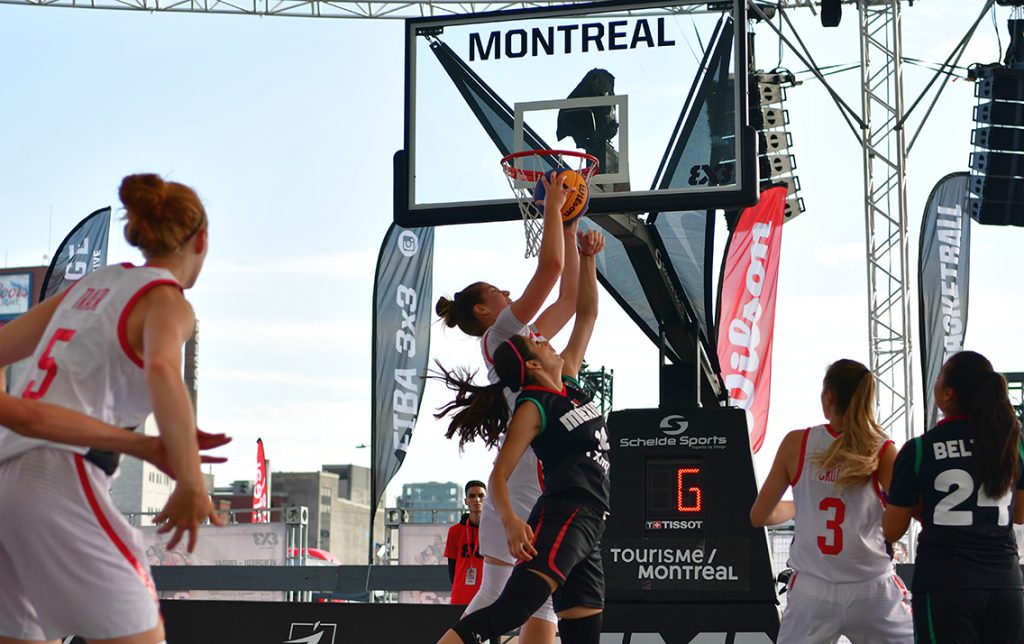 Laying the foundation
A 3×3 event has a great footprint and the potential of creative legacy, explains Yeung. "It not only brings a tournament but also an entertainment show, which raises awareness for young basketball participants and general fans alike," he says.
Yeung suggests cities first look at hosting regional or qualifying 3×3 events to better understand the sport before reaching for the World Tour.
"To really have an impact on building legacy, you need the right promoters and basketball people involved to help drive it so you can build off of the success and create further development for 3×3 as a sport within your city and province," he advises, adding that FIBA guides potential host cities through the application process and logistics, while Canada Basketball lends support.
"Cities looking to host need a central, dynamic location people will recognize, piggybacked with a festival environment to execute a successful 3×3 event that gets more traction from spectators," he adds. "We're eager to work with any city interested in getting more information."
Published April, 2023