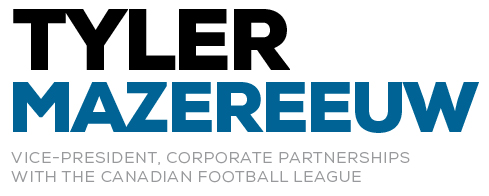 Tyler Mazereeuw has spent 14 years forging partnerships between some of Canada's biggest properties and brands in film, fashion, live arts, music, and most recently, sports. Today, he's playing a big role in growing the Canadian Football League (CFL) and he's constantly in touch with trends as the chair of the Sponsorship Marketing Council of Canada. No wonder he was recently named one of George Brown College's 5 to Watch in the Canadian sports business industry.
Mazereeuw chatted with writer Lesley Young about emerging trends and challenges in sports sponsorship and corporate partnerships.
On the key to selling sponsorships…
The real recipe for success in selling sponsorship is moving beyond selling signage and into an idea generator that engages and inspires brands to become partners. At the same time, the property and sponsor both report to the fan, and if they aren't creating an authentic and relevant experience—whether that's the product on the field or the sponsor activation around the game—the loyalty will start to erode and you'll be selling one-off tickets and sponsorships.
On the value of data…
We use multiple research partners here at the CFL including IMI International, which provides insights on our fan base, market
realities and fan perceptions. This allows us to be more targeted in who we talk to, but also more efficient in unlocking more value with our current partners. For example, we just invested in a new product, the IMI Certainty platform, which will allow us to pre-test activations to determine the likelihood of success and how fans will react.
The activation ideas are presented to hundreds of CFL fans (online) and tested against their ability to deliver on critical success metrics—engagement, interest, competitive standing, increased brand equity, increased purchasing/usage and word of mouth potential. The more informed we can be about what our fans truly want, the quicker we can transfer fan loyalty to our partners.
On managing sponsor expectations…
Owning anything in today's fragmented media landscape is next to impossible, so instead of doing too much and buying everything, I encourage a focus on doing a few things really well. Less is more when it comes to extracting the true value of sponsorship. Sponsorship is also a long-term investment that typically shows the best results in the third year and beyond. You need to be authentic and demonstrate your commitment to fans long-term. It's like any relationship, one-offs don't typically create loyalty; trust and meaningful interaction does.
---
Three Powerful CFL Activations
"In order to drive true affinity—the transfer of emotion from the fan to the sponsor—you need to develop an authentic experience or meaningful dialogue with the fan that adds value," says Mazereeuw. "Otherwise, they don't have any reason to engage or pay attention. Sure, you can still invest based on impressions, but you'll be paying a premium for traditional advertising that is ultimately one-dimensional."
Here are three examples within the past year of how Mazereeuw and the team at the CFL are creating affinity.
The Shaw Partnership
The CFL and Shaw have embarked on an expansive multi-year partnership that made Shaw the very first presenting sponsor of the Grey Cup, and produced an innovative content series called Shaw Road to the Grey Cup. "It was an integrated content marketing program that tapped into the power of our players' passion and first-person storytelling," says Christina Litz, vice-president, marketing and content, CFL. "The great thing about storytelling is that it really connects with the fan base. The program also delivered on every platform."
The Mark's Partnership
In its second year as sponsor of Mark's Labour Day Weekend, the CFL and Mark's activated a social media promotion that invited Canadians to submit photos and videos of their CFL Game Day fan experiences using #MarksFanCam. TSN then used fan-curated footage to create and share seven 30-second spots on its CFL broadcasts and coastal media platforms. "This innovative new media approach was 360-degrees—it tied an event with digital and television," explains Litz. "The connection was also meaningful and two-way because we were asking fans to enhance their experience of the game by sharing fun insider content on social media."
Watch Mark's Fam Cam on twitter here.
The Dr. Oetker Partnership
You'll find few references to pizza in the heartwarming Casa Di Mama Coach of The Kitchen episodes filmed for social media. Each segment showcases a player and his mom bantering about childhood, family and the kitchen. "It positions Dr. Oetker as a provider of great insider content that is consistent with their family values and how pizza fits in on game night," Litz says. "This content really allowed us to extend the reach of the program well beyond our own fan base."