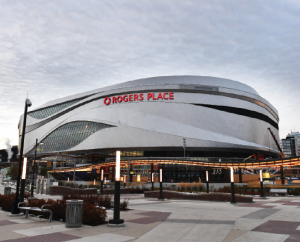 There is a patch of former railway yard in downtown Edmonton that is changing the city. It's bringing jobs, private investment and development, even a newly polished Wayne Gretzky statue. And we know how much the Alberta capital loves a good Gretzky statue.
The Rogers Place arena is the new home of the NHL's Edmonton Oilers, and, if all goes according to plan, will draw the top sporting events on the planet to the city.
"It's a big vision," says Tim Shipton, vice-president of corporate communications and government relations for the Oilers Entertainment Group, which spearheaded the project along with the Katz Group and the City of Edmonton. "It has unleashed a tsunami of development in our downtown core."
The city and the management group haven't just constructed a world-class sports facility, although Rogers Place is that. This is a sporting neighbourhood—dubbed the Ice District—complete with a slew of new restaurants and bars, a JW Marriott hotel, shopping, a public plaza, casino and more.
The budget for the 18,641-seat arena project is pegged at $613.7 million, part of a massive city-run downtown revitalization plan costing more than $2.5 billion.
"The arena is fully integrated into that space, so we have flexibility," Shipton explains. "We can configure the space for large-scale events with the large public plaza for medal ceremonies or small meetings and conferences. With the Ice District, we can program and bring all the assets into play for different events."
Rogers Place opened last September; the Ice District and public plaza will roll out over the next two years.
Rogers Place hosted one stop in the 2016 CHL Canada Russia Series. This November, the venue will host a massive 10-day western lifestyle show including three days of professional bull riding featuring the PBR Canada Monster Energy Finals and a special global invitation PBR Event.
"It is second to none in terms of a new facility built in North America," says Chris Bell, general manager of PBR Canada. "And the opportunity to build something new with them through this event was the right recipe for us to partner with them."