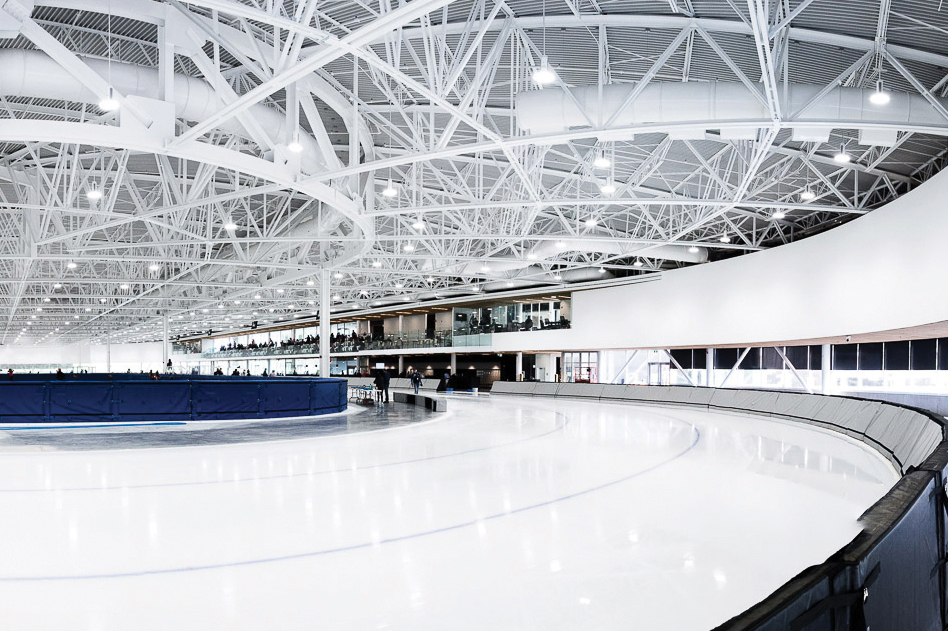 Quebec City's new Centre de glaces Intact Assurance is ready to showcase top speed-skating talent
By Wendy Helfenbaum
Just in time to celebrate the Quebec Speed Skating Federation's 50th anniversary this fall, Quebec City opened a state-of-the-art sports complex in the Plateau Sainte-Foy neighbourhood.
Designed to welcome elite competitions in speed skating, figure skating and hockey, the $68.7-million Centre de glaces Intact Assurance is one of two ISU-sanctioned speed skating rinks in Canada, featuring an Olympic-sized oval rink, four ice hockey rinks and the revamped high performance Gaétan-Boucher Training Centre for long and short track speed skating.
Since Quebec is renowned for developing speed skating superstars and for being Canada's number two destination city to host high-calibre international sports events, according to the ​​Canadian Sport Hosting Index, having a new world-class training facility has created lots of buzz, says general manager Jean-François Harvey.
"The complex is massive—270,000 sq. ft., including more than 140,000 sq. ft. of ice—and under one roof in our lively and historic city. We have the most unique facilities in Canada, including the largest indoor skating rink," says Harvey.
Quebec City will see further economic growth in this sector thanks to the addition of the sleek new facility, which boasts 360-degree windows, several amphitheatres, a large hall, a restaurant and multifunctional breakout rooms, says Harvey.
The project also included upgrading the former outdoor track named for Olympic star Gaétan Boucher to become a covered ice rink better suited for training and major competitions, and remodeling the old Sainte-Foy sports centre, which is now part of the new complex.
Upcoming events include the Canada Cup in March 2022, the Four Continents Speed Skating Championships in January 2023 and the International Masters' All-round Games in February 2023.
In the wake of the pandemic, Harvey says facility partners have been adjusting operations to meet changing public health guidelines, such as limiting spectators and access to certain areas.
Quebec has always been a speed skating mecca, and Harvey hopes the new complex will continue the province's rich tradition of success while building a new generation of champions. "We have about 60 athletes training full-time here who are Olympic hopefuls—some have come from Eastern Canada and the Prairies. There's so much great potential here."
"For me, our biggest success was creating a facility with lots of drawing power for major international events, a place that could meet the needs of elite Canadian athletes while also being very community-oriented," Harvey explains. "Our citizens can access 21 hours of free-skate time per week. We've managed to accomplish all these things, and that's what we're most proud of. We're all set for the future."
---
CENTRE DE GLACES BY THE NUMBERS
270,000 sq. ft.
2,500 spectator capacity
4 ice hockey rinks—2 NHL-sized, 2 international-sized
465-metre indoor athletics track
---