Last August, a sold-out crowd of more than 15,000 packed Toronto's Air Canada Centre for the North American finals of League of Legends, a multiplayer online game that simulates a free-for-all fantasy battle. Fans thronged to the event to sit in the stands and watch top-level players battle it out on giant screens.
In Canada, eSports is just beginning to percolate, however industry insiders say it will  explode. The question for destination marketing organizations, stadiums, arenas, convention centres, movie theatres or any venue that can be rigged up with a stage, theatre seating, laptops, game consoles and big screens, is whether live eSports tournaments and spectating events represent an emerging and potentially lucrative sports tourism opportunity.
Gaming's Wild West 
League of Legends is already a true spectator sport; in 2013, the U.S. government officially recognized senior competitors as professional athletes for visa-granting purposes. But it's only the tip of a growing eSports iceberg that engages participants in dozens of games like Street Fighter, Call of Duty, Super Smash Bros., Dota and Counter-Strike.
Who organizes eSports tournaments? "Right now, it's a little bit like the wild, wild west," says Shaun Byrne, co-founder of eSport Gaming Events (EGE), an eSports event hosting company based in Windsor, Ont. "You have big groups, small groups, some of them competing against each other, some trying to work together."
Canadian eSports events are supported and promoted by not-for-profits like eSports Canada and the Fédération Québécoise de sports électroniques. Besides EGE, independent tournament organizers include Northern Arena and ESChamp, plus numerous smaller-scale concerns.
The fragmented nature of the eSports landscape is partly due to the nature of the games themselves: gamers generally get their start playing at home, and event organizers tend to spring from college and university campuses where facilities that can accommodate multiple computer users are plentiful.
Prize Pool Payout
"You can find just about any level of competition," says Byrne. For example, on a recent weekend, EGE hosted a small event for Windsor locals. Meanwhile, that same weekend, there was an international tournament in San Jose, Calif., drawing 3,000 players from around the world. "There are players making millions; others win a big tournament and get $500," Byrne says.
It is not uncommon for professional players to earn $40,000 to $50,000 a year, he says, but "I can put up $500 and [attract] players from four hours away. The number of tournaments that have prize pools worth going after are still really small, so players are willing to travel. We had an event in Toronto where we put up a prize pool of $5,000, and we had players coming from Europe and Asia."
When Elements Casino in Surrey, B.C., which recently outfitted Canada's first dedicated eSports lounge, offered a prize pool of $1,500 for its first tournament, it drew people from Vancouver Island, Alberta and Washington State, says marketing manager Spiro Khouri. The casino expects eSports to expand; it sponsored a Canadian national team at the World Electronic Sports Games, a Counter-Strike: Global Offensive showdown with a $2.5-million prize pool held in Changzhou, China in January.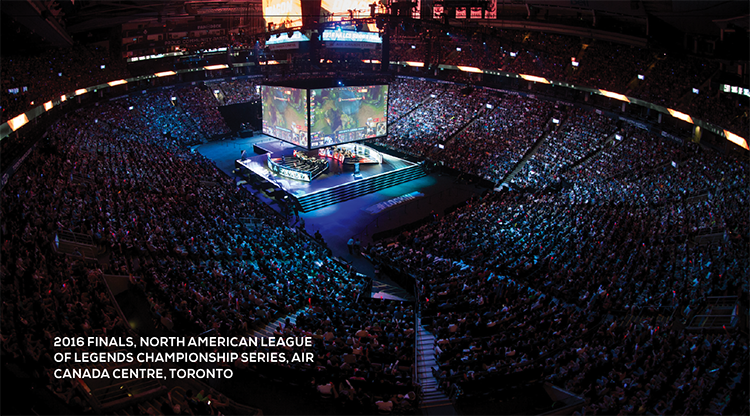 Brand Loyal Fans
eSports fans tend to be gamers themselves. At EGE's Good Game Con, held last May at Toronto's Exhibition Place, "we had 3,000 total attendees, and approximately 80 per cent were players; the rest were spectators," Byrne says. About 150,000 viewers also watched online.
Byrne adds that League of Legends was the only one of a dozen or so games to draw non-gamers. Since top League of Legends players will only compete for purses in the six-figure ballpark, he points out, "we paid some pro players to make celebrity appearances, and probably 700 players came to see those pros."
"The people who follow eSports are very brand-loyal," says Khouri, who has already seen the eSports audience return to his venue for live racing, casino games and music shows. "There is disposable income there; playing is expensive. At our first event, our food and beverage sales exceeded what we expected."
However, "it's been slower than you'd think to get sponsors involved," says Byrne. "The [player and spectator] numbers have been there for several years, but people don't want to be the first to jump on board."

Sports Tourism Prospects
Montreal is among the few investors in eSports as a tourism product. The city supports the Canadian edition of DreamHack, the world's largest digital festival, which was held at Montreal's Place Bonaventure for the first time in 2016 and will return in September 2017.
Cineplex has emerged as one of Canada's strongest eSports pioneers. It has invested US$15 million into bringing eSports competitions into its existing theatres and paid $10 million to acquire WorldGaming, a gaming platform provider. It is investing a further $5 million to create a new competitive gaming league.
"There's no doubt that there is a huge gaming market already established in Canada," says Cineplex communications director Sarah Van Lange. "Through WorldGaming, Cineplex is harnessing that community and providing a social venue where they can congregate and play. We have outfitted 24 of our theatres across Canada with gaming consoles so competitors can compete and spectators can watch on the big screen."
The company's first major tournament was held last May: 24 qualifiers from across the country were flown to Toronto for the finals. (The father of one finalist flew in from Kuwait specifically to watch his son compete.)
Because eSports is still catching on in Canada, EGE's Byrne says it's a good time to get in on the ground floor in terms of hosting live events. "You don't need a lot of money to get involved right now," says Byrne. "You can do a lot with $10,000 or $20,000, whereas in a few years the money you will have to pay to get started will probably be in the hundreds of thousands. Waiting too long, you're going to miss out on those opportunities."
Van Lange agrees: "This is a market that is only going to be growing in Canada. Right now it seems as though it's under the radar, but it's quickly going to become more mainstream as gamers begin to be seen as athletes and the fan base grows."
Millennial and Male
In a recent report, Deloitte Global estimated that global revenues for eSports would rise to about $500 million for 2016 (from $400 million), and reach a viewership of almost 150 million people, stating that "tech and media companies are paying attention to eSports … because it appeals to a narrow and desirable demographic: 75 per cent are millennials aged 18-34, and 82 per cent are men."
If you're chasing that young, well-educated, technical male that ultimately is going to turn into a mid-20s college graduate with high disposable income, you better be doing something in eSports.

— Peter Moore, chief competition officer, Electronic Arts (Repucom, Sport Online report, 2016)
---
Photos (order of appearance): Riot Games, Cineplex