Despite the challenges, the Regional Municipality of Wood Buffalo community and Baseball Canada pulled together to host 10 teams with 240 players, plus scouts, officials and parents (well over 500 out-of-town visitors in total), just nine weeks after residents started returning to the city.
The payoff was significant. "Hosting the Cup gave the community a sense of empowerment; a feeling of 'we're strong and we're back,'" says Jodie Cooper, director of sports and recreation for the Regional Recreation Corporation of Wood Buffalo (RRC), and co-chair of the Baseball Canada Cup organizing committee. The event was a partnership between RRC and Fort McMurray Minor Baseball Association.
The strongest vote of confidence: Baseball Canada encouraged them to bid on the 2018 Baseball Canada 18U Championship—which the region will in fact host August 16-20, 2018. More good news: Fort McMurray's Keyano College hosted the 2016 CCAA Men's Soccer National Championship last November; and the local Norfort Gymnastics Association will host the 2017 Artistic Gymnastics Provincial Championships at MacDonald Island Park this April.
---

---
LESSONS LEARNED
While Fort McMurray's post-fire sports tourism strategy is under development, Cooper offers some of the lessons learned as the community continues to rebuild.
Be Prudent: "We wanted to host [this event]. We knew sports tourism was important to our community. But the decision had to be based on what was right for baseball across the country. This is Baseball Canada's premiere event."
Problem Solve: Restaurant hours and availability were changing on a daily basis in the weeks leading up to the Cup, so the organizing committee had to ensure that all team meals could be taken at the MacDonald Island sports venue, if necessary.
Rise to the Occasion: Fort McMurray's transportation and accommodation providers worked together to ensure needs were met. Similarly, because volunteer numbers were compromised, those who could participate stepped up with extra hours.
Share Information: Cooper says that although Baseball Canada Cup organizers had been evacuated, they stayed in touch with people on the ground in Fort McMurray. They relayed to Baseball Canada decision makers that the core sports venue infrastructure had escaped damage and that accommodations were largely untouched. Once emergency officials confirmed that the evacuation would end in late May, Baseball Canada gave the green light for the Canada Cup to proceed.
Communicate Clearly: "We had to scale back a large host committee to an executive team to make key decisions, and then communicate those decisions to the rest of the team as a whole," Cooper says. (For part of this process, the evacuated organizers were scattered across the country, often depending on their phones for computer access, so messages had to be streamlined—not having attachments on emails, for example.)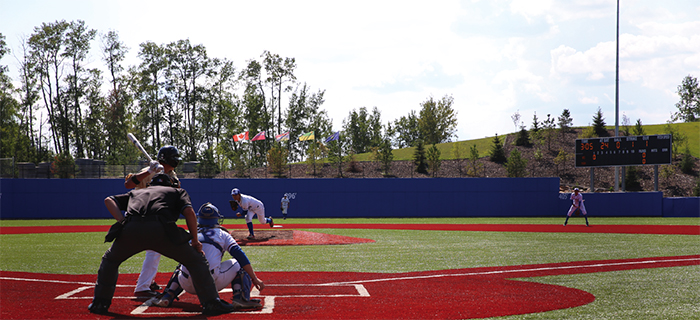 ---
RISK MANAGEMENT INSIGHTS
Some key points for all Canadian organizers to consider, from Grant MacDonald, principal at Halifax-based GM Event Inc., and consultant to Fort McMurray Sport Tourism (Post Wildfire Recovery).
"A decade ago, people thought risk management just meant insurance and having enough coverage if something went wrong. But risk management is an ever-evolving process that needs to be developed and monitored on an ongoing basis."
"Having operational and financial plans in place will create a better understanding of what the potential risks are. And how you respond in a crisis can certainly be a calling card for future hosting opportunities and events."
"Remember that whoever owns the rights to the event is often the one that needs to be the public face of the response, communicating externally to the public that the event is in good hands."
"Seek input and advice from counterparts in other locations so you're not reinventing every time you start the planning and risk management process."
---
Photos: Layla Leininger