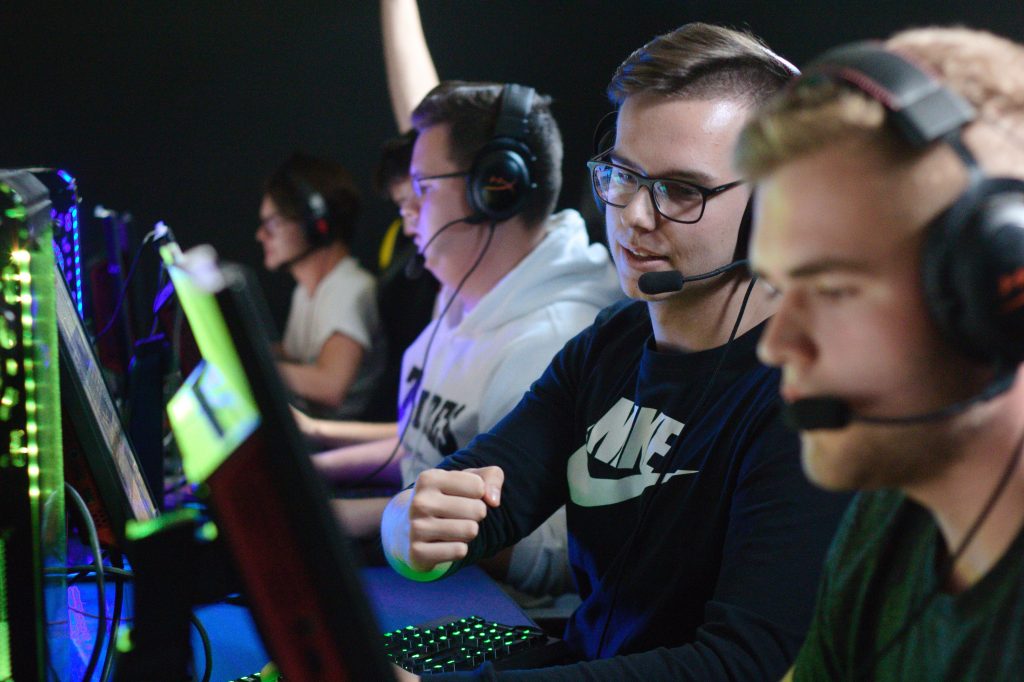 How Ontario Soccer is Connecting With the Next Generation
When first researching the esports phenomenon, Ontario Soccer officials had an 'aha!' moment when they realized that gaming is not driving kids away from physical sport. In fact, it's just the opposite—esports allows young athletes to learn more about their favourite sport and feel more connected with the game.
"We came away with the key learning that esports gives us a great communication tool to interact with a youth audience," says Björn Osieck, director of business operations, Ontario Soccer. "We feel esports can help us to speak in the language and to engage at a level that our youth members—of which about three-quarters are age 18 or younger—want to engage."
ADRENALIN editor Angela Kryhul chatted with Osieck about Ontario Soccer's evolving esports strategy.
Why is Ontario Soccer building a grassroots gaming community?
Esports is moving more and more mainstream and so, rather than sitting on the sidelines and letting non-sport organizations define what the narrative should be, we felt it was timely and appropriate for us to be more proactive and to create a safe and fun environment that connects the dots for our members. Let's not forget that national and provincial sport organizations have a halo responsibility to the parents, families, circle of friends and the larger sporting community. Parents want to help their children navigate this brand new area, and many of our club members are now coming to us and saying, 'we're wondering how we can take the first steps—what would you recommend?'
We're still in the early stages of building, so I'm not speaking as somebody who's got it all figured out. We're trying to carefully build a grassroots gaming community because esports tends to be a bit fragmented. Lots of people play computer games but they're not necessarily organized in leagues or associations or specific entities. We've learned there is a larger than expected overlap between passionate gamers and Ontario Soccer members who are playing the physical game of soccer. We're trying to create an approach that feels sensible, sustainable and right for us as Ontario Soccer.
What are your goals for developing esports players and tournaments?
Ontario Soccer is not in the business of filling Scotiabank Arena or Rogers Centre with esports events. That's not us. We're building something from the ground up. One of our visionary elements for 2020 and beyond is to provide community-building events.
We really feel our role is similar to how we develop soccer talent from a young age to then potentially play for the provincial team, the Canadian national team or professional soccer organizations. We'd like to similarly help to build an [esports] community and provide a pathway for gamers to learn more about the craft, to hone their skills and maybe become high-level esports athletes. More universities are offering scholarship programs for esports athletes. Professionals, in some cases, make a very good living playing competitively. We feel that we can provide a grassroots entry point and a sensible education point to help facilitate some of that.
We haven't brought in strategy games or first-person shooter games because we feel the most brand-aligned way for us to engage with esports is by focusing on soccer. We're specifically focusing our attention on the game of FIFA. Our athletes love the fact that they can play FIFA with famous soccer players and soccer teams. It allows them to feel more connected and learn more about the game.
Our players are typically aged 15 to 25, and male. However, we have an integrated research effort to understand how to create the right environment for female gamers so that it's not intimidating and male-dominated. We know that coaching younger female soccer players oftentimes takes a different approach and psychology, including a greater focus on social connectivity and creating a safe space. We will take some of those insights and best practices and essentially transfer them into the esports environment so that female gamers can feel just as confident and comfortable as male gamers.
How does this Ontario Soccer initiative translate at the club level?
This becomes a member service opportunity for Ontario Soccer vis-a-vis our member clubs, academies and districts, to help them navigate this area. Esports may simply be another tool for them to build social connectedness with their members, by, for example, hosting game nights at the clubhouse after a soccer tournament, which connects the virtual world and the physical sporting world. We feel there's a holistic approach here to be considered.
We're looking to offer high-level strategy and a recipe for success to any member clubs that are interested in putting an esports program together in their area. Eventually, some of that local activity can ladder up to a provincial championship—just as we have a real-life competition called the Ontario Cup, we envision a scenario whereby we would also add an e-Ontario Cup in the future.
---
What's the ROI?
"From what we've seen, this is not a get-rich-quick scheme," Osieck says. The return on investment that Ontario Soccer intends to cultivate over time includes heightened member engagement, building community connection points and providing a better player/athlete experience in terms of education, entertainment, connection and social engagement.
---
Making the Case for Esports
Björn Osieck shares what Ontario Soccer has learned so far about integrating esports with amateur sport culture.
Educate Your Community
Explain what you're doing, why you're doing it and what it means to your membership as athletes or as parents. "Take them on this journey rather than just hitting them over the head with a random event and then expecting them to get it," Osieck advises.
Realistic Expectations
Don't expect to host national competitions and fill arenas. Be realistic as to your resources, your reach and what you can achieve. Define your strategic objectives, ensure they align with who you are as a PSO or NSO and that your efforts will bring value to your organization.
Continuous Research
Esports is constantly changing; what you read three months ago may no longer apply. Reach out to the industry—even at the top level, people are happy to share insights and information, Osieck says.
---
Testing the Waters
Ontario Soccer began its esports initiative about 18 months ago
The board of directors reviewed initial research to ensure good strategic alignment within the organization to pursue esports in a meaningful way. An active research process was approved.
Ontario Soccer partnered with Microsoft stores in the Greater Toronto Area to host a series of free, drop-in FIFA game events during summer 2018.
Ontario Soccer hosted a gaming event during a live soccer competition at the Ontario Soccer Centre in Vaughan, Ont.
An esports panel discussion and workshops took place during the 2019 Ontario Soccer Summit.
Northern Arena provided hands-on learning to Ontario Soccer member groups by hosting online FIFA competitions during summer 2019.
---
Budgeting For Esports
How much does it cost to host an esports event? While there's no simple answer, Jenni Brozena, managing director of Philadelphia-based Aqueous Sports Group International, offers food for thought.
Strategic Planning
Before committing large amounts to esports, invest first in the strategic planning process. It can cost anywhere from $5,000 to $10,000 just to hire an esports consultant/strategist to help assess your reasoning, strategy and assets. "If the thought of spending $10,000 or $20,000 gives you sticker shock, hosting an esports tournament is not the right option for you right now," Brozena says.
Start Small
Consider adding a small esports component to an existing live sport event, Brozena suggests. Sport organizations, destinations, venues, hotel brands and sponsors can collaborate while learning about esports and sharing costs. Another idea: Hold qualifying tournaments online, and then host the finals as an in-person event.
Hire Experts
The video gaming industry is decades old, so don't entrust your gaming strategy to someone just because they like to play esports, Brozena advises. Esports production companies have existing relationships with game publishers and influencers and can help with everything from on-site equipment, set-up and staffing to marketing support and online broadcasting of your event.
Licensing Rights
Always get publisher permission to use an esports game in your tournament. While there is still a Wild West attitude towards paying fees, it's far less expensive to go about it the right way than to put your tournament or your organization at risk of complications afterwards, Brozena advises.
— Angela Kryhul, with notes from the Canadian Sport Tourism Alliance webinar "Gamers Wanted: Are you ready to play and host?" presented by Jenni Brozena, June 25, 2019
---
Quest
THUNDER BAY'S FIRST ANNUAL TECH & GAMING EVENT
Date: May 31 – June 1, 2019
Venue: Fort William Gardens arena
Total Attendance: 1,800
Registered Gamers: 300
Partial Sponsor List: Subway, Porter Airlines, TD Bank, Pepsi, Hertz, Best Buy
As part of a two-day, family-friendly tech event, the City of Thunder Bay, Ont., hosted Fortnite, FIFA and NHL game tournaments at a local arena. The competitions were open to all genders, ages and skill levels. The Ontario eSports League (OeSL) managed the on-site tournaments and live-streamed them on Twitch.
The event was a way to test the gaming and esports space, says Louisa Costanzo, supervisor, cultural development and events for Thunder Bay's Recreation & Culture Division. The city plans to grow the event in 2020 by expanding community partnerships and potentially adding a simultaneous online competition so that those outside the Thunder Bay area can participate, Costanzo says.
OeSL co-founders Joshua Mancuso and Christian Guirguis say more municipalities and large sponsors are now budgeting to test esports. "Our clients, at this point, are not looking to make money; they're trying to understand the costs associated with esports," Guirguis explains. "It's more about showing that your community is innovative, targeting a different demographic and understanding that this is what you have to do to cater to them."