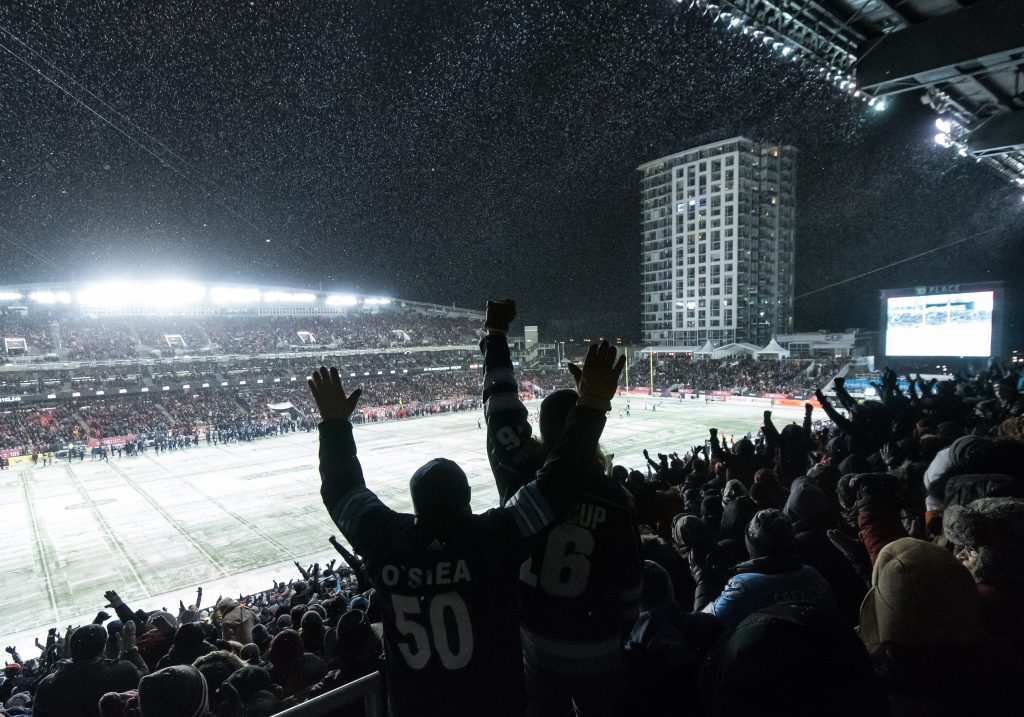 Managing Event Risk
What's Keeping You Up at Night?
Sure, you've done your risk analysis, got your checklists in hand and have a solid risk management strategy in place. Everything should go smoothly… right? So, why the sleepless nights? 
Managing event risk is a challenging task in today's complex event management environment. Four industry experts talk about what's trending, what needs more attention and how event rights holders and venues can raise their game.
By Angela Kryhul
GOOD GOVERNANCE
When Dina Bell-Laroche, a partner with the Sport Law & Strategy Group, asks sport organizations "what keeps you up at night," the answer is often lack of board clarity. Issues include directors who interfere in the day-to-day decisions and activities of the professional staff, and board members who, however well-intentioned, lack business management skills or a diversity of skill, experience, age and genders that are required to run a 21st century business. "Governance-related risk is the highest-level risk," Bell-Laroche says. 
FINANCIAL RISK
Financial management is a crucial piece of the risk management puzzle for national sport organizations (NSO) in Canada, according to Bob O'Doherty, a CSTA consultant and 40-year veteran of Canadian sport, including as senior vice-president, sport and venues, for the 2015 Toronto Pan Am/Parapan Am Games.
"Sales revenue and sponsorship revenue generation are a huge concern that has to be monitored. If targets aren't being met, then adjustments have to be made on the cost side, which could impact your ability to deliver a world-class event," O'Doherty says."That obviously impacts relationships…as well as government support and partnerships at the municipal, provincial and federal levels, which are so critical when you're hosting events like these." 
Takeaway: "When you're taking on a multimillion-dollar project, it can make or break many of our NSOs because few of them have what I would call a sustainable reserve," O'Doherty says.
VENUES AS STRATEGIC PARTNERS
This past June, Ottawa hosted a preliminary round of competition for the new FIVB Volleyball Men's Nations League. "We brought in TD Place so that it was an equal partner with Volleyball Canada as the NSO and the local organizing committee, which was headed up by Region Six of the Ontario Volleyball Association," says O'Doherty, chair of the organizing committee. "Those three entities all had responsibility in delivering the event—it's a good way to mitigate risk in areas of expertise that a national sport organization doesn't necessarily have."
As the host venue, TD Place brought its expertise in venue management (and its established relationships with the community and service providers), as well as revenue generation, sales, marketing and communications—areas that many NSOs struggle with, says O'Doherty.
Takeaway: "Mitigating risks by partnering with venues is a trend I'm seeing more of in Canada. Because of our strong partnership with TD Place, we were able to deliver on revenue generation goals that the NSO couldn't have done on its own," O'Doherty says. 
MANAGEMENT BY VALUES
Sport Law's Dina Bell-Laroche is a big advocate of managing risks by managing values. "In the old days of risk management, you would manage the risks related to meeting the minimum legal expectation. Today, it's still necessary, but insufficient," says Bell-Laroche, who has facilitated dozens of risk management workshops with national, provincial and community sport organizations as part of the Risk Management Project, a multi-year collaboration between the Canadian Centre for Ethics in Sport, the Sport Law & Strategy Group and the Department of Sport Management at Brock University. 
"You need to be able to answer the question of what you ought to do [to mitigate risks]. Your answer is informed by the standards that are in place, as well as the values of your membership," Bell-Laroche explains. "It's a very different approach to your typical risk management checklist."
Takeaway: An organization that has integrated clearly defined values into its systems, policies, programs and culture is better positioned to proactively guide behaviour and improve decision-making before, during and after an incident.
SUBSTANCE ABUSE
Substance use and abuse has always been on the radar of sports and entertainment venues, but recreational cannabis legalization and Canada's continuing opioid issue "is something we're monitoring in terms of trying to understand and predict what impact that has on our venue and what we need to do to prepare our employees for what to look for and how to react if there are medical instances," says Mark Goudie, CEO, OSEG. "We're making proactive changes going forward based on experience and what we also see happening in the marketplace."
The stadium currently has a designated outdoor area where tobacco smokers, medical marijuana users and, as of mid-October, recreational marijuana users can smoke, and the company is staying informed on best practices, says Trevor Anders, public safety manager, TD Place Stadium and Arena.
All TD Place security teams are trained in CPR and first aid management, and some of the supervisory teams have additional training in opioid reduction and identification, Goudie adds. The venue also works with Canadian Ski Patrol, whose volunteers roam the site looking for signs of intoxication, whether alcohol or drug-related, and who act as a bridge between TD Place staff and paramedics and other emergency personnel. OSEG also works with Ottawa's Harm Reduction Services program, both inside TD Place venues and for outdoor events such as the annual Electronic Dance Music festival.
Takeaway: "Venue operators like to talk about the sexy entertainment and customer service parts of our business and all the cool, fun things that we can bring to our guests and fans," Goudie says. "But the leadership of your organization needs to understand that, at the end of the day, life safety is the most important thing we do and it trumps everything else."
LEARN FROM YOUR LESSONS: Post-Mortem Essentials
As the name infers, post-mortems are done after an event is completed. But steps also need to be taken before and during an event to have a clear and accurate picture of what went right, what went wrong and how you would do things differently the next time around.
Before your event even takes place, Bell-Laroche suggests doing a pre-mortem. "Post-mortem is a debrief. Risk management is your pre-mortem—what can you do so that you're able to manage some of the risks? Sport organizations aren't doing enough of that."
In the early stages, event managers should always ask venues about incidents that have occurred in their facilities, and what was done to correct the deficiencies, suggests Heather Reid, CSTA consultant and owner of Planner Protect Inc.
During events, Reid always works with information sheets that provide details about the planner, client, venue, emergency contacts, crisis communications instructions and other checklists. Her incident fact sheets record everything from where the incident occurred to the extent of bodily injuries, and names and contact information for everyone involved, including emergency personnel. And she keeps media contact sheets that record all inquiries by media, and how staff responded to journalists' questions.
"You should have a plan in place that allows you to immediately record what just happened," Reid advises. "Trusting your brain to remember where you were in moments of duress is not the most defendable position to be in."
Questions to ask during a post-mortem include whether the event team and venue responded to an incident in an effective way. "Did our communications plan work? Were there aspects that did not go according to plan? How can we prevent a risk from happening again or to minimize the outcome?" Reid advises. 
Takeaway: Post-mortems are important even if there were no major incidents. Event planners should walk through a series of "what ifs," Reid suggests. "Having been through the event, would our emergency communications plan have worked? Would our incident reporting have been thorough enough?" 
---
Theoretical Risk
This past summer, Toronto FC soccer fans smuggled flares and smoke bombs into Ottawa's TD Place, setting them off and starting a fire in the stands during a Canadian Championship game against Ottawa Fury FC.
"We knew from past experience that was a potential risk," says Mark Goudie, CEO, Ottawa Sports and Entertainment Group (OSEG). "We had our security team in place and accommodations set up to be able to extinguish any flares very, very quickly. It happened, our security team reacted, they secured the area and removed the troublemakers, restoring order in a very short amount of time."
---

B.C. Wildfires
More than 550 wildfires raged across British Columbia this past summer. By mid-August, some 20,000 people were either displaced or on evacuation notice, but it wasn't B.C.'s worst year for wildfires. In 2017, 65,000 people were displaced across the province. 
During both emergencies, Prince George, B.C., sprung into action as an Emergency Reception Centre (ERC). This year, the ERC set up in the city's multi-purpose arena, the CN Centre, where more than 3,000 displaced persons were processed.
While sport and community events at the centre continued—including a visit by the Stanley Cup, a music festival and hockey training camps—the facility's concourse was filled with desks where volunteers processed evacuees and community organizations offered services and support to those affected by the fires, according to CN Centre manager, Glen Mikkelsen.
Takeaway: Talk to the people in charge of emergency planning in your community so that you're informed as to how your venue is affected by plans and policies. If your facility is used as an ERC, learn which organizations, services and personnel will be accessing your site, and anticipate potential stress and fatigue on your venue staff and contractors, advises Mikkelsen, who says that, as a city-owned facility, employees of the CN Centre were sometimes called away to help with ERC efforts, leaving the centre short-staffed at times. 
---
ALL IDEAS MATTER
OSEG's All Ideas Matter program mitigates potential risks by harnessing the feedback of all staff. In addition, post-event, everyone is encouraged to send an email detailing their event experience and ideas for improvement to a central manager so that observations can be included in the event debrief.
SaveSave
SaveSave