Last fall, the 110-year-old Canadian Interuniversity Sport/Sport interuniversitaire canadien (CIS SIC) gave its image a makeover, with a new name, logo and online presence. Now known as U Sports, the umbrella body represents: 56 universities; 7,700 games and competitions annually; 12,000 student athletes competing in national championships; and 20,000 varsity student-athletes.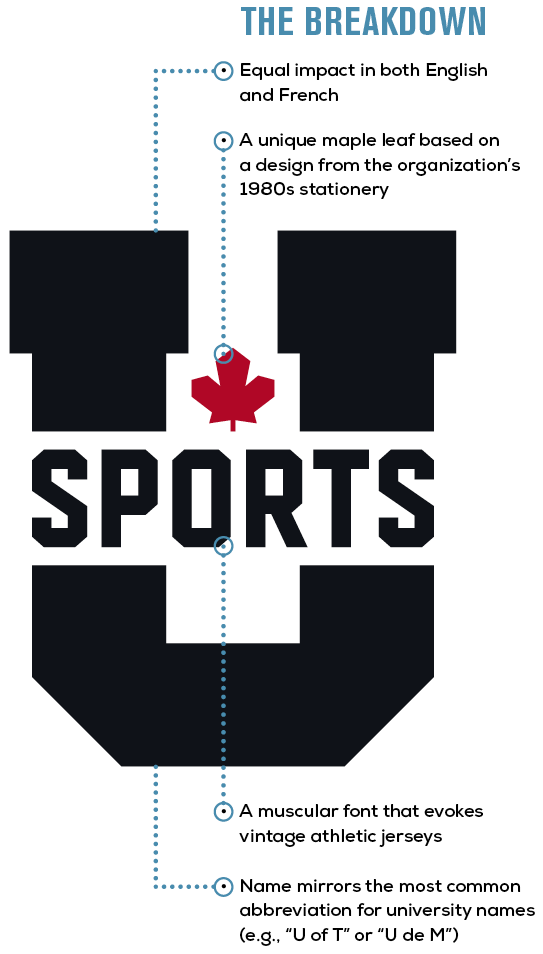 "It's more than just a logo; it's the impetus for a whole cultural shift," says U Sports CEO Graham Brown. The goal is to engage the core demographic of 18- to 24-year-olds and a secondary niche of 14- to 18-year-old future university students.
The fresh logo replaces a stylized rendering of the acronym "CIS SIC". (Besides weak brand recognition, when read aloud, it sounded like "seasick".) "University sport in Canada is played at a very high level, but because there hasn't been a very strong marketing push, it hasn't achieved much traction with a fan base [off campus]," Brown explains. U Sports aims to change perceptions by taking a bolder approach: "already, you can go into any university and see our brand on scoreboards, floors, signage, windows and doors," he says.
Design agency Hulse & Durrell, Vancouver, provided branding services. The firm's brand work also includes Curling Canada, Team Canada, Swimming Canada and the Vancouver 2010 Olympic and Paralympic Games.
---