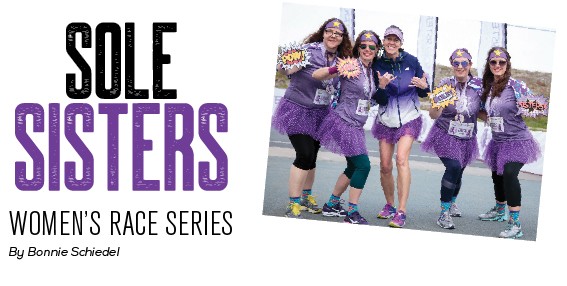 THE EVENT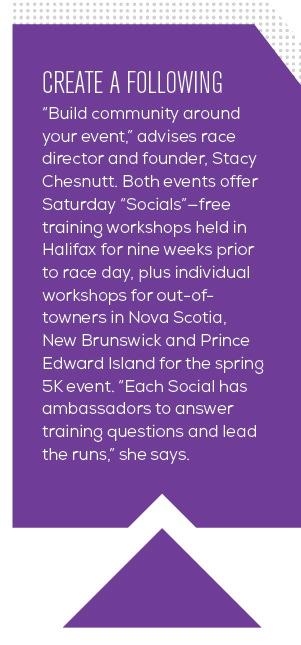 When your event is billed as "the biggest tutu race in the world," fun is a foregone conclusion, and that's exactly the way Stacy Chesnutt, founder and director of the Sole Sisters Women's Race Series wants it. "It's this unbelievably supportive, you-go-girl environment," says Chesnutt. "Our motto is 'finish lines, not finish times.'"
Held in Dartmouth, N.S., the race series includes two different race days. The inaugural event, now going into its sixth year, is the Sole Sisters 5K, with the next one to be held June 10, 2017. It's an untimed walk-run for girls and women only (there are also separate, shorter Li'l Sisters Races for girls under 18). There are plenty of bells and whistles en route: a hug station; a chocolate station; a DJ on the course; and cheering firefighters handing out medals. Every participant receives a purple tutu to wear during the run. Not surprising, the registration, capped at 3,250, maxes out several months ahead of time.
New in 2016: the Sole Sisters 5K, Quarter & Half Marathon took place October 2, and it was another sell-out. This time the 1,000 registered runners had the choice to be chip-timed or simply listed as an official finisher. Instead of chocolate or hug stations, there were about 20 music stations on the route.
CHALLENGES
In a word: popularity. "Growing from 1,500 participants in our first year to 2,500 in our second year meant that we outgrew our venue for race gear pick up, and many of our sponsors couldn't meet the increased demand," says Chesnutt. "We had to go pitch a lot of new supporters."

ECONOMIC AND SOCIAL IMPACT
Sole Sisters 5K adds $1.5 million to the region's GDP annually. Half the participants come from outside of Halifax and Dartmouth, and many make a weekend of it, resulting in a substantial bump in hotel, restaurant and retail sales.
Sole Sisters 5K draws on 250 volunteers, and Sole Sisters 5K, Quarter & Half Marathon recruited 100 volunteers.
Attracting new runners to the sport by making it a fun, social event is a key goal. "One-third of our field have never done a race before," says Chesnutt. She adds that empowering girls and young women—the race series supports the local Girls Gone Gazelle running club—resonates with participants too. "We're doing something for the next generation."
Click here for more photos and a video from the Sole Sisters Women's Race Series.