By Wendy Helfenbaum
Planning a major multi-sport event is challenging enough without a pandemic blowing in to upend everyone's hard work with starts and stops. So, when the Arctic Winter Games (AWG) finally got the go-ahead to take place January 29 to February 4 in Alberta, after being postponed from the previous year, it was cause for everyone in Fort McMurray Wood Buffalo (FMWB) to rejoice.
"This felt like a celebration for our region; the energy here was palpable and joyful," says Terri Nielsen, director, tourism, FMWB Economic Development & Tourism.
"The AWG has a certain prestige because it's an international sporting event that also has a huge cultural component. We hosted in 2004, and we felt privileged and excited to host it once again."
Building a legacy
Welcoming athletes and cultural performers from across the circumpolar north, including Alaska, Greenland, Yukon, Northwest Territories and several Scandinavian countries, the AWG was also a chance to honour FMWB's diverse Indigenous peoples—the Cree, Dene and Métis, and the traditions of visiting participants. The event encouraged attendees, volunteers and competitors to embrace the Seven Sacred Teachings—love, respect, honesty, courage, wisdom, humility and truth—and included a cultural gala and an artisans' marketplace.
"We're working hard to attract visitors and tourists, and we're super collaborative," says Nielsen. "We have world-class venues here because of the sponsorship and richness of our region. For example, MacDonald Island Park, where we hosted the Western Canada Summer Games in 2015, has hockey and curling rinks, tracks, a full-sized football field and baseball diamonds—all in one place. We've got Olympic standard timers and all the infrastructure in place to land different sports events in our region."
Because Greenland's plane was the largest to ever land in Fort McMurray, it drew quite a spectacle when it arrived, adds Nielsen.
"There were so many people at the airport with their noses pressed up against the window, and our airport hired a DJ to help welcome everyone," she says.
Staying in the game
Anytime you host an event of this magnitude, things can come up, says Elizabeth Priest, program manager of marketing and communications for the Wood Buffalo 2023 AWG Host Society.
"There were slight delays in transportation, which happens when you're moving 2,000 people all at the same time. And when you're hosting a winter outdoor event, weather plays a factor; some outdoor sports were rescheduled when it got too cold, but overall, everything ran very smoothly."
It helped that the FMWB community showed up in a big way to support the Games.
"We had 2,000 volunteers, and even during Games week other people were offering to help," says Priest. "We worked with the First Nations and Métis groups within our region; incorporating Indigenous culture was at the root of our planning."
And while having a torch relay isn't mandatory, the FMWB host team rallied to make it happen. The torch relay travelled to eight communities, showcasing the culture, pride and spirit of the Games, and ending at Legacy Dodge Field during the opening ceremonies.
New this year, most of the sporting events were livestreamed, adds Priest. Over the week, more than 300,000 viewers from 49 countries tuned in.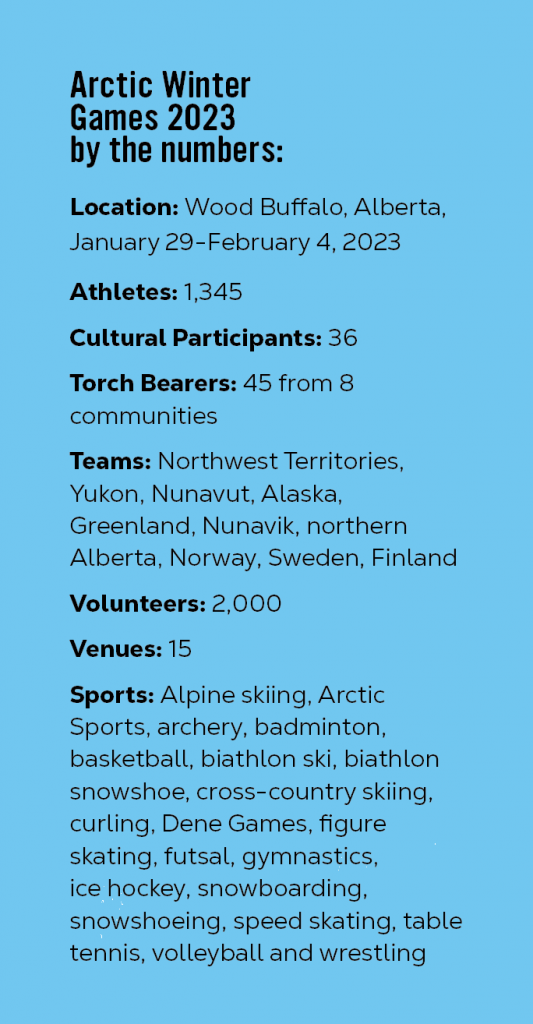 The excitement of the first AWG in five years and the first major event in the area since 2015 added to everyone's enthusiasm, says Nielsen.
"When I look at the legacy and the sport development opportunities for the young people in our region and for others to get involved, it's been inspirational," she says, noting that while the full economic impact of the Games has not been tabulated, the organizers believe it will be substantial.
"Another interesting thing to see was the pride in place. We know how great it is here, but often, we feel like the rest of Canada just thinks of us as a mining community with nothing else," says Nielsen.
"So, it was great for our community to see the reaction of others visiting. It's now opened our minds to think, 'We can do this. Let's bring on another event.'"

Published April, 2023