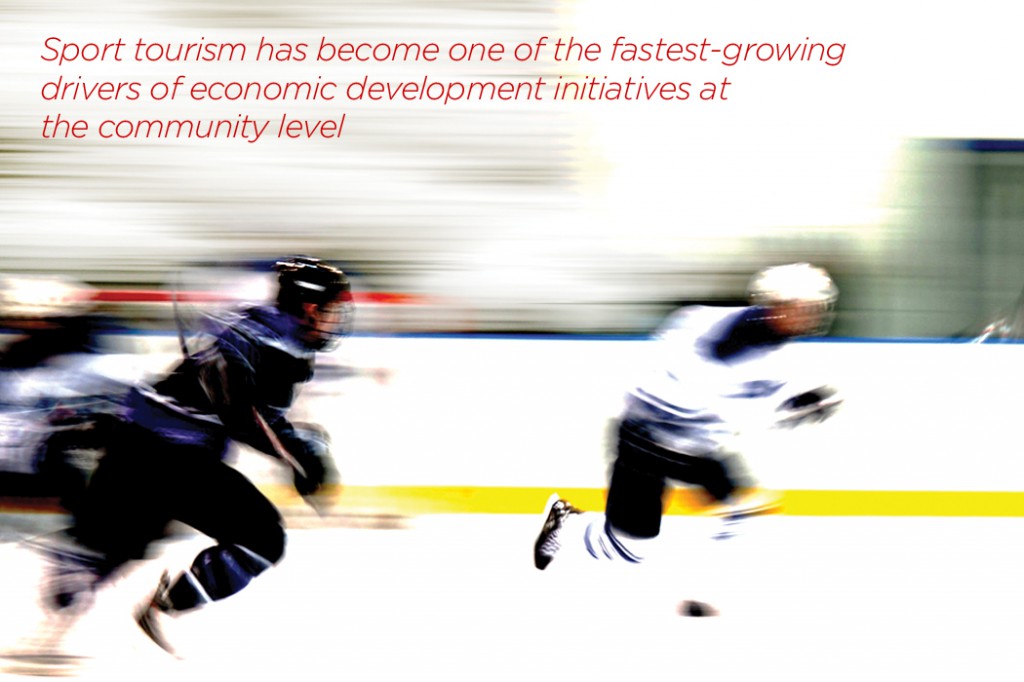 It went down as the great blue jean and beer shortage of March, 2012.

The northern Ontario town of Sault Ste. Marie had landed the CARHA Hockey World Cup, a prestigious international amateur hockey tournament. Hundreds of athletes, young and old from around the world, packed the town. And the Russian visitors went straight for the blue jeans, emptying shelves in short order. Everyone was happy, residents got to watch international hockey free of charge, and cash registers all around town overflowed.

//

It was a win-win in the best possible way. That's the impact sport tourism can have, and the reason more organizations and municipalities are getting into the game.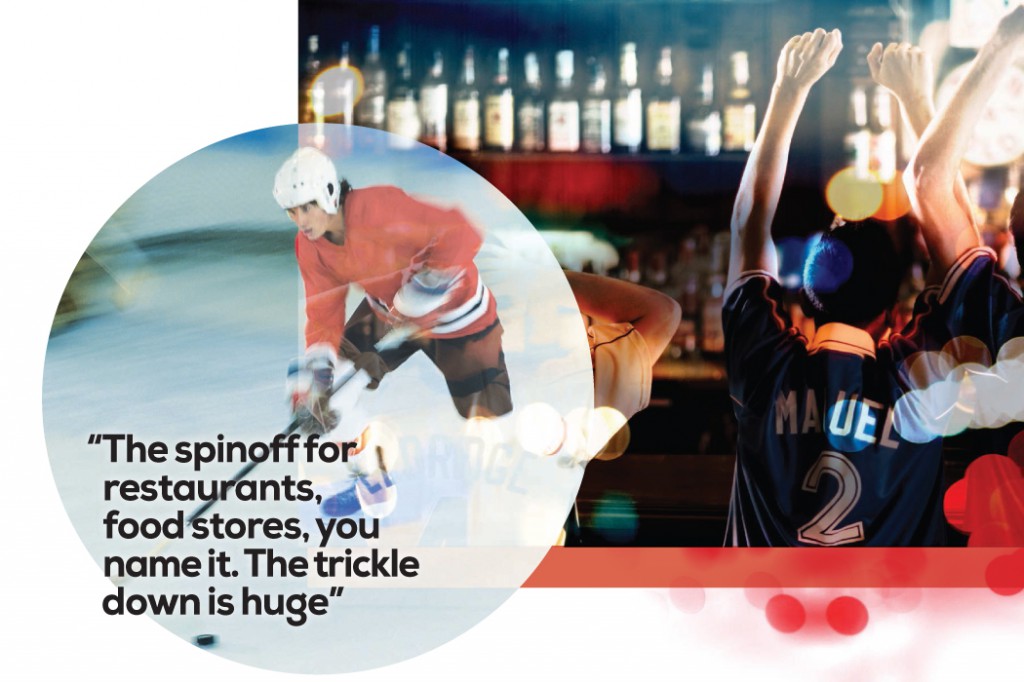 "It was the single largest sporting event ever held in the north," says Stephen Hollingshead, coordinator, special projects and sports tourism, Tourism Sault Ste. Marie, of the event that provided $9 million in economic activity. "I think it turned our world upside down for the good."
Abbotsford, B.C., just nailed the winning bid for the 2015 World Baton Twirling Federation International Cup. Baton twirling might sound like child's play to some, but, according to Yvonne Hayden, the city's business development director, it comes with a decidedly adult economic impact.
"There are 900 to 1,000 athletes and families coming and we've had to book every hotel in our community," says Hayden. "The spinoff for restaurants, food stores, you name it. The trickle down is huge."
During the past decade, a series of worst-case scenarios added up to a perfect storm of trouble for Canadian tourism. It was a downturn of epic proportion from which the industry is still recovering. First there was 9/11, followed in short order by SARS, a soaring Canadian dollar, increased U.S. border security, mad cow disease and H1N1. While international tourism, especially from south of the border, slowed to a trickle, one sector actually showed remarkable growth in the face of such adversity: sport tourism.
Sport tourism, as defined by the Canadian Sport Tourism Alliance (CSTA), is any activity that attracts people to a particular location either as a sport event participant, an event spectator, or to attend sport attractions or business meetings.
"This industry segment has really remained strong and has become a stabilizing factor within the tourism industry, especially during those times of volatility," says Rick Traer, CEO of the CSTA. "It's amazing how far the industry has come in 10 short years. Even 15 years ago, the phrase sport tourism didn't really exist in the lexicon. Now, it's really become a kind of buzz phrase."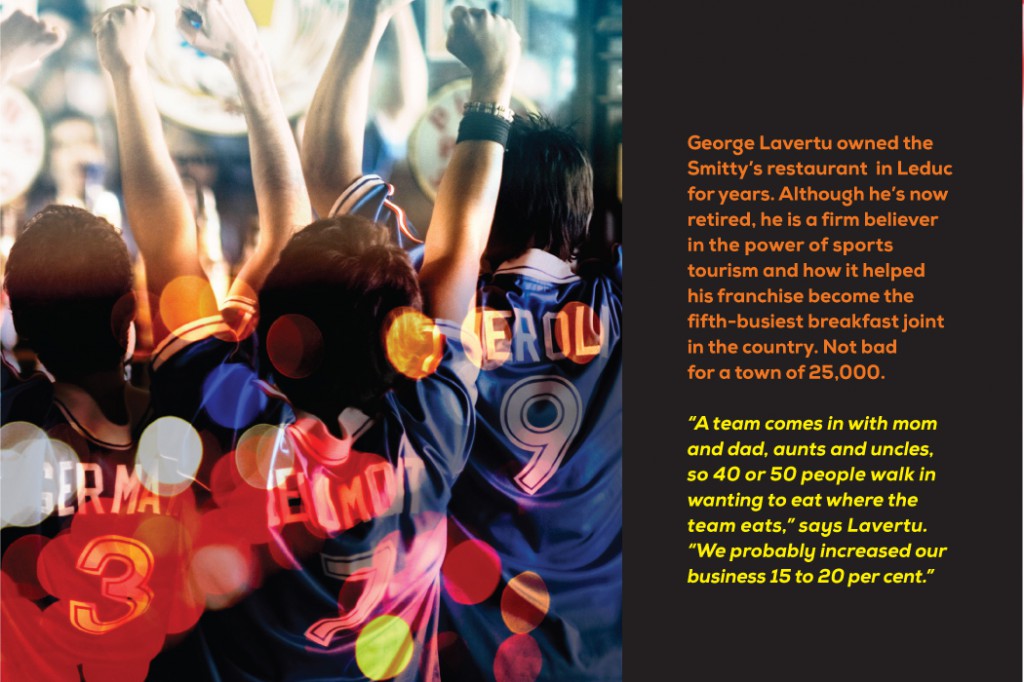 Leduc, Alberta, is another early adopter of sport tourism and parlayed its new sports facilities into an economic goldmine. Over the last few years, the small city has hosted a myriad of sporting events – from the Wild Rose Figure Skating Invitation in 2011, to the 2013 U21 Women's National Fast Pitch & Western Canadian Women's U21 Fast Pitch.
"We had never ran a field house before, and we were really concerned," says Jim Jones, sport and agricultural tourism coordinator for the city of Leduc. "We felt we needed to build an identity and we started promoting sports tourism. We took a shotgun approach and just went after any sport, any time. But we've had such an outpouring of groups that want to use our facility that we've had to limit what we do now."
Leduc has been very proactive in working with CSTA, and gauging the impact of each event through the Sport Tourism Economic Assessment Model (STEAM) system, developed by CSTA to accurately predict the economic impact of hosting specific events.
"It all comes down to the guest experience. It's about relationship building," says Jones. Canadian sport tourism continues to grow as more communities across the country realize the benefit both in economic growth as well as infrastructure.
According to the CSTA, sport tourism spending in Canada hit $3.6 billion in 2010, an increase of 8.8 per cent from 2008. Canada has become so adept at hosting sporting events that it's fourth in the world after China, Russia and the United Kingdom on the 2013 Global Sports Nation Index. Canada's standing is thanks, in part, to securing such high-profile international events as the FIFA Women's World Cup and the Toronto 2015 Pan Am/ Parapan Am Games. The U20 Women's World Cup in 2014 and FIFA Women's World Cup in 2015 are expected to generate an estimated $337 million in economic activity.
There are more than enough sporting events to go around beyond these international, marquee events, including national, provincial and regional competitions. And it is more than just economic growth. Sport tourism can also help develop recreational infrastructure and have positive social and community impacts.
"The general level of awareness that communities have now to the power of sport and sporting events from an economic perspective is really driving the industry," says Traer. "Sport tourism is now one of the fastest growing segments of economic development initiatives at the community level."