From digital offers to partner collaborations, a panel of experts share advice for making your sports marketing budget work harder. The panel discussion took place during the annual PrimeTime Sports & Entertainment Conference, November 12-14, in Toronto.
By Angela Kryhul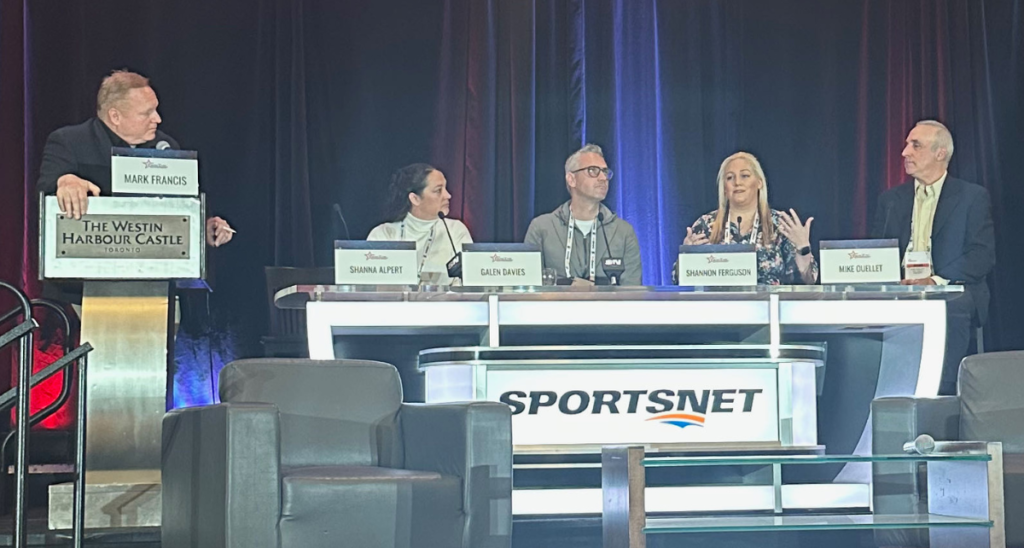 Will digital collectibles ever replace physical licensed products?
Mike Ouellet, chief of business affairs, National Hockey League Players' Association:
Over the past 20 or 25 years, our biggest licensing categories have been video games, trading cards and apparel. While the products have evolved—trading cards have become more sophisticated with inserts and pieces of game jerseys, etc.—what has maintained for decades is that cool factor of having something in your hands. NFTs didn't work because of the need for constant engagement and involvement [by athletes and sport organizations to keep the NFTs top of mind]. Ecommerce has been the most impactful on licensing revenue: It's the same products that we've always loved—the T-shirts and souvenirs—but with ecommerce you can get a jersey delivered to you in two days.
How can sport organizations engage fans outside of the venue and during the offseason?
Shanna Alpert, director, licensing & retail development, NBA Canada:
Ninety-nine percent of NBA fans will never have the opportunity to experience the live game. It's really important to create experiences outside of the arena and build brand touch points where people can interact and feel the excitement of the game, like opening an NBA store. There are ways you can bring fans into your ecosystem in a really relevant and authentic way. We will often [go on the road] to do pre-season games just to give people the opportunity to come to an NBA game in their home city.
Shannon Ferguson, co-founder and CEO, FanSaves Inc.:
Offering fans digital offers has been really helpful for a lot of teams. It's important to realize that when a fan is in an arena or stadium, sometimes they aren't absorbing everything around them. How are your digital assets capturing their attention after they leave the game and during the offseason? People will remember who won or how much fun they had, but they're not necessarily thinking 'What shoes am I going to buy later on.' [Digital offers remind] fans of who your sponsors are.
Why is partner collaboration such a powerful tool?
Shanna Alpert, NBA Canada:
Collaborations can unlock new consumer and fan bases. As a league, we've got our core fans, but it's really interesting when you collaborate with other, non-traditional premium brands. For example, we did a collaboration between Wilson, our basketball provider, and Louis Vuitton. Most people wouldn't see that as a natural association, but there is an association between premium brands and it gets our brand into different venues and to different people.
Galen Davies, vice-president, brand and commercial strategy, MLSE:
When you're operating a brand, especially in the sports community, you are not sitting on tens of millions of dollars from a marketing perspective. Organic reach… [is] a collection of hundreds and hundreds of touch points throughout the year. Your partners are far more invested from a dollars and cents perspective than what you've put on the table. So your ability to leverage them for scale into new audiences and new places and spaces not only accomplishes some of [your goals] in the offseason, but if you can strike consistency, they're an amazing resource and tool to grow your brand.
Published November, 2023