By Angela Kryhul
Destination Vancouver is taking the lead in advancing social procurement throughout the city's event hosting, tourism and hospitality sector. Gwendal Castellan, manager, sustainable destination development, Destination Vancouver and Tori Williamson, director of education and consulting for Buy Social Canada, explain how event planners can use social procurement to make a huge difference to communities.
What is social procurement?
According to Buy Social Canada, every purchase has a social, environmental, cultural and economic impact, whether intended or not. When a business or sport event planner leverages the procurement of goods and services for positive social value, they intentionally create community benefits, such as youth employment training, based on the needs of the local community.
"We see the marketplace as a key area to drive social change and to create healthier, more vibrant communities," says Williamson. "We're starting to think about what it means to visit places and ensure we're contributing in a more positive, considerate and intentional way."
The most direct way is to purchase goods and services from a recognized social enterprise, which is a business with an embedded social, environmental or cultural purpose and that reinvests the majority of its profits back into that mission. Indirectly, a planner might purchase from a business that counts, among its suppliers, a recognized social enterprise.
Planners may also purchase from a business where the ownership belongs to an equity-seeking group, such as women, Black, Indigenous, disabled, recent immigrant or refugee or LGBTQ2+, Castellan explains.
Where is Destination Vancouver in its social procurement journey?
In 2021, Destination Vancouver developed an internal social procurement policy and framework. Last year, Buy Social Canada conducted a survey of Destination Vancouver members (hotels, restaurants, event venues and attractions), to gauge the level of awareness and implementation of social procurement. By the end of 2023, the two organizations plan to publish an open source guide to social procurement for tourism, hospitality and events.
How is Vancouver putting social procurement into action?
The Binners' Project is a social enterprise that provides waste management services for residential and commercial buildings, including event venues. Waste pickers, or binners, typically derive income by collecting and cashing in recyclables found on city streets. Binners provide a valuable community service by diverting a considerable amount of waste from landfills, yet they're among a city's most marginalized groups. The Binners' Project back-of-house waste sorting program provides binners with stable income, increased self-confidence and job skills. "It's a great example of a social enterprise that's really creating community impact for people who face poverty, mental health issues, addiction and barriers to employment," says Williamson.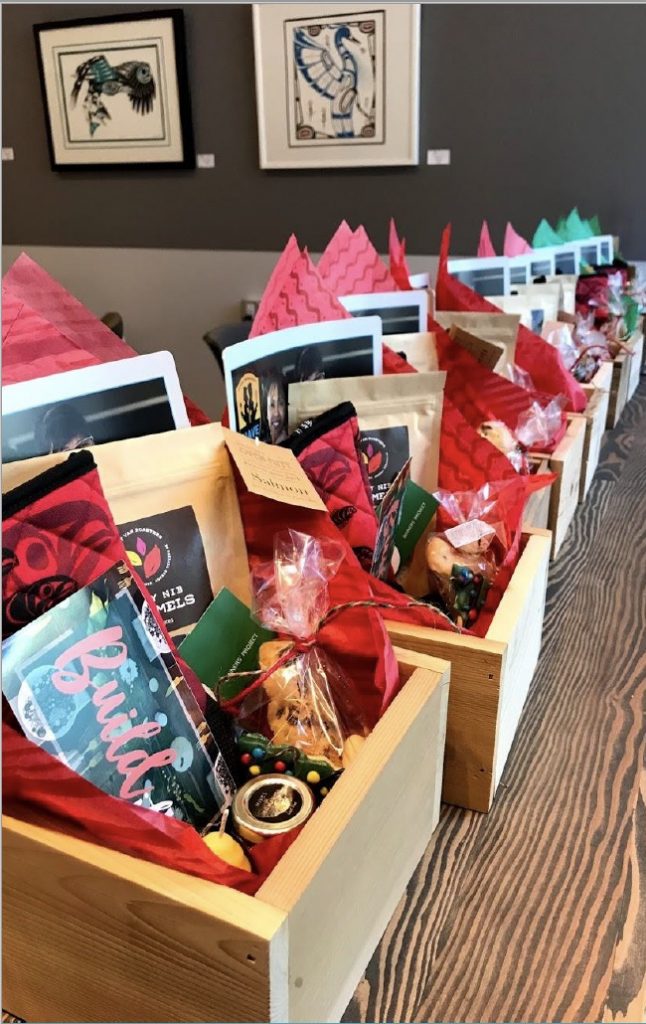 Another example is Destination Vancouver's annual Holiday Luncheon for members. At the centre of each dining table is a box filled with items made by local social enterprises such as honey and beeswax candles from Hives for Humanity and artistic pieces from Skwachàys Lodge and Gallery, a unique Indigenous social enterprise combining a boutique hotel with an art gallery, on-site housing and studio space for Indigenous artists.
Are other destinations championing social procurement?
A year ago, Tourism Vancouver Island changed its name to 4VI and transitioned from a destination management organization (DMO) business model to a social enterprise that supports four pillars of social responsibility: Communities, businesses, culture and environment. Explore Edmonton is currently working with Buy Social Canada to develop an internal social procurement policy.
Planners, DMOs and media from across the globe had lots of questions about social procurement when Castellan presented on Destination Vancouver's social procurement initiative during the BestCities Global Forum. Hosted in Vancouver last December, the annual forum brings together a dozen international destination partners, international associations and media, event planners and thought-leaders to take a deep dive into topics of mutual concern.
"After the presentation, some commented that it sounds amazing but a little overwhelming," Castellan says. "I think that's where the DMO or local convention and visitors bureau can be that conduit for planners by guiding them towards social value or social enterprises."
Resources:
Buy Social Canada: A Guide to Social Procurement
Destination Vancouver: Tourism, Hospitality & Events Social Procurement Survey and Report
Published May 2023