He's the larger-than-life mascot of the Ottawa Redblacks, inspired by a 19th century French Canadian folk hero. Jeff Hunt, president, Ottawa Sports and Entertainment Group, describes how the Big Joe character, as well as the branding strategy for the Canadian Football League's newest franchise, pay homage to Ottawa's storied lumberjack and team sports heritage.
000000
000

Big Joe looks like a friendly, loveable guy, but your team mascot kicked up some controversy right out of the gate. What happened?
We thought a mascot that related to the history of logging, forestry and traversing rivers would make a lot of sense. When we asked fans for names, we were overwhelmed with the suggestions of Big Joe, and Big Joe Mufferaw.
When we launched the mascot as Big Joe Mufferaw, we could not have imagined the response from the francophone community who felt it was a slight to an actual person, Joseph Montferrand. It became a major issue. Normally, team mascots don't get a lot of fanfare. It was always our intention to eventually just call him Big Joe, but when we realized the extent to which the name was negatively received, we quickly made the decision to go with the name Big Joe, or Grand Jos in French.
Describe some of Big Joe's personal qualities.
First of all, he's bigger than life. He's got super human strength, and a strength of personality that anyone would aspire to have on their team. He's all for doing the right thing, being a good teammate and a good friend. He's about positive messages, healthy living, and all of the attributes you would want any child to aspire to.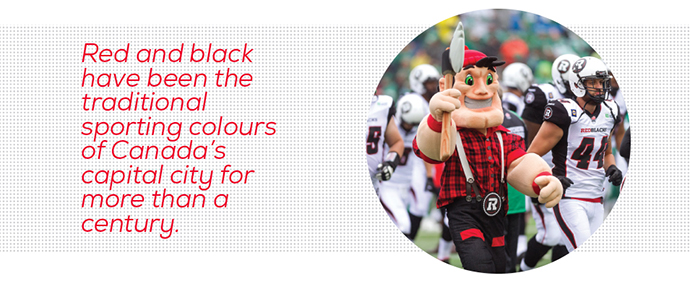 How is Big Joe helping to build awareness and support for the Redblacks among younger fans?
Big Joe is a part of almost every public event that the Redblacks take part in. The new book [Big Joe and the Return of Football] is a way for us to engage with a younger audience, and it fits with our community objectives of bringing positive messages to kids in schools, whether it's talking about bullying or the benefits of fitness and healthy eating. I would say, without being unfair to our players, that when our team members visit a school, Big Joe is the most popular guy in the room.
What advice can you offer to other teams that are developing or revamping their mascots?
Sometimes you see team mascots and you wonder what is the connection. When we were researching what to name our team, the suggestion Ottawa Bears came up. But what does that mean? That's just a generic name and therefore a generic mascot. It works better when the mascot is fun and has some authenticity to it. It should be relevant to the team nickname or the team brand. In our case, it's totally appropriate because lumberjacks built this community. People here get it because it's in keeping with Ottawa's history.