Rogers Cup presented by National Bank | Men's Tournament | Toronto | August 2-10, 2014
Rogers Cup, Canada's longest running and most prestigious professional tennis championship, attracts the world's best players. While there's plenty of action courtside, organizers at Tennis Canada wanted to engage attendees off-court throughout the nine-day-long event. For 2014, they debuted the Art of Tennis, an interactive theme that plays up the synergies between art and sport, and featured an exclusive selection of collectibles that were sold off to raise money for Tennis Matters, the organization's fundraising arm.
"It all began with fan engagement: how do we make the experience better for our attendees; how do we extend the experience beyond the tennis and make it a kind of festival?" says Tulla Bateman, director, fund development, Tennis Canada.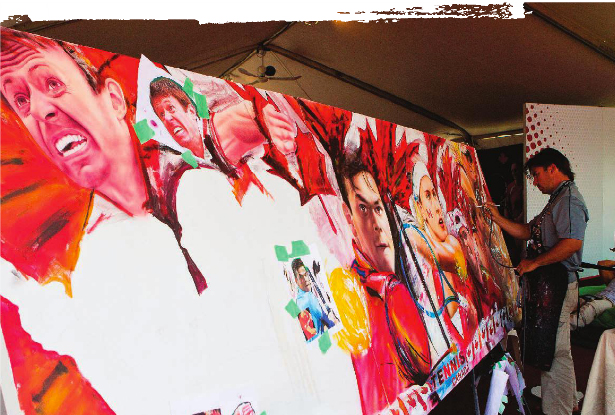 Live Mural
Throughout the nine-day event, artist David Arrigo painted a 16-foot mural live on-site, focusing on Canada's Davis Cup and Fed Cup teams. Attendees could check on the progress, and interact with the artist as he created the piece.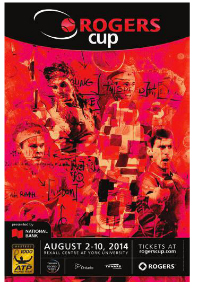 Poster and Souvenir Magazine Cover
New York City-based artist, Brendan Murphy, designed a limited-edition poster and souvenir magazine cover for the 2014 Rogers Cup. For the silent auction, Tennis Matters organizers had two copies of the poster printed on canvas and signed by all of the Rogers Cup players. Tennis Canada kept one, and auctioned the other to the highest bidder.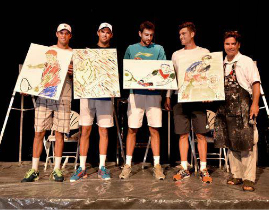 Live Art Battle
Artist David Arrigo guided four ATP World Tour stars –
identical twin brothers Bob and Mike Bryan, Marin Čilić and Frank Dancevic – through a painting exercise in front an audience of more than 500 fans. "None of them had had any formal art training. They were allowed to just do what they wanted, and express their own artistic side," Bateman explains. "It was quite fascinating to watch, and the athletes really liked it – they were all taking selfies with their artwork. It showed a side of tennis players that our fans had never seen, and gave a chance to interact with them in a way they never had before."
The four paintings were sold during the Tennis Matters silent auction, raising a total of $1,000.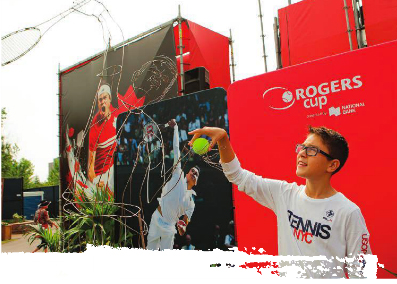 Wire Sculptures
Artist Rudy Kehkla created life-size, 3D wire sculptures of five top ATP World Tour players: Milos Raonic, Novak Djokovic, Roger Federer, Andy Murray and Rafael Nadal. "The sculptures were quite an engaging area of the site. Every time I walked by, there were fans taking photos with their favourite players," Bateman says. "The artist tried to capture an iconic moment or iconic pose for each of these sculptures. For Milos it was his iconic serve, for Federer it was his backhand, Nadal has a very unique celebration pose, and for Murray it was winning Wimbledon."
Each life-size sculpture was sold for $5,000. A tabletop version of the Rafael Nadal sculpture went for $800 at the Tennis Matters fundraising auction, and fans were able to order additional miniature versions of any of the five sculptures. Although it wasn't offered as part of the auction, Brayden Schnur's father ordered a tabletop sculpture of his son.
Tennis Matters Silent Auction
The auction is a major fundraiser for Tennis Matters, and features several one-of-a-kind collectibles. Among the highpoints: a photo of Rafael Nadal, Roger Federer and Sidney Crosby signed by all three athletes. "Sports collectibles is a very big part of how we raise our money at our auctions. We recognize that we have a lot of returning visitors, so, while we do offer the traditional signed framed racquet, or signed photo or clothing, we also try to offer those you-can't-get-this-anywhere-else kinds of pieces for people who come back year after year," says Bateman.
"One of our goals is that we want everyone to experience tennis; in everything we did, we tried to create multiple levels so that it was accessible to anyone who was on-site, not just the corporate VIPs. The miniature sculptures, the souvenir program and the posters were all priced so everyone could experience them if they wanted. We tried to create it in such a way that everybody, regardless of their financial situation, could participate in what we were doing."