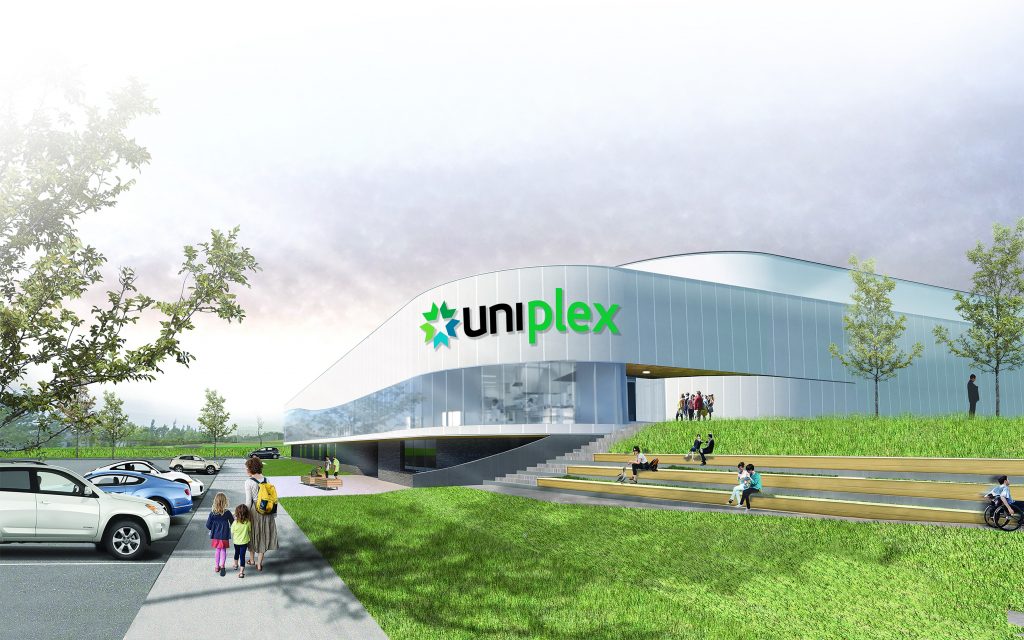 Dieppe, New Brunswick, has broken the mold in developing a new intergenerational community sports complex.
By Allan Lynch
Located in downtown Dieppe, the UNIplex officially opens in October 2020. The $32-million, 100,000 sq.-ft. facility will have two NHL-regulation ice surfaces (one with 1,100 seats), an elevated walking track overlooking the ice surface, a fitness room dedicated to off-ice team training, three community rooms, a community kitchen and a greenhouse.
Outside is a two-tiered event space capable of hosting audiences of 4,000 in the lower bowl to 18,000 people standing on both levels. Two new ball fields—used to co-host the 2018 U18 National Baseball Championships with neighbouring Moncton—are also part of the overall project.
"We wanted a complex where there is something for everybody in the community, not just ice rinks," says Luc Bujold, senior manager for culture, leisure and community life for the City of Dieppe. The city conducted a massive public consultation with over 40 groups who provided lots of original ideas, including a desire to have a community greenhouse as part of the complex.
The greenhouse will allow older residents to teach younger people how to grow, cook and preserve fresh produce. This recognizes the role of nutrition as part of an active and healthy lifestyle and overall wellness.
Bujold says the UNIplex is part of the city's drive to attract more sports tourism. That could include hockey, ringette, figure and speed skating. "It doesn't always have to be national events, it could be an Atlantic event, but we want to bring bigger events to our community." While he couldn't provide details, Bujold says the city is negotiating to host several events, which wouldn't have been possible without the new facility.