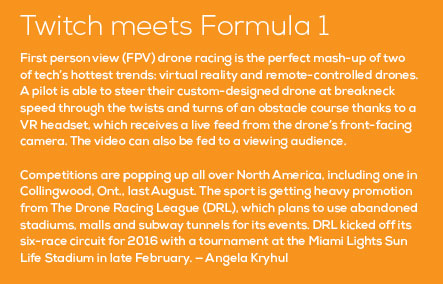 Camera-fitted drones can bring us lyrical, sometimes achingly beautiful footage. But there's more to it than the bird's-eye views, fantastic manoeuvrability, excellent camera quality and front-row seat to all the sports action. Drone photography is also a cheaper alternative to traditional aerial photography, which has required helicopters, cranes and, in stadiums, cable-suspended cameras.
The craze over drone technology is hardly a mystery. "We're able to tell stories in a different way than we've ever been able to before within the budgets that we're working with," says Brent Foster, creative director of Foster Visuals,
Wallaceburg, Ont.
But there's a bit of a catch. Drones, also known as unmanned aerial vehicles (UAVs), come with some alarming downsides that have industry and regulatory bodies alike scrambling to keep pace. Among several drone accidents at sporting venues last year was the crash of a TV broadcaster's drone during a World Cup slalom race in Italy, just missing a skier.
Do drones have a future in sports? Undoubtedly. But the landscape is shifting. Fans are seeing more bans on recreational drones at major league stadiums and at international sport events. Last summer, for example, unauthorized drones were banned at Toronto 2015 Pan Am/Parapan Am Games venues.
Bottom line? There are exciting opportunities for commercial drone operators, but they must work within the law and keep abreast of regulatory changes.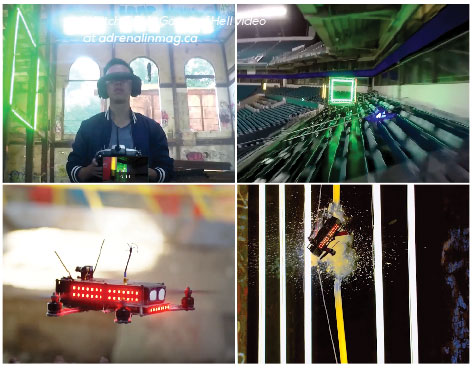 Government regulations are evolving
•    Transport Canada plans to release new rules regulating drones by 2017. In the U.S., the Federal Aviation Administration now requires small drones (up to 55 pounds) to be registered.
•    Canadian commercial drone operators generally require special flight operations certificates from Transport Canada.
•    All drone operators need to respect Canadian Aviation Regulations and all applicable laws regarding issues such as trespassing and privacy.
Mitigate the risks
Do your homework: Ensure that any operator you hire is "operating legally, has a big insurance policy for liability protection, and a special flight operations certificate from Transport Canada," says Adam Sax, president, The Sky Guys, Oakville, Ont. He also advises checking references, training and work experience, equipment and weather contingency plans. "A lot of operators don't have equipment that can operate in the rain," he says.
Safe flight path: Many operators avoid crowds and stadiums (where Transport Canada approval is difficult to obtain and risks are high), sticking to situations where a safe flight path is easier to plan. With golf tournaments, for example, "the audience is separated from the course. A lot of the shooting of a course is done prior to the event itself, too," Sax says.
Obtain permissions: Before the drone flies, be sure to obtain permissions from all participants involved. Brief everyone beforehand, advises Paul Baur, director, Canadian Operations, Unmanned Systems, at Vancouver-based Kaizen Kinetics International. Tell them exactly where drones will be. "Then they're not distracted by the drone."