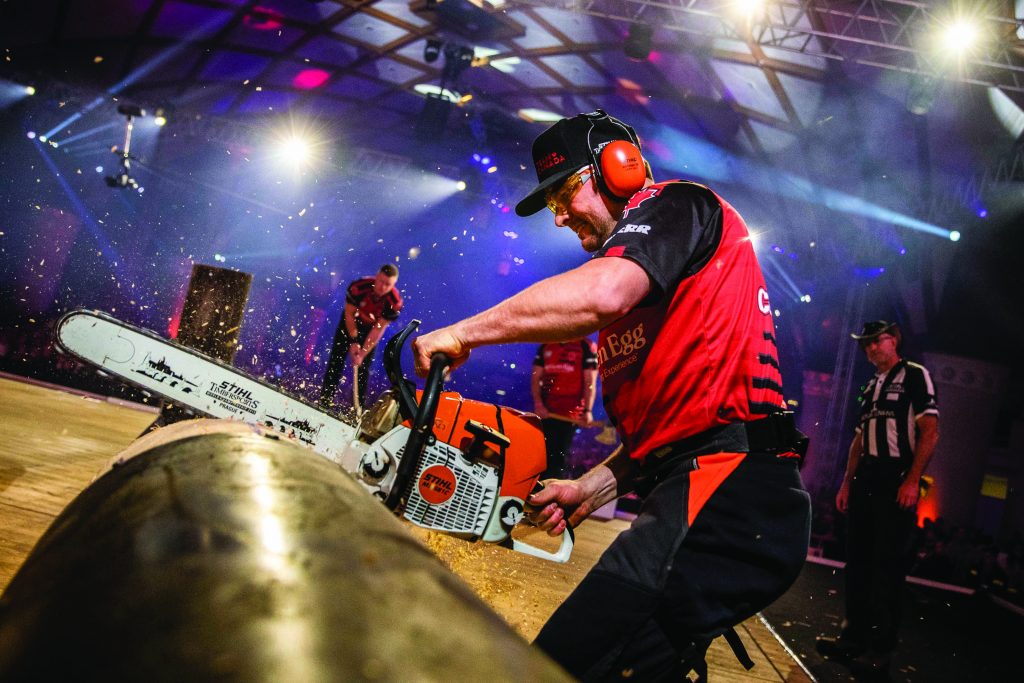 2020 STIHL TIMBERSPORTS Canadian Championship comes to Charlottetown
By Sarah B. Hood
Charlottetown saw its last battle of the blades in 2017. In 2020, the city will host its second event in the STIHL TIMBERSPORTS Series, the big leagues of logger sports, which runs 15 competitions annually in its Canadian National Tour, feeding into international-level competition.
The Event — July 30-August 1, 2020
Charlottetown, which previously hosted the STIHL TIMBERSPORTS Champions Trophy, will host the Canadian Championship, which is "the pinnacle event of the STIHL circuit," says Wayne Long, Charlottetown's events development officer.
The event consists of six disciplines. Three of these (Springboard, Standing Block Chop and Underhand Chop) demonstrate prowess with an axe. The other three are sawing events: Stock Saw uses a standard chain saw; Single Buck uses a single-man cross-cut saw; and Hot Saw uses a customized chain saw.
By the Numbers
Athletes from across Canada will compete in three divisions—20 in Men's Pro, eight in Women's Pro and six in the Rookie Division—at Charlottetown's Confederation Landing waterfront park. When the city hosted the STIHL TIMBERSPORTS Champions Trophy on July 1, 2017, the outdoor event drew between 2,000 and 5,000 spectators to the site at any time throughout the day of competitions.
Long estimates the city will need about 30 volunteers, a low number for such a large event because, he says, "the STIHL team brings 50 to 60 support people."
Getting it Right
"This event works very well if it's paired with another event," Long points out. "In other areas, it has been paired with food festivals, which helps fill the gaps between competitions." In 2017, it was part of Charlottetown's Canada Day programming; this year it will anchor the city's annual Natal Day celebrations.
The Opportunities
A Canadian Sport Tourism Alliance STEAM assessment found that the 2018 STIHL TIMBERSPORTS Canadian Championship in Wasaga Beach, Ont., generated $1 million of economic impact in direct spending.
"Just from STIHL athletes and support crew alone, we'll sell over 200 hotel rooms," says Long, adding that visiting fans will boost that figure higher.
For Charlottetown, ranked sixth overall among Canadian sport-hosting cities on the 2019 GSI Canada Index (and ranked first among cities with populations under 50,000), the television coverage, with national broadcast on TSN, is just as important. "It creates a platform for national destination exposure that Charlottetown couldn't afford to buy on its own," Long says. "We're looking forward to once again hosting a STIHL event; we're thrilled to be hosting their signature property."