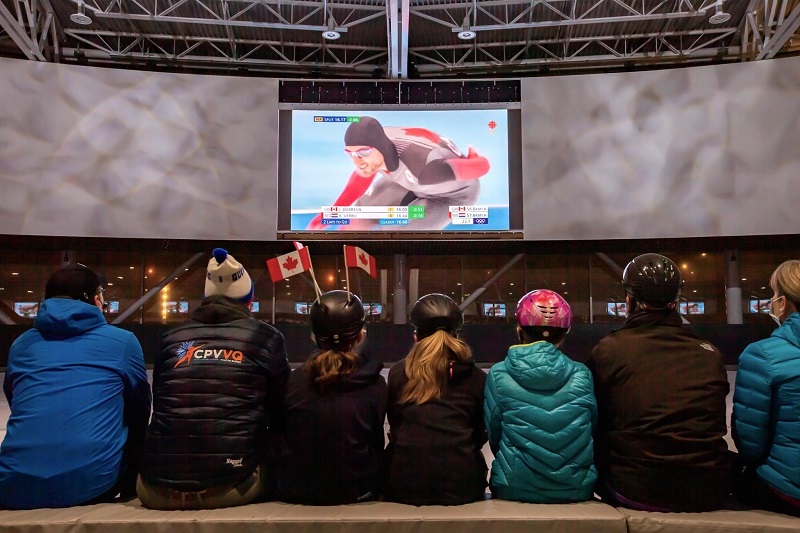 By Angela Kryhul
In the wee hours of February 18, dozens of young speed skaters, family and friends gathered at Quebec City's brand new Centre de glaces Intact Assurance to watch Laurent Dubreuil win an Olympic silver medal in the men's 1,000-metres competition.
Centre de glaces general manager, Jean-François Harvey, describes how the watch party generated excitement among young athletes, demonstrated Quebec speed skating culture and showcased the six-month-old purpose-built venue to a national audience.
Why did you decide to host a watch party?
We wanted to maximize the visibility of our venue, the sport and that we had world champions competing at the Olympics [Dubreuil and Antoine Gélinas-Beaulieu]. These guys train with our regular members and athletes, so we invited youngsters from the clubs to the viewing party. It was just so inspiring for them to see Dubreuil winning a silver medal because they have that direct connection.
Who attended the watch party?
Clubs that operate out of the venue invited qualified skaters, friends, family and VIPs to the event, plus we had 20 or 30 members of the public. We had to limit access to about 160 people because of COVID capacity restrictions. If not for COVID, we could have accommodated 10-times as many people. The event took place in the building's main amphitheatre and was in-person only.
How did you create a party atmosphere?
The doors opened at 2:45 a.m. and the party ran from 3:00 to 4:30 a.m. We invited our young skaters onto the ice for fun at the same time as the race was being broadcast live from Beijing. Just imagine what it's like for a 12 year old to wake up at 2 a.m., pull on their [speed skating] skin and skate in the middle of the night. It was a once in a lifetime event.
Family and friends were not allowed on the ice, but could watch from the bleachers. Our concession provided coffee, hot chocolate and cookies for free. We had special lighting effects and music and we decorated with Canadian flags. It was absolutely fantastic.
Watch parties became very popular during the pandemic. Do you think people will still be interested as we go forward?
We will do it again, even if it's not the Olympics. We believe people will be interested in seeing smaller scale events, for example, world cups, at our facility.
Do you have any advice for other venues that are considering hosting watch parties?
Once you choose to do the event, go all the way with it. We made it as nice as if we'd had thousands of people in the building.
We had national visibility because CBC, which owns the rights to broadcast the Olympics, sent a crew to cover the event live, and we had broadcast coverage by Quebecor as well as newspapers. It was a 360-degree opportunity for us and it was media coverage we never could have afforded. It was great for raising national awareness of our skaters and of our building.