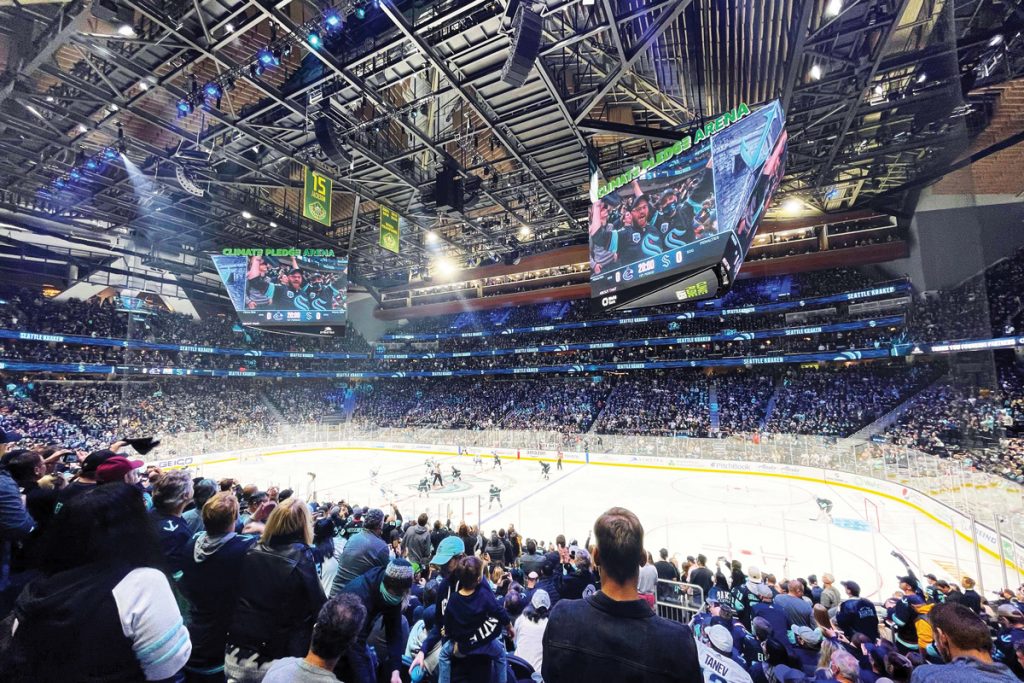 Climate Pledge Arena sets new benchmarks for sustainable design
By Wendy Helfenbaum
Seattle's new Climate Pledge Arena embraced the legacy of its historic site while trailblazing its way to ambitious sustainability goals.
The US$1.15-billion renovation and expansion of the 1962 World's Fair landmark—one of the Pacific Northwest's biggest private investments in sports and entertainment history—doubled the facility's size, conserved several original structural features and is now poised to become the world's first arena to earn a net zero carbon certification from the International Living Future Institute.
Designed by Populous of Kansas City, Mo., the project aimed to revitalize and reimagine the beloved landmark while introducing industry-first tech features to maximize the fan experience.
"Our client wanted to be the most sustainable arena in the world. Their vision was bold, clear and inspiring," says the arena's lead designer, Geoff Cheong, an architect and senior principal with Populous.
Raising the Bar and the Roof
Powered solely on renewable energy sources, including solar panels on its atrium roof, the all-electric venue represents a transition to climate crisis solutions. The building collects stormwater for landscaping and harvests rainwater from the roof for use in ice resurfacing. An integrated public transportation plan features electric vehicle charging stations, monorail access and sporting event tickets that double as free transit day passes.
To preserve the building's original 44-million-pound roof, the crew removed and suspended it above the site on stilts while digging out soil underneath to expand the venue. The team also protected 67 legacy London plane trees.
"Those historic elements remain as the iconic features of the design and their presence is amplified so visitors can now get up close and experience them," Cheong says. "The glass curtain wall allows unprecedented connection between inside and out, and architecturally, it's breathtaking."
Building Community Engagement
As multipurpose venues become brand ambassadors for their cities, having a public square is now an essential part of placemaking, notes Cheong.
Set in a park, the arena's pedestrian-focused plan aims for the property to serve as an accessible, 360-degree community gathering space. The venue hopes to be the first sports facility to receive certification for excellence in accessibility through the Rick Hansen Foundation.
Climate Pledge Arena has also implemented innovative features such as the world's first dual suspended scoreboards, cutting-edge acoustics and forward-thinking food and beverage design, says Cheong. Instead of traditional concession stands, the arena offers grab-and-go and self-checkout markets, and four store environments with Amazon's Just Walk Out technology.
---
Fast Facts
Cost: US $1.15 billion
Square Feet: 740,000
Capacity:
Basketball: 18,300
Hockey: 17,100
Concert: 17,200
---
3 Steps To Better Buildings
"Climate Pledge Arena raises the profile of what can be done in sustainable design—not only for sports venues, but buildings in general," says Scott Ralston, a principal at architectural firm HOK, specializing in sports, recreation and entertainment, and who worked on Rogers Place in Edmonton.
1: Think bigger
"We need to be smarter about how we bring energy to new venues," says Ralston. "Event centres have peaks and valleys in terms of their energy use and that's not sustainable. Venue owners should instead optimize the generation and use of energy through microgrids: Take an area of a community and link daytime users with evening and weekend users to balance the daily power needs with a sustainable energy source—solar, wind or hydro."
2: Count total carbon costs
"Keep in mind things like transportation costs to bring materials to the site, construction techniques and how we create and maintain these buildings. We'll make much smarter design choices if we're mindful of our total carbon commitment," says Ralston.
3: Accessibility and inclusivity
"Event venues have never really been leveraged to be good community partners because they've always tended to be inward-focused black boxes in urban centres," says Ralston. "The key is getting the operator to make venues more extroverted—let them breathe with activity spilling inside and outside into vibrant, walkable public plazas."
---
Originally published in the ADRENALIN Spring 2022 issue.