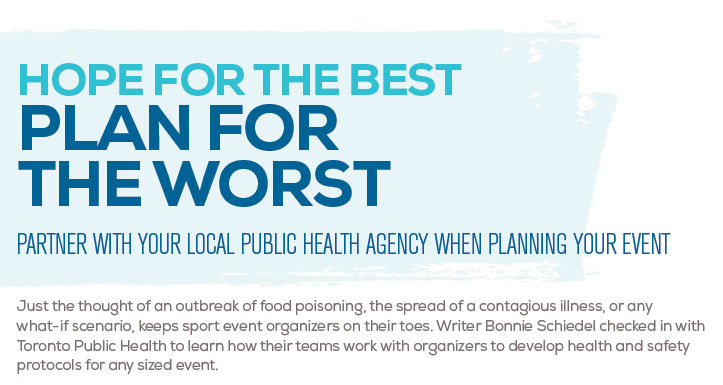 Start early
There are lots of pieces of the puzzle to consider, from the vaccination rates of visiting athletes, to air quality issues, to a caterer's improperly sanitized cutting boards. "Regardless of the size of the event, the basic formula remains the same," says Effie Gournis, associate director, Integration, Information & Surveillance, Communicable Disease Control at Toronto Public Health. "You start with the risk assessment: what threats do populations face; how likely is the threat; how big an impact would it have?"
This risk assessment is part of any event. Some events are more complex though: multi-week, multi-site indoor and outdoor events with several thousand international athletes—for example, the Toronto 2015 Pan Am/Parapan Am Games—require extra planning steps. A large indoor event (such as the February 2016 NBA All-Star Game, which took place at Toronto's Air Canada Centre) is held at an existing venue that is already part of routine health inspections and communicable disease surveillance.
Food check
Public health staff will review all the items that vendors will be selling so they can evaluate the risk of food poisoning. For example, meat or dairy protein products cooked off-site and transported to a venue are higher risk than food that is cooked on site. All vendors should be certified in safe food handling techniques, says Suzanne Lychowyd, manager, Food Safety, Healthy Environments at Toronto Public Health.
Wash those hands
Not surprisingly, hand washing is a simple and effective way to cut down on the spread of germs. Gournis recommends investing in several handwashing stations (including portable pop-up ones), plenty of reminder signs and readily available hand sanitizing gel.
Communicate clearly
"For the Pan Am/Parapan Am Games, we made sure to have one key contact at each site to connect with, rather than several different people. We had two go-to people to contact prior to the Games, and a 24/7 on-call system during the event," says Lychowyd, whose team was assigned to food and pool facilities. "I've found that sports organizers are highly organized and they really want to protect the athletes and entourages," adds Gournis. "It's all about partnership and coordination."