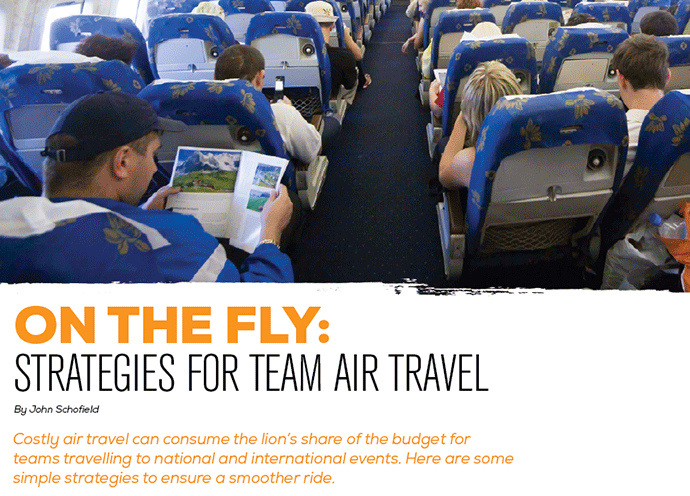 Team perks
Competition for team travel dollars is heating up, and airlines are continually tweaking their offerings. On October 1, WestJet began providing each team flying with the airline a dedicated group specialist, who works with the travel manager from start to finish on every detail of the trip, including group check-in, bulk seating, cargo services and free, last-minute changes. "Everything is high touch," says Denis Parry, WestJet's manager, group business. Dealing with one agent can save the team time and money, he adds. The group specialist can offer advice on scheduling, packing and other tips to help reduce costs on tickets, baggage fees and other charges.
For valid sports groups, Air Canada waives excess baggage fees. That's a pretty big savings, especially for heavy equipment sports like hockey, says Stefano Mastrantonio, national manager, group sales. The airline also offers perks such as guaranteed group seating, group check-in (in Vancouver, Calgary and Toronto), and free changes for injured players who must go home early. In such cases, the team pays only the difference in fares.
Advance booking
Airlines in Canada no longer offer standard group discounts. But because rates are governed largely by supply and demand, teams can save money by booking in advance and travelling at off-peak times of the week or year, says WestJet's Parry. "On fuller flights, we need to be more restrictive," he notes, "but on less-busy flights we can be more flexible."
book direct
For team travel, booking directly with the airline can offer advantages over using a third-party online booking service, says Parry. "Flexibility is the most important thing for a sports team, and you can't get that through technology," he adds.
Picking a preferred airline and consolidating travel with that company could also contribute to some savings, Mastrantonio says.
Team Travel  agencies
Team travel management firms don't promise dramatic discounts, but they can help teams find some savings and better manage their travel budgets. While team travel agencies charge a service fee, it provides more value than the ticketing fee teams pay anyway when they book directly through an airline, says Shawn Ashton, president of Bolton, Ont.-based Sportscorp Travel, which serves clients like the Toronto Maple Leafs and expects to handle more than 900 team trips in 2015. "We're more about trying to save headaches and coming up with efficiencies," he adds. "The people who manage the team travel have 20 other duties they have to do."