The Event
Like its namesake, an imaginary animal that's half-jackrabbit and half-antelope, Montreal's Jackalope Action Sports Festival is a composite beast. The exuberant three-day event, held in July at Olympic Park's outdoor Esplanade Financière Sun Life, includes internationally sanctioned competitions and showcases active sports such as skateboarding, climbing, BMX, motocross and slacklining. It also offers opportunities for passholders to try some activities.
The Backstory
When Jackalope producer Micah Desforges was 17, he started the Ripper Skateboards brand as a school project. By 2010, with interest in his events and videos from brands like Molson and Smirnoff, Desforges says he "realized there was more money in helping big brands connect with youth through action sports."
In 2010, he founded an agency called Tribu Expérientiel, designed to create events that "get the youth demographic to really play and have fun, and interact with your brand." Jackalope, founded in 2012 at the invitation of Olympic Park, now involves about 80 partners, from small vendors up to major brands—like Fido and Pabst Blue Ribbon—and municipal institutions.
The Demographics
Attendance consists mainly of 13- to 34-year-olds from the Greater Montreal Area, but some come from further afield. "With the international sanctions [for skateboarding and fixed-gear competitions], we
represent about nine countries," says Desforges.
Jackalope is the only qualifying event in Canada for World Cup Skateboarding; the fixed-gear competition is sanctioned by a Brooklyn-based organization called Red Hook CRIT. "As we build on these international recognitions, we get more international athletes," he says.
Challenges
When finalizing contracts with sponsors and partners for such a weather-dependent event, "at the end of the discussion, we say 'It's rain or shine, even if there's a tornado, ha-ha-ha.' Guess what? The second year, there was a tornado," Desforges says.
"It was not fun at all," he recalls. "It was not the wind swirling around like you see in the movies, but wind over 100-km an hour, and we had to evacuate. Trees were getting thrown, it was raining heavily and we were still doing our setup. We cancelled the first day."
The Bigger Picture
Events are only half the story; the organizers also create web and television content, following the model of U.S.-based Red Bull Media House. With events like Jackalope, "our goal is really just to gather a lot of people and have them enjoy the show," says Desforges. Footage can then be spun-off into numerous forms under the umbrella of Tribu Expérientiel's media wing, High Five TV. Overall, he says, "we're trying to be like a mini-powerhouse for events and content."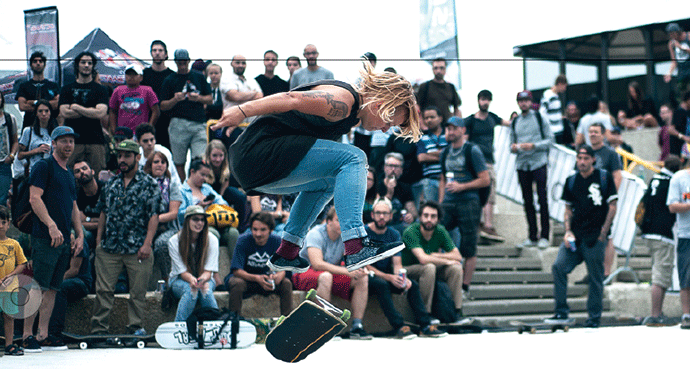 Photos: Tribu Expérientiel