HIRED GUNS
They're the unsung heroes of the sports tourism business-the behind-the-scenes consultants, project managers, administrators and many others who help create positive and memorable experiences for event attendees and participants alike.
---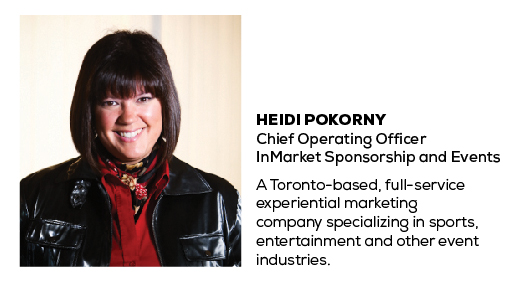 Favourite part of the job?
I just love the challenge of creating a strategy and executing a great experience—being able to see it through from ideation to activation. For example, we executed the NBA True North hospitality area for Maple Leaf Sports and Entertainment [during NBA All-Star 2016 in Toronto last February]. They wanted a multi-purpose venue close to the Air Canada Centre for private parties, press conferences and concerts. It was almost two years in the making. We were able to create the design and layout for a semi-permanent structure, and all the elements that go into it, that could host 3,500 people.
Proudest moment?
It's seeing an idea coming to life; when you're standing in the middle of a live show, you step back for a second and say 'Wow! It's amazing that we did that.'
Professional challenges?
A large part of what we do is project management; we have to ensure that targets, deadlines and objectives are being met. Being the nucleus can be extremely challenging… you've got to push the elephant up the hill, so to speak, to get to the end. And that's often why the client hires you—because you're providing solutions.
An emerging trend that should be on everybody's radar?
I think digital reality and virtual reality experiences are just getting bigger and better every day. If you take the Pokémon Go gaming idea as one example, I think the digital space is just going gangbusters.
---
Favourite part of the job?
Advising clients on things they wouldn't suspect. For example, we recently translated speaking notes for the opening and closing ceremonies of a multi-sport event. The host was meant to say each line in English, then repeat it in French. I felt this would slow down the pace of the ceremony, so, instead, we blended the English and French into one continuous script that everyone in the audience would understand.
Proudest moment?
Last summer, we translated the material for an international avalanche safety course that was developed in French in Switzerland. We worked closely with avalanche experts to develop universal terminology and practices. It was very rewarding to play an integral role in the production process and to serve as a link between the world's leading experts in a field.
Professional challenges?
A tricky part of the job is translating concepts that don't exist in the audience's reality. For example, "physical literacy" is a trending concept in English-speaking parts of the country, but it's packaged differently in French-speaking parts. A "National Championship" is more often referred to as a "Canadian Championship" in French. Bridging the gap to the audience while remaining true to the client's message is the continual challenge of translation.
An emerging trend that should be on everybody's radar?
Instantaneous, quality translation for social media is becoming an increasing need that is currently not being met by the translation industry. We're working on it!