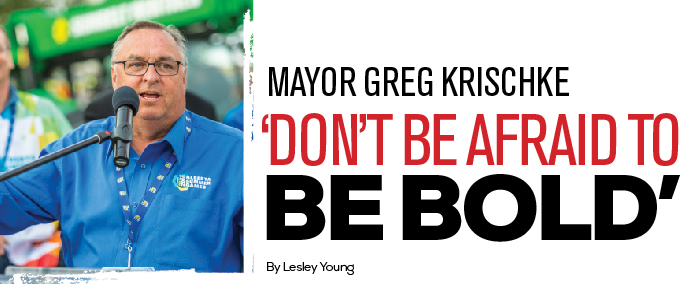 Since becoming mayor of Leduc in 2004, Greg Krischke has spearheaded the transformation of the Alberta town (population 30,000) into a widely respected sport events host, attracting the Canadian Ringette Championships in 2017, the Alberta Summer Games in 2016, and the 2015 World Sledge Hockey Challenge, to name but a few.
What inspired you to make sports tourism one of your missions as mayor?
I actually have a degree in physical education so I'm passionate about sports and recreation. But more importantly, I'm a passionate believer in the City of Leduc. And from day one we recognized the importance of sport tourism because it's a community builder. It does so much in terms of generating engagement: if people aren't volunteering, then they are out enjoying and watching spectator events. At the Alberta Summer Games, we hosted over 3,000 athletes, coaches and officials, and more than 8,000 spectators. There were more than 2,000 volunteers.
What has made Leduc so successful at attracting sporting events?
We appointed a full-time coordinator early on and began a dedicated tax increase levy to help pay for a new recreation centre. We had a vision very early on and I believe success breeds success. Every event we hold that's seen as a success helps build the council's confidence that we're doing the right thing, and then we can be a little bit bolder in our decisions. That's a message I like to give other elected officials: don't be afraid to be bold.
What else can elected officials do to increase sports tourism?
You need to appoint someone to a coordinator role, even if it's part-time. But I also recommend joining the Canadian Sport Tourism Alliance (CSTA). It gives you a chance to network with other communities and learn from their mistakes. For example, I went to London, Ont., this year to experience the National Ringette Championships and spoke with organizing committee members. I was able to tag along, learn and brainstorm. We'll apply those findings to our own hosting efforts to deliver on one of our mantras: "Best ever!"
Do you have advice for sport organizations that lobby for their own interests?
In 2014, we completed a Sports Tourism Strategy Master Plan which is really a mission statement containing five priorities. It's not just for our council but for sports organizations and the community to know what we see as our advantages. We encourage event organizers to do their research. We find that the most successful events are the ones that have the strongest local support.
Click here for more photos from the 2016 Alberta Summer Games.
Photos: City of Leduc