Canadian Tire Covers All The Bases
From the playground to the podium: that, in a nutshell, sums up Canadian Tire's commitment to both amateur and professional sport in this country. For more than 90 years, the retailer has supplied kids with their very first bikes, outfitted them with their first pairs of skates and invested in minor league teams. Now, thanks to a recent surge in high-profile sponsorship deals, the made-in-Canada brand has firmly cemented its ties to sport, across virtually all levels of Canadian athletics.
By Linda Dunlop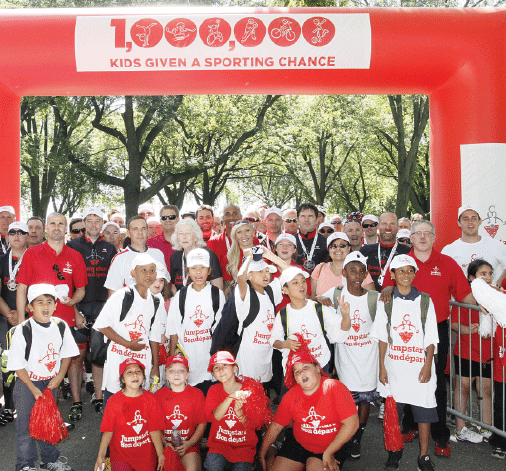 "Canadian Tire… has chosen to utilize sport and ramp up sport as a way to differentiate themselves from their competitors," says Brian Cooper, president and CEO of S&E Sponsorship Group, which acts as the retailer's sports sponsorship consultancy.
First Steps
In 2011, Canadian Tire acquired Sport Chek, Sports Experts, Pro-Hockey Life and other sports retail properties for $771 million. Two years later, the expanded Canadian Tire Family of Companies entered into an eight-year partnership with the Canadian Olympic Committee (COC), just in time to activate a slew of initiatives for the 2014 Winter Olympics in Sochi, including their successful "What it Takes" advertising campaign featuring Canadian Olympians, and a three-way licensing deal with Adidas that culminated in the sale of Olympic merchandise at Sport Chek stores across the country.
Pointing to Sport Chek's "All Sweat is Equal" campaign that launched this past spring, Chris Overholt, CEO of the COC, credits the retailer with "bringing attention to the COC brand and to our athletes, even in non-Olympic years."
Going Pro
In 2013, Canadian Tire announced a sweeping, 10-year partnership with Maple Leaf Sports & Entertainment (MLSE), owner of the Toronto Maple Leafs, Toronto Raptors, Toronto FC and Toronto Marlies, as well as the Air Canada Centre in downtown Toronto, among other properties. That far-reaching deal with one of the country's premier professional sports organizations sealed the brand's penetration into the major leagues.
Premium brand positioning means the familiar red triangle logo emblazoned with a green maple leaf is now a ubiquitous presence at pro hockey, basketball and soccer matches across the Greater Toronto Area. There's also a new Sport Chek store in the heart of the action at the Air Canada Centre.
"The MLSE deal is an interesting deal," adds S&E's Cooper.
"In terms of activation, they will also tie in to Jumpstart—Canadian Tire's long-running grassroots charity—to bring kids out to games who otherwise wouldn't be able to afford to go."
The Canadian Tire strategy promotes a healthy and active lifestyle, draws back to the community (via relationships with more than 70 sports organizations across the country), and features strong tie-ins to its Sport Chek retail property. Earlier this year, for example, 100 kids from a Jumpstart hockey camp attended a Calgary Flames playoff game courtesy of Sport Chek.
Next Up
What's next for the retailer with one of the largest sports sponsorship portfolios in Canada? "We really feel like we're just getting started," says Overholt, two years into the eight-year COC partnership.
The retailer opened a new Sport Chek store in Toronto's Maple Leaf Square that doubles as a TSN studio. Cooper hints at athlete relationships in the works for the Rio 2016 Summer Olympics, and a continued commitment to its sport sponsorship strategy: "They've made some long-term commitments—from the grassroots right to the top," he says.
Photo: CNW Group/Canadian Tire Jumpstart