2020 was the year of the bubble for professional sports leagues determined to return to safe play amid pandemic-related uncertainties. Here is a closer look at the challenges and surprising new opportunities arising from the bubble experience.
By Angela Kryhul
---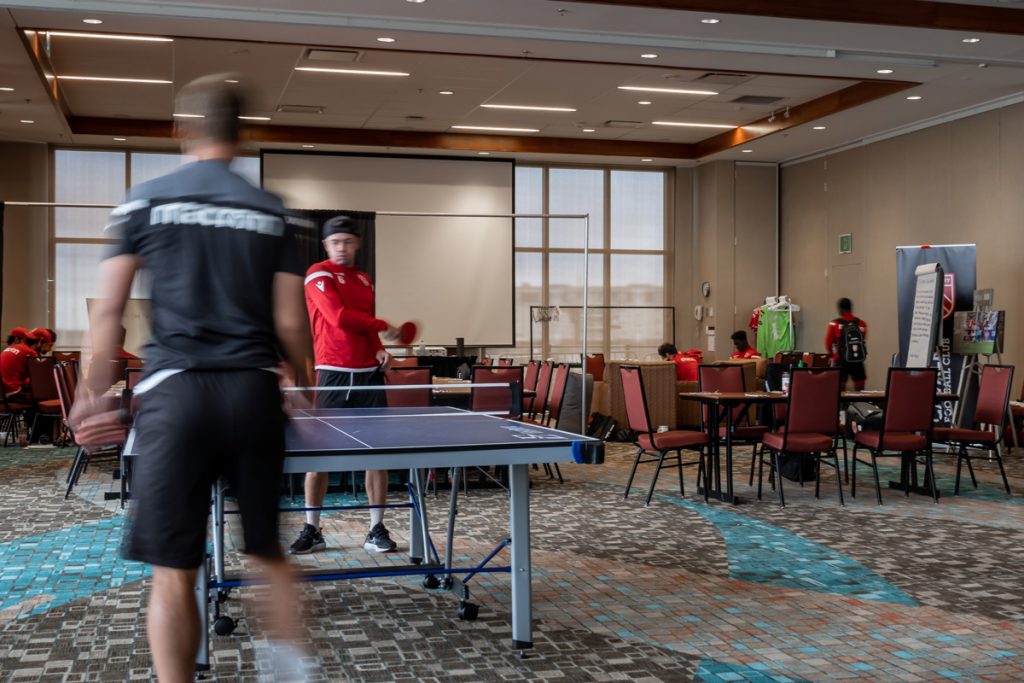 Canadian Premier League 2020 Island Games
Charlottetown, PEI
The CPL Bubble: Some 300 participants
Quarantine: Participants self-isolated at home for 14 days and then quarantined with their teammates in Charlottetown August 8–12
Competition: August 13–September 19
Bubble closed: September 20
The Canadian Premier League (CPL) hosted eight clubs—Pacific FC, Cavalry FC, FC Edmonton, Valour FC, Forge FC, York9 FC, Atlético Ottawa and HFX Wanderers FC. According to CPL commissioner David Clanachan, Charlottetown had an edge over competing host destinations because of its small population and its participation in the tightly controlled Atlantic Bubble, which consists of PEI, Nova Scotia, New Brunswick and Newfoundland and Labrador.
Safe Zones
University of Prince Edward Island (competition and practice fields); the Town of Stratford (practice field); Delta Hotels Prince Edward (11 bubbles within the hotel, one for each team and three for referees and officials, league staff and the broadcast crew); 24/7 security.
Transportation
Shuttle provided by Coach Atlantic; two chartered WestJet flights brought players from outside the Atlantic Bubble.
Wellness Testing
Two negative COVID tests prior to arrival; two tests during quarantine
with teammates; weekly tests during the event.
Broadcast Coverage
OneSoccer, CBC and Fox Sports (FS2, Fox Soccer Plus). MEDIAPRO Canada also secured distribution deals to reach 135 million television households globally, including the Indian subcontinent, sub-Saharan Africa and the Philippines.
Fan Engagement
The Prince Edward Island Soccer Association organized safe on-site spectator viewing for local minor soccer players. The isolated, 50-seat viewing stand allowed organizers to "show the professional league to the young athletes, which was great engagement for the kids and their families," says Kent MacDonald, CEO, Tourism PEI.
Lessons Learned
"You've got to be collaborative, you cannot steamroll over people. It's a partnership and things like this don't happen overnight," Clanachan says.
What does 2021 look like?
"I'm approaching next year as if we will start with fans in the stands in April. The second scenario is that we could have no fans in the stands again. And the third scenario might be that we can't play and travel back and forth across the country. I'm going to remain an optimist, at least for the short term, and then we'll plan from there," Clanahan says. "We've built a model that can be used either in a tournament format or pre-season. We know how it works now and we know what value we can get back."
---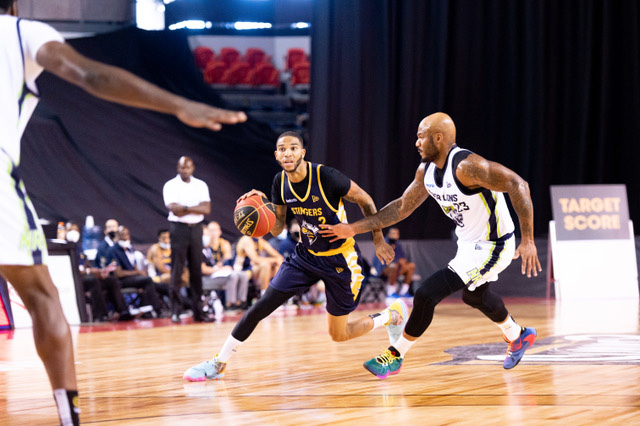 Canadian Elite Basketball League Summer Series 2020
St. Catharines, Ont.
The CEBL Bubble: 175 participants of which 19 travelled from outside Canada
Quarantine: June 30–July 14
Training Camp: Began July 15
Competition: July 25–August 9
Bubble closed: August 10
The Canadian Elite Basketball League (CEBL) was the first Canadian professional sports league to return to play under the pressures of COVID-19. Seven teams—Fraser Valley Bandits, Edmonton Stingers, Saskatchewan Rattlers, Guelph Nighthawks, Hamilton Honey Badgers, Niagara River Lions and the Ottawa BlackJacks—competed in the 26-game competition.
Safe Zones
Meridian Centre (competition venue); YMCA (training venue); Best Western St. Catharines (players and coaches); Holiday Inn & Suites St. Catharines (league officials and staff).
Insurance & Waivers
"Our insurance provider was able to get us a policy that included COVID coverage," says Mike Morreale, CEBL commissioner and CEO. "We didn't ask our players to sign a waiver that would eliminate their rights [or limit the league's liability]. There was the ability to opt out, which a handful of our players did."
Wellness Testing
Daily temperature checks; three COVID-19 tests—upon arrival, prior to training camp and just before competition began on July 25. Morreale says there was no transmission of the virus during the event.
Protocols
Electronic whistles, basketballs disinfected frequently, no outsiders or spectators were allowed within the safe zones. While hub participants were allowed to visit the community (contact tracing records were kept), most relied on a daily concierge service to run their errands.
Broadcast coverage
CBC Sports broadcasted select games and livestreamed every game. The league sold international broadcast rights to the Philippines, Australia, Singapore, Taiwan and Vietnam.
Fan Engagement
The league broadcasted games on Twitch, reaching between 7,000 and 10,000 viewers per game. "That provided a different level of engagement and a different fan base that we didn't previously have… and gave us an opportunity to now make Twitch a more integral part of our strategy for 2021," Morreale says.
Lessons Learned
"One of the major challenges was the unknown factor… and that includes understanding the emotions tied to working under a pandemic situation," Morreale says.
What does 2021 look like?
"Plan A is to do it as if COVID didn't exist. Plan B is to do it with reduced capacities at our venues. The Canadian Hockey League plays in most of our venues, so we will watch their strategy and game presentation. Plan C is moving back to a bubble, but where we play in regional bubbles and culminate in a national bubble for a championship," Morreale says.
---
INSIDE THE BUBBLES
Bubbles for both the CPL and CEBL included players, coaches, referees, trainers, league officials and staff, medical teams, broadcast crews and others. Teams not advancing immediately left the bubbles. Each team typically had their own shuttle bus and were each assigned a floor in their hotels with exclusive access to a common room and fitness equipment.
---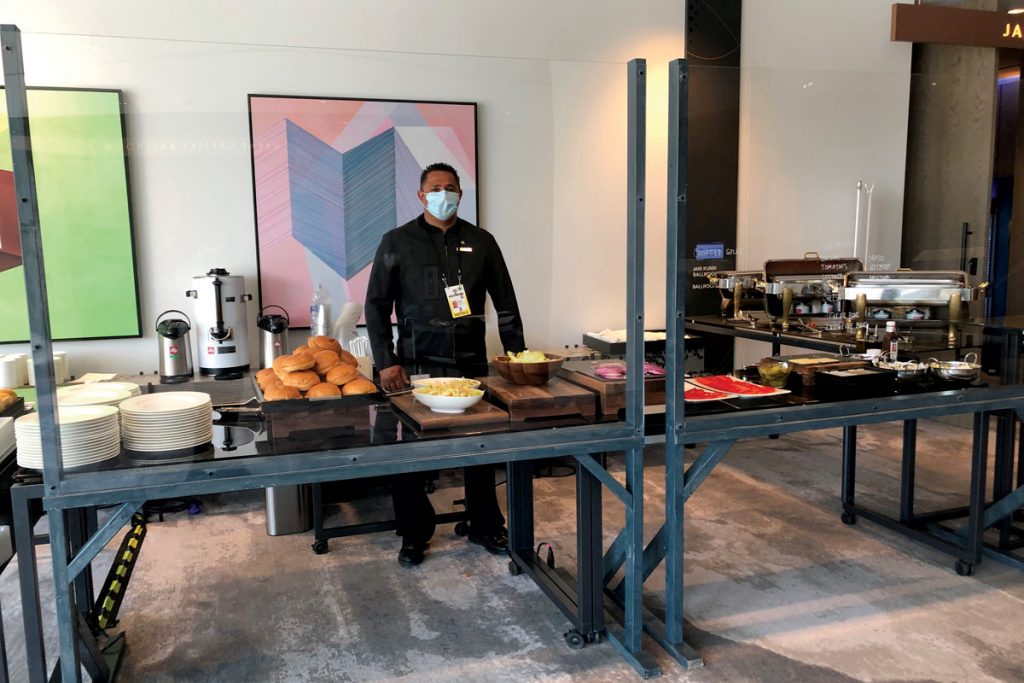 Lessons from the NHL Bubble
The National Hockey League's management of bubbles in Edmonton and Toronto this past summer is a notable 2020 success story. Created in a matter of weeks, the sequestered hubs depended on the expertise and professionalism of countless industry partners. STEVEN WALTON, director of sales and marketing, JW Marriott Edmonton Ice District, describes how smaller sport groups can create their own version of a pro league bubble.
Describe some of the protocols developed by the hotel to make the Edmonton bubble a reality.
Marriott had already adopted its Commitment To Clean pillar by the time we sent in our initial bid to host. When the league came back, they said, 'okay, that's a baseline; let's go with that.' It became a framework for a clean process. They were really happy with how we handled wayfinding, social distancing signage and how we were still able to offer a buffet service with plexiglass dividers. Now, we've adapted those practices for smaller events.
How did the hotel bubble work?
We started out hosting six of the teams, and each cohort had between 40 and 55 athletes and support staff. Each cohort had their own meeting space, ate their meals in their designated banquet rooms and could, as a group, book the hotel restaurants. Because there was such a rigorous COVID testing and temperature/symptom screening protocol, we were allowed to seat up to six people at a table. Still, everyone wore masks and we had touchless hand sanitizer everywhere.
Our staff wasn't bubbled. We had three managers who rotated 24/7 because we always wanted to have a manager available at any time. We had upwards of 150 hotel associates working during this tournament. They took it very seriously and really deserve the most credit.
Describe new opportunities arising from the bubble experience.
We realized that closing down the health club, lobby bar and all the restaurants in the hotel for future sport groups wouldn't be feasible. So, when we entered discussions for the IIHF 2021 World Junior Championship, which we'll be hosting this December, we started working on a hybrid bubble where we will block off guestroom floors and meeting spaces for the tournament, but the rest of our spaces will remain open to the public. We'll be hosting between 250 and 300 athletes and support crews per night for about four weeks. So, it's just condensing our bubble model for a shorter tournament with a younger demographic.
Is the hotel hosting sport teams in 2021?
Yes, we have another international sport competition coming in January and one in April. I've been on a few calls, just answering questions from groups that are in the very preliminary stages of exploring whether a hybrid or a smaller version of the bubble is possible. We're sharing what we know; the message that it can work and it doesn't cost millions and millions of dollars.